Looking for a good quality projector to project Netflix without any problems?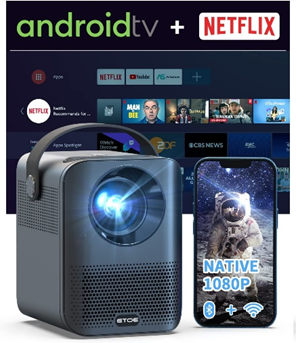 If you are one of those who love series and movies, you probably go to the cinema frequently. We all know that watching movies on our cell phones or computer ends up being boring at some point, especially if our friends or family also want to watch the movie or series. So, going to the cinema is not always the best option, either because you don't have time or because there is no interesting movie. If you want to have your own home theater without spending thousands of dollars, then you need a projector, but be careful, you can find some too cheap ones that usually do their job well, but have some limitations.
Before buying a projector it is important to know that cheap projectors can only project the image of your cell phone or your TV, which is great right? But there is a problem, due to the policies of Netflix, Disney, HBO, and other companies, projecting the image from a cell phone is impossible, so, if you choose a cheap projector, then you will need to use other methods to share the content. To avoid all these problems, choose a projector with Android Tv, so you can use the pre-installed applications without any problem, which avoids any problem when you want to project an application like Netflix.
The ETOE D2 Pro mini projector is a great option to have if you are looking to turn your house into a cinema but in a much cheaper way. This projector is ideal to take it almost anywhere, it also has a very good quality HD image quality, which will allow you to enjoy your favorite movie in the best way. Below, discover the most interesting features of this product.
ETOE D2 Pro mini projector feature
Built-in Android TV
The main feature of the ETOE D2 Pro mini projector is that it has Android TV built-in, which means that you can use Google Play applications to be able to project the content, which is much better compared to cheap projectors that do not include an operating system, this allows you to be able to project the content of popular applications such as Netflix, Disney, and HBO without worrying about limitations caused by the policies of this type of companies. If you want, you can also connect your iPhone to the projector by installing the "Airscreen" app. It is also compatible with Android devices and tablets.
Native 1080p
One of the reasons why many hates cheap projectors are because they offer low quality image quality, which should be fine if you are paying little, but the ETOE D2 Pro offers you 1080p (1920 x 1080) of high quality, so you can enjoy your movie Favorite in good quality and resolution. Despite being compact in size, the 150 lumens offer enough power to enlarge the image up to 120″. Another feature of this mini projector is that it includes Google assistant, so you can control some applications using only your voice, which allows you to do a search much faster
Compatible with most devices
Although the ETOE D2 Pro mini projector is designed so that you can enjoy your favorite series and movies using Android TV, that does not mean that you cannot use other devices to project the image. This mini projector is compatible with MacBooks, phones, PS4, PS5, Xbox One, and other smart devices. It also includes Bluetooth, which allows you to pair a Bluetooth speaker in case you want to get louder, better quality sound, but the ETOE D2 Pro includes speakers that should be enough to listen to your favorite TV show or movie seamlessly.
You can buy this item here on Amazon