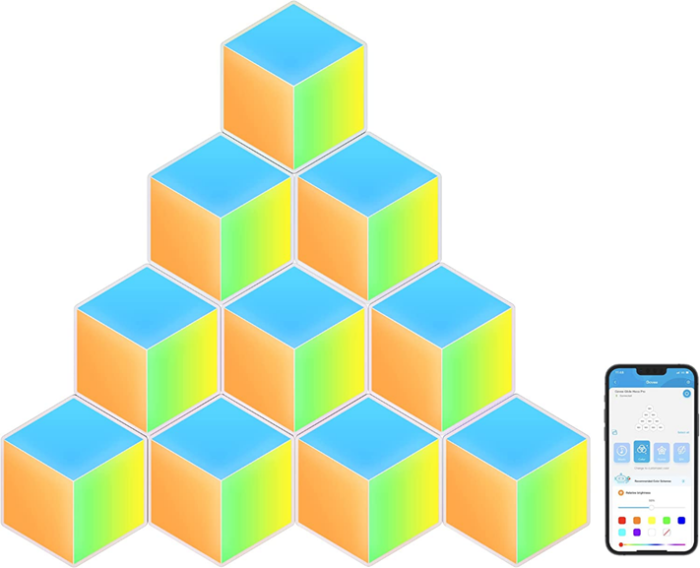 Would you like to give a more elegant and modern look to your room, but do not want to use the led strips? Govee has what you need
LED lighting has become popular among gamers, it is incredible the possibilities of colors you can get by using customizable led lights, so they are widely used to decorate rooms. It is likely that you can find many strips of LED lights available in stores and although not all offer the same quality, you may be looking for a different way to illuminate your room, so hexagonal light panels are one of the best ways to do it, you can customize them as led strips, but the design is much more modern, which will surely help you decorate your room in a more creative way.
Before talking about the light panels, it is important to know that they are not exactly cheap because it has a larger size than LED light strips, you can even find many brands with high prices, so you should take them into account. The design and possibility of customization are one of the reasons why many people choose hexagonal light panels and among all brands, Govee is considered one of the best when it comes to customizable LED lights. It has many products with many positive reviews.
Govee light panels are a great option to consider if you want to decorate your room in a creative and modern way. These light panels have millions of customizable colors so you can choose your favorite color, they work with Alexa, and you can easily set them up with the app. So, what are you waiting for to pick them up? Below, discover the most interesting features of this product.
Features of the Govee Light Panels
Hexagonal Govee light panels are a great way to decorate your home if you don't want to use classic led strips. The main feature of Govee LED light panels is that 10 fully customizable panels are included, which offer impressive light quality. You can customize these light panels among more than 16 million colors available. These LED lights are great to decorate your gaming room or if you want to decorate your guitars, books, and work desk, or you simply want to give a better look to a place in your home. These light panels can be easily controlled from the Govee app, choose from the 16.5 million colors, and customize the 10 panels to your liking. Not only can you choose a specific color, but you can also configure the panels to create musical rhythms, soft or intense rhythms, which will give an incredible look to your room. Best of all, you can control these light panels not only with the Govee app but also with your voice using Alexa or Google Assistant. Lastly, you can add up to 25 light panels, so you can also buy more light panels separately.
You can buy this item here on Amazon
My name is Joel! I love to read, I go to university like most people my age.
In my free time I usually train boxing, I love music, I also know how to play the guitar and the harmonica.