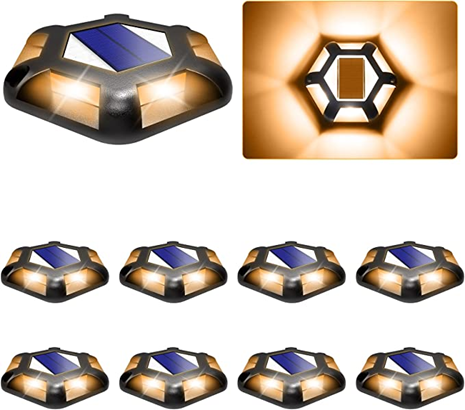 Looking to light up the garden, sidewalk, or driveway of your home?
You may have felt at some point that your garden is too dark at night, but even installing a lamp can be tricky if you don't have an electrical connection nearby, so you might consider some options that will also decorate your home. One of the best options for decorating and illuminating the exterior of your home is solar lights. Solar lights are products with a modern appearance that will help to better illuminate the exterior of the home, they will also serve to give a better appearance to your garden or entrance, so they are certainly a good buy. The best thing about solar lights is that they do not need an electrical connection, these lights will automatically recharge using sunlight, so they will also allow you to save energy and money. Always be sure to buy rain-resistant solar lights to avoid any kind of accident.
One of the best solar lights we can find is the pack of solar lights CREPOW. It is a pack of 8 solar lights ideal to illuminate and decorate your home, they are also available for an affordable price. Without a doubt an excellent option to save energy and money. If you are looking for a pack of solar lights with these features you would surely like to know more about this product.
Features of CREPOW solar lights
CREPOW has designed a pack of 8 solar lights that will help improve the lighting on the outside of your home. This pack of lights is designed to be used in multiple places (garden, entrance, pier, parking, and many more places). The main feature of these solar lights is that they work without the need to recharge them manually, each of the 8 solar lights will be automatically recharged using solar energy, so you will not have to worry about recharging the solar lights. Solar lights will automatically recharge after receiving 6-8 hours of direct sunlight (note that the charging duration will depend on the weather). This solar light will be able to provide light between 10-12 hours will be enough to illuminate almost all night, then recharge automatically during the day. Another impressive feature is that each sunlight is capable of supporting up to 10 tons, so you can use them in the parking lot without fear of breaking, which means they will be able to easily support the weight of an average car. CREPOW solar lights also feature IP65 waterproofing. Ip65 waterproofing ensures that solar lights will continue to work even during rain, but you should be aware that the lights will not be able to charge during rain. The installation will be immediate, simply place the solar lights on a flat surface and you can use them almost immediately. Finally, CREPOW offers a friendly 2-year warranty for technical service and 30 days for money back.
Summary
If you need to illuminate your garden in a different way you should consider the CREPOW solar light pack. These lights do not need to be recharged manually, they will automatically recharge in sunlight. They will allow you to save energy and money.
You can buy this item here: CREPOW Solar Dock Lights Driveway Deck Lights – 8 Packs Waterproof 1200mAh Outdoor LED Aluminum Dock Lighting Warning Step Lights for Driveway Sidewalk Garden Pathway Yard (Warm White) – – Amazon.com
My name is Joel! I love to read, I go to university like most people my age.
In my free time I usually train boxing, I love music, I also know how to play the guitar and the harmonica.