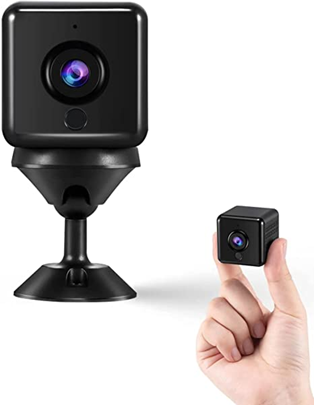 Do you need a spy camera to keep an eye on the nanny or to prevent theft?
Keeping your home under surveillance is of utmost importance, so it is inevitable to install at least one camera. The cameras not only serve to prevent theft but also allow you to be able to monitor the people inside it. Using a camera you can keep an eye on the babysitter, children, grandparents, pets, and many others, so you will feel safer using a surveillance camera. Although traditional cameras are good, the truth is that in most cases they are very large cameras and easy to detect, so surely using a spy camera will work better. Spy cameras are usually compact devices that can be installed anywhere and best of all, you don't need to use cables. Most of these cameras work with a rechargeable battery, this will prevent them from being discovered, although you should make sure to charge them.
You should keep in mind that the vast majority of hidden cameras usually offer low quality, so if you need a reliable spy camera it is important to avoid these types of cameras and make sure you buy from serious manufacturers. For about $50 you can get the Ebarsenc spy camera. It is a spy camera capable of recording at a 4K UHD resolution, it can also record at a wide viewing angle that will allow you to obtain a more detailed recording. If you are looking for a spy camera with these features you would surely like to know more about this product.
Features of Ebarsenc spy camera
Keeping an eye on your home will be an easy task with the Ebarsenc spy camera. This camera capable of recording in high resolution will allow you to be able to monitor the interior of your home. The camera is designed to keep an eye on your children, babysitter, grandparents, and pets.  The main feature is that it is capable of recording at a 4K UHD resolution, which will allow you to get a sharp and detailed recording, unlike cheap spy cameras. Another feature of this spy camera is that it includes a recording angle of 160 degrees, so you will not have to worry about the video format, the 160-degree angle will allow you to get a wide recording. The spy camera can save the recordings in two different ways, you can use the app to save the recording automatically on your phone using the WIFI connection, and you can also add an SD card with a maximum capacity of 256 GB (not included). This spy camera can be recharged and used for 8 hours without the need for cables, but you can connect it to the power and use it 24 hours a day. The included night vision will allow you to be able to record during the night, so even when you sleep you can be protected. The camera also includes an alert function, the alert function will send a notification immediately to your cell phone in case of detecting a suspicious movement inside the home.
Summary
If you need to keep your home protected without raising suspicions you should consider the Ebarsenc spy camera. This camera records at 4K UHD quality, so you will be able to get a detailed recording. Ideal for keeping an eye on the babysitter, babies, pets, and grandparents. Remember to use the spy camera responsibly.
You can buy this item here: Amazon.com : Spy Camera Hidden Camera-Ebarsenc 4K UHD WiFi Wireless Mini Camera/Battery Operated Nanny Cam/Small Camera for Home Security/Indoor Camera with Motion Detection and Night Vision/Surveillance Camera : Electronics
My name is Joel! I love to read, I go to university like most people my age.
In my free time I usually train boxing, I love music, I also know how to play the guitar and the harmonica.