We are influencers and brand affiliates.  This post contains affiliate links, most which go to Amazon and are Geo-Affiliate links to nearest Amazon store.
Well if your anything like me you go nuts over new technology. Well our good friends over at Tablet Expres sent us a Dragon Touch E97 9.7" Quad Core 3G Tablet/Android Phone to test and review.
When I got this tablet in the mail I was like excited to have something new to play with. Now this phone has 1Gb Ram 16Gb Nand Flash. It does have a micro SD card slot so you can add memory space in case you feel cramped on storage however.
The screen is a 9.7 inch screen which is a decent size for a tablet, not the largest but works great for the size and the resolution of the display. When I opened the box you get the glimpse of what is to come with a fun new experience.
As you can see in the follow up picture  there is  two cords, instruction book, and the tablet in side the box.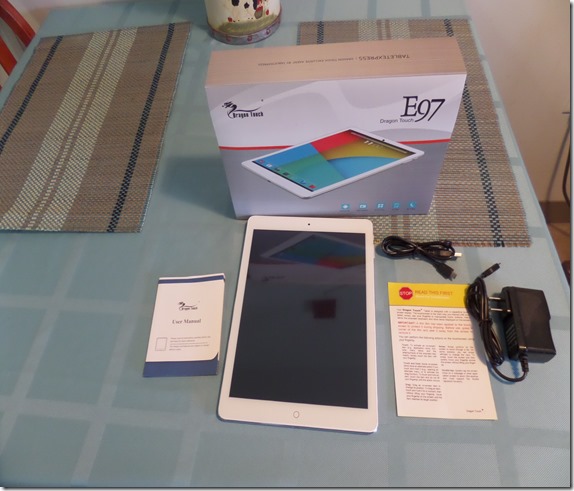 Now one thing that threw me off was when I heard and read that this is a fully functioning phone also. I mean who would of thought to make a 9.7″ tablet a phone also.
Now to support this function however you need a SIM card from your phone company. Note that not all cell companies are compatible. I will place a snip it from there post on what they say about the cell and SIM card use.
Unlocked worldwide phablet. 3G 850/1900/2100, 2G- 850/900/1800/1900. Compatible with AT&T and other GSM networks. Not compatible with CDMA network, such as Verizon. Please make sure your SIM card is not locked with PUK code before use Dragon Touch E97 phablet.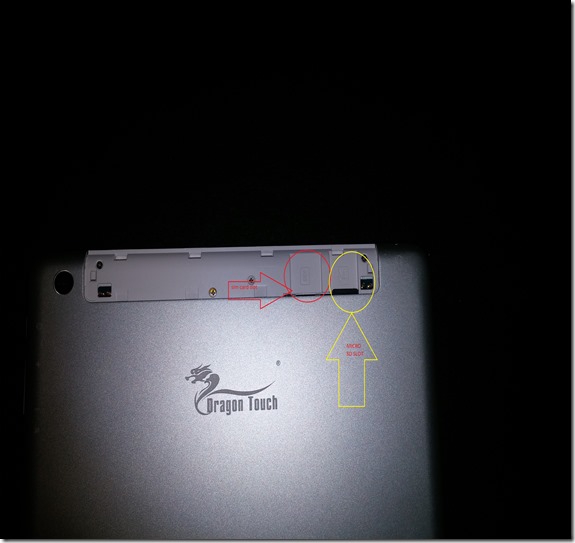 Watch my unboxing here!
Specification:
Quad Core 4×1.3 GHz
Android 4.4 KitKat
9.7" IPS Screen 1024×768 HD
16 GB storage, 1GB RAM
Dual Camera, 2.0MP+5.0MP
Wireless N (802.11b/g/n), Bluetooth, GPS, FM Radio
G-sensor
What's in the Box:
Dragon Touch Tablet
AC Adapter
USB Cable
User Manual
Screen Size
Max Screen Resolution
Processor
Wireless Type
Well let get to some benchmarks and test. The first here is CPUZ marks. As you can tell Dragontouch has a nice CPU speed at 1.30GHz. For a tablet in this price class and size, that is very nice.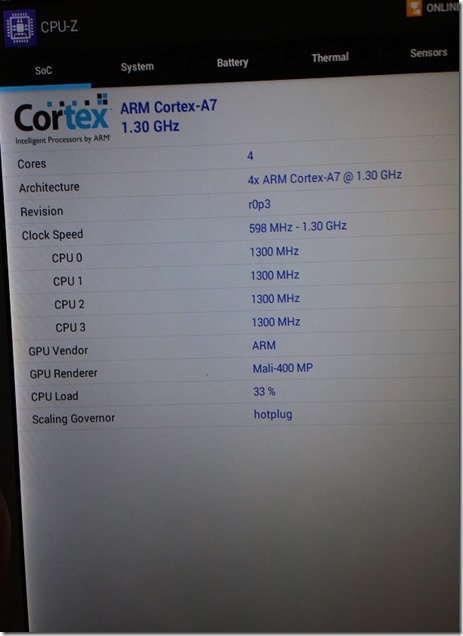 Now are next  benchmark is from 3dMARK ice storm. As you can see it is a very decent score for this tablet, this is a bit lower than the Kindle Fire HD 7 though this also is a larger tablet and is a cell phone which you won't find in the Kindle Fire HD 7.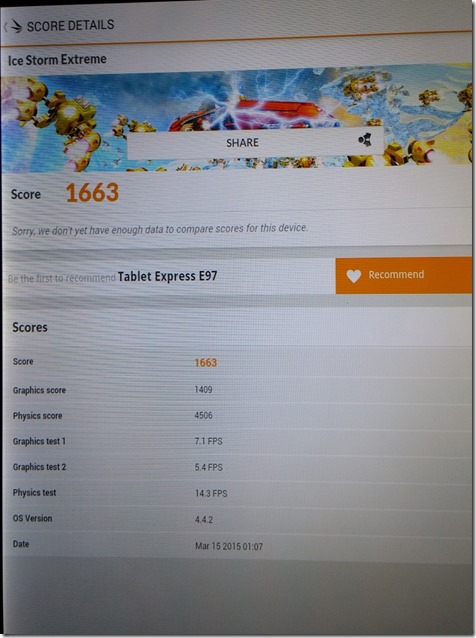 Next I ran was the battery test. I did fully charge this and then test it. when done the battery was at 19% charge.
So there was still at least 30 to 40 minutes I would say left. As you can see it showed the battery can run for 4 hours and 35 minutes but like I said there was still 19% battery.
That seems to me a great deal of use time when your running loads of shows, movies, games and what ever else you may do with it.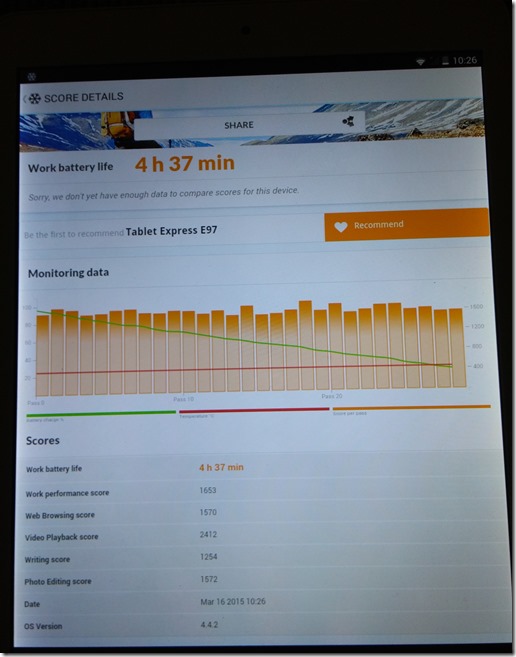 Now there is a great little feature that I was not truly expecting. This tablet has a FM Radio so you can listen to your favorite channel without even using the Internet or Wi-Fi.
To use this device you need to plug in your headset and use it as a antenna. Now this does not mean you need to listen through the headset but it will require it for reception.
So as the testing went on I played games, watched videos. I used Netflix, Hulu, and a few other services. There were no issues unless it came to my Wi-Fi signal dropping or lagging due to the wind we had.
I played Angry birds, Asphalt 8, and one of my favorites Hearthstone. All ran smoothly which from others I heard have not been able to play Hearthstone on older model Dragon Touch tablets. Which you can see in  the next few pictures played fine for me, and this was the default Tablet OS without any rooting.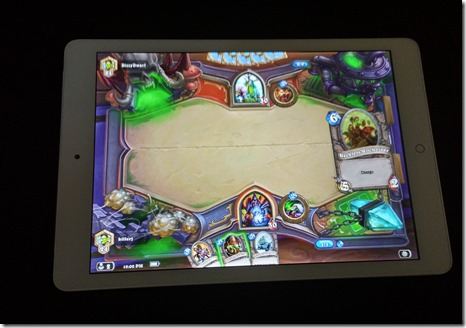 To me this tablet has it all that you could need from the gamer, to the student, or the casual user. This can also work for those who want to use it for eBooks I'm sure.
All and all this tablet has all the  marks for a great device including a nice camera. You could not go wrong with this Tablet for the price in my opinion.
The Dragon Touch E97 tablet is so easy to use this would make a great present for the child in the family that can't get enough TV show or cartoons on the go. I also think with it being Android based you get the Google Play store which in my opinion has more free apps in the store. Plus a wide variety of games and other apps you can buy. This tablet seem to be smooth with dragging and scrolling with your finger as well and I tend to have some issues with other tablets I have used in the past so I would have mentioned if I noticed any lag.  Combine all of this with Bluetooth support so you can pair it with a Bluetooth keyboard, Headset, Headphones and more and you got a solid budget Android tablet that is 9.7″.
Now for the price of this tablet it sure competes with the larger names brands with ease.
Disclaimer : Tablet Express sent me The Dragon Touch E97 tablet to review. All opinions are mine and mine alone!
We are influencers and brand affiliates.  This post contains affiliate links, most which go to Amazon and are Geo-Affiliate links to nearest Amazon store.
Hi everyone I'm James Braga. I was born in Oregon and moved to New Hampshire a few years back. I love most things that have to do with video games and electronics, It doesn't matter if it for a car or a house, if it has electricity in it i will love it . I'm also in school for Information Systems Technology.