We are influencers and brand affiliates.  This post contains affiliate links, most which go to Amazon and are Geo-Affiliate links to nearest Amazon store.
Today I have the pleasure of bringing you my review on the Tablet Express Dragon Touch E70 7in tablet.  This tablet pretty much fits the bill for just about any task and does it with some style.  It comes in at $109.99 on Amazon, lets find out if its worth its price.
Specifications
7in IPS 1024×600 HD Display
Quad Core ARM Cortex-A7 processor running at 1.3 on all 4 cores
Quad Core Mali-400 MP
1Gig DDR3 RAM
16Gig NAND Flahsh
Android 4.4.2
Dual Camera 5MP Rear, 0.3MP Front
Wireless N (802.11 b/g/n)
Bluetooth 4.0
FM Radio
G-Sensor
Ports: 3.5mm Headphone Jack, TF/MicroSD card slot for additional storage
GooglePlay Certified
Let's take a look at the unboxing and what comes inside this box.
Very nice and simple packing, I like that and as you know and I am a big believer that every company should do this.  It's great for our environment and for your wallet.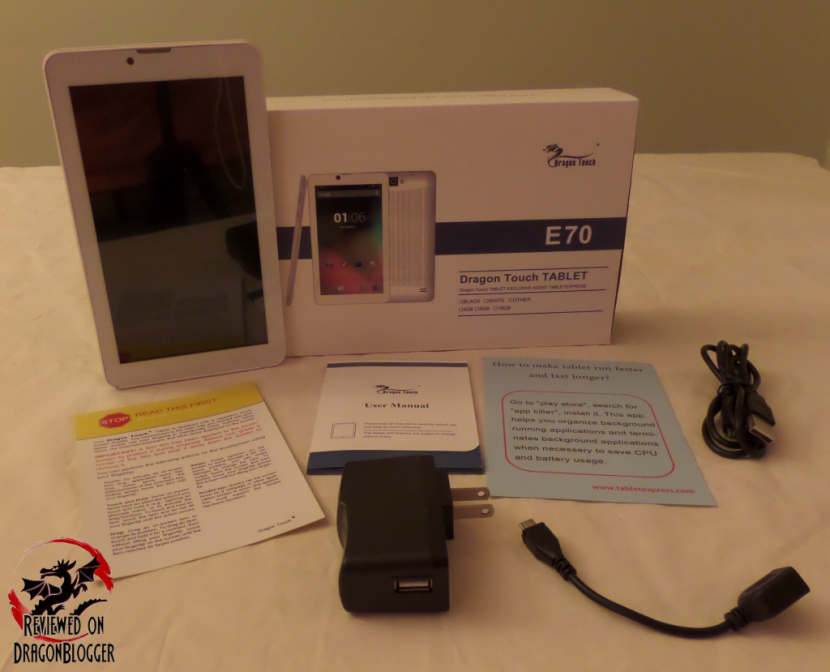 This tablet has the makings of something nice, but let's check out what it can do.
To start off, this is a 1.30Ghz quad core tablet.  Tablet Express is great at bringing a pretty powerful tablet at a nice budget price.  The CPU and GPU power is quite enough to use it as a drawing tablet for beginning level graphical work.  Check out what CPU-Z shows it as.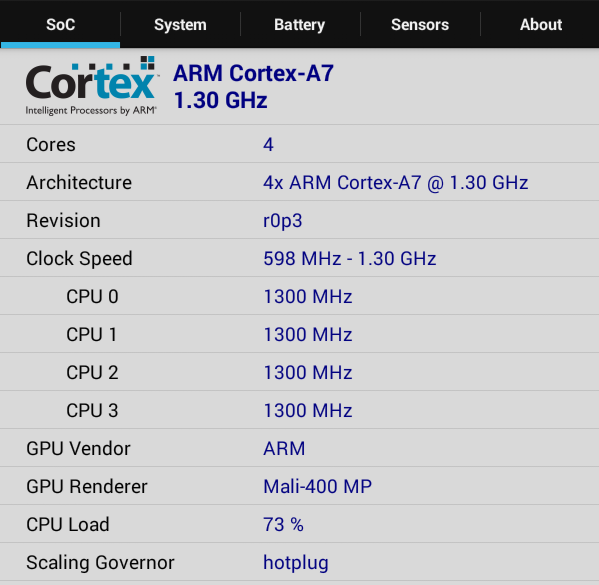 Let's jump to some benchmarks, starting off with FutureMarks 3DMark, namely Ice Storm.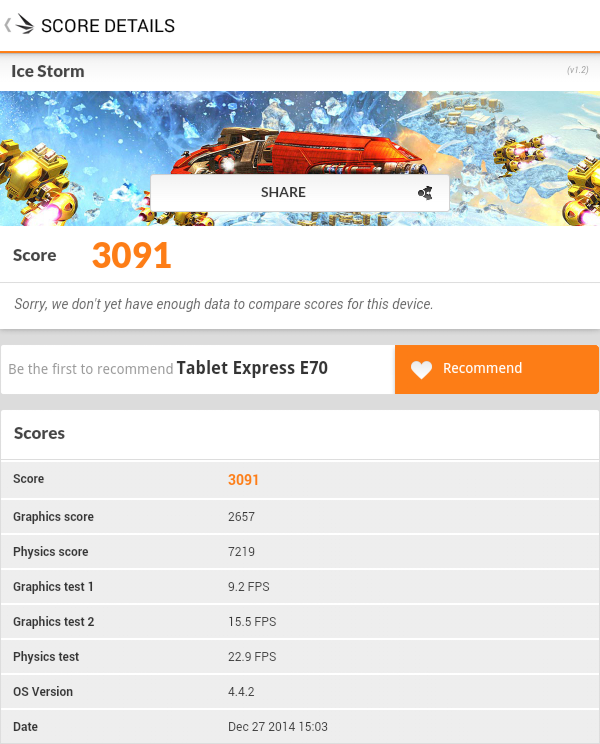 If you checked out my previous review of a budget tablet roundup, you would see that Tablet Express' own Y88X, the winner of that round only scored a total of 2695 and the E70 ended up at 3091.  Here are the comparisons so that you have better idea on the entire workings of the score, Bold scores are the highest scores.

So Tablet Express' E70 is on the right path to take the leading crown.  Let's move on to the next test, this time with FutureMark's PCMark and I will also list the comparisons between the two tablets.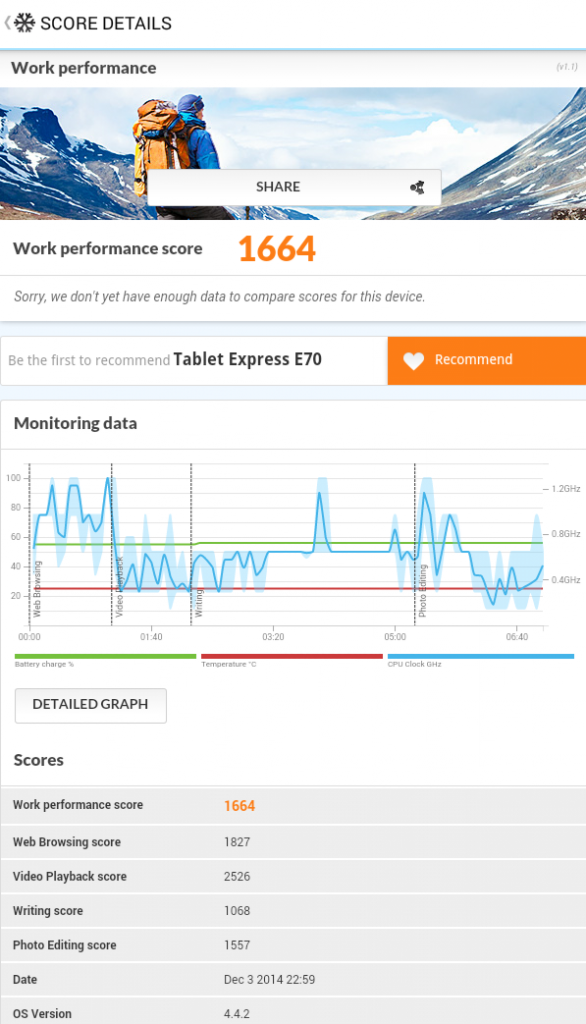 These results are a little awkward, we saw on the previous test how much the E70 outperformed the DTY88X but PCMark's results are a bit different.

PCMark, which is better known for showing real world performance shows that this tablet performs lower and in some test the DTY88X outperformed the E70 by double the performance.  Very confusing, but the work Performance score is the collective score of the bunch.  We can see the monitoring data shows that the CPU was all over the charts, If only the CPU had kept up the entire time, I am sure all of these scores would have gone up but we are not here to wonder about what could happen, I am here to show you what did happen and help you decide what is good.
On to the next round of benchmarking, with Antutu.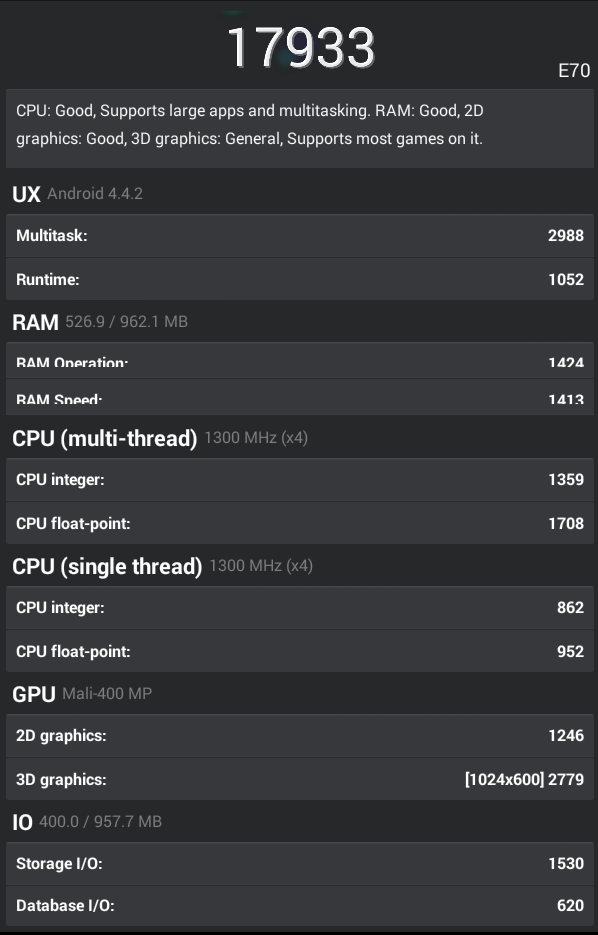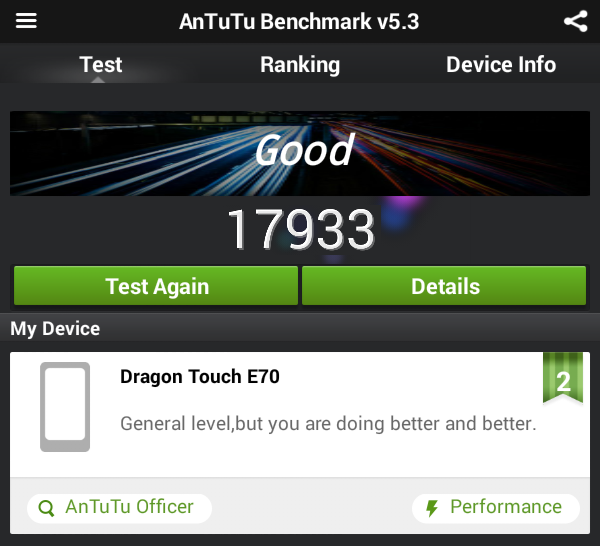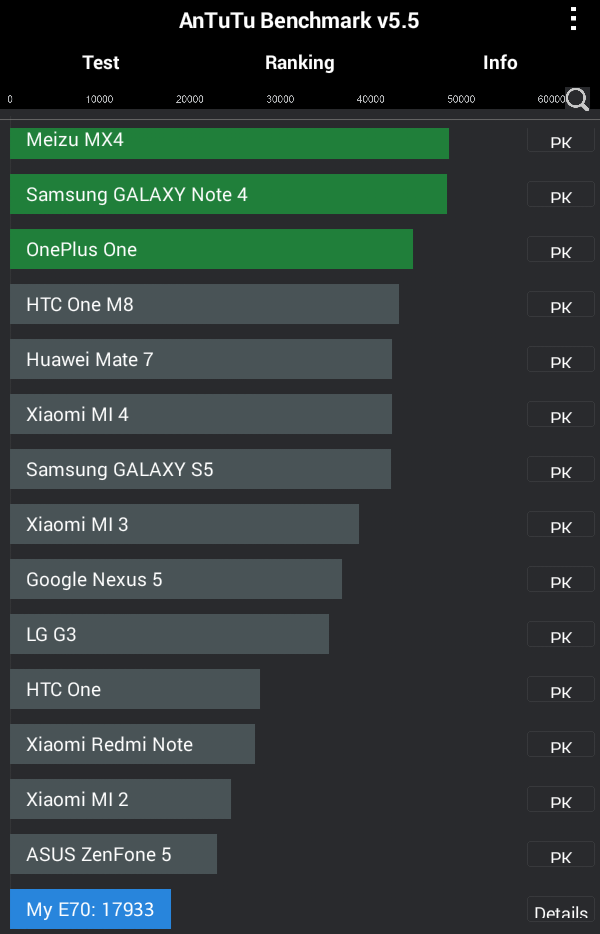 So at a score of 17933, this tablet just slightly fell short of the Asus ZenFone 5 which is a Quad Core Intel tablet at 2.0Ghz (2 x 2 cores with Hyperthreading) and has 2GB of RAM so the fact that it came so close is quite impressive.  The Asus ZenFone 5 comes in at $204.99 (when I checked on Amazon), the Tablet Express is $109 (when I checked on Amazon), pretty impressive.  Now some comparison between the E70 and the DTY88X.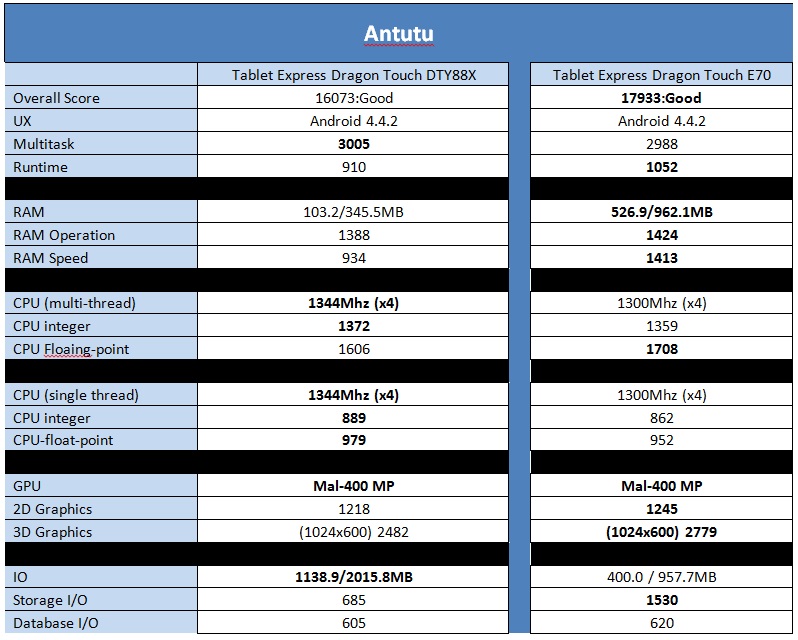 So the previous results in PCMark make a little more sense here.  It turns out that the processor on the DTY88X is 44Mhz faster on each core but that speed was not enough to beat it in this round.  The E70 has double the memory but a slightly slower processor, so it helps out in many tasks but others seem to be much more CPU intensive.  Both received a "Good" rating, but in the end the E70 beatout the DTY88X.
This tablet gives you plenty of space with 16Gigs of storage for storing your pictures, programs and all that good stuff and even allows for additional storage.  The picture below shows the back portion of the tablet removed to access the memory, an odd spot but if anything good for keeping the memory safe.  Remove this portion exposes the camera and the SIM card slot.
The SIM card allows you to use this as a mobile phone but I was not able to test this feature since this takes a full sized SIM card and my Motorola Droid Maxx takes a micro SIM.  I had purchased a micro SIM to SIM converter, but it was labeled for iphone4, I thought it would work, but it did not detect my SIM.  I cannot comment on how this cellular feature works, but I think this is an awesome feature.
Here are some of the ports it has.

Many tablets at this price and above will not provide you with the ability to pop in an SD/MicroSD card or much less a SIM but this guy does.
A very important aspect with tablets is battery life and again I reach out to FutureMark's PCMark to test the battery lifespan on this tablet.
Every day use on the tablet, at least for myself is reading some emails, watching some videos, looking at some pictures through facebook, some web browsing and some gaming.  PCMark tests video playback, browsing, writing, photo editing almost everything I do but it does not test gaming, though it still is the perfect test.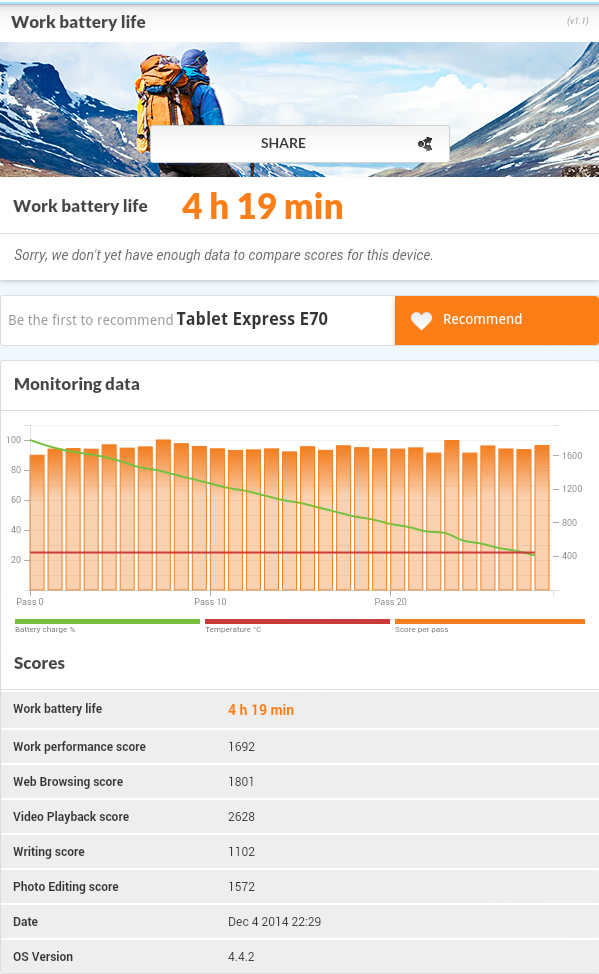 4 hours and 19minutes is very nice, but how does it compare to the DTY88X.  Well funny you should ask, I am going to show you.

So the E70 score almost double the time the DTY88X did, but the scores might explain that.  Both the tablets had almost equivalent processing power, although the DTY88X had 44 more Mhz per core and it seems to have taken a harder hit on the battery.  Browsing and editing did better on the E70 because they require more RAM.  Work Performance, Video Playback and Writing focus more on CPU processing, so it makes sense.  The decoding on the playback of course will take a toll, but it would have been the same toll on both, but it seemed to have hit the hardest, earning almost double on the DTY88X.  You would think it might touch the RAM, but maybe at only 512MB of RAM, it kept the cache fresh and with that pegged the battery a little harder.
Another thing important to some is the camera, let's take a look at look at photo quality on both the front and rear camera.
This is a picture off of the .3MP front camera.  These are meant more for Skype or things of the likes for low resolution transferring of images to take less of a toll on your data plans, but mostly this is a tablet so if you use Skype you are running on WIFI, so it doesn't make sense in this matter but then again since this is a Phablet (a Phone/Tablet) it might make some sense.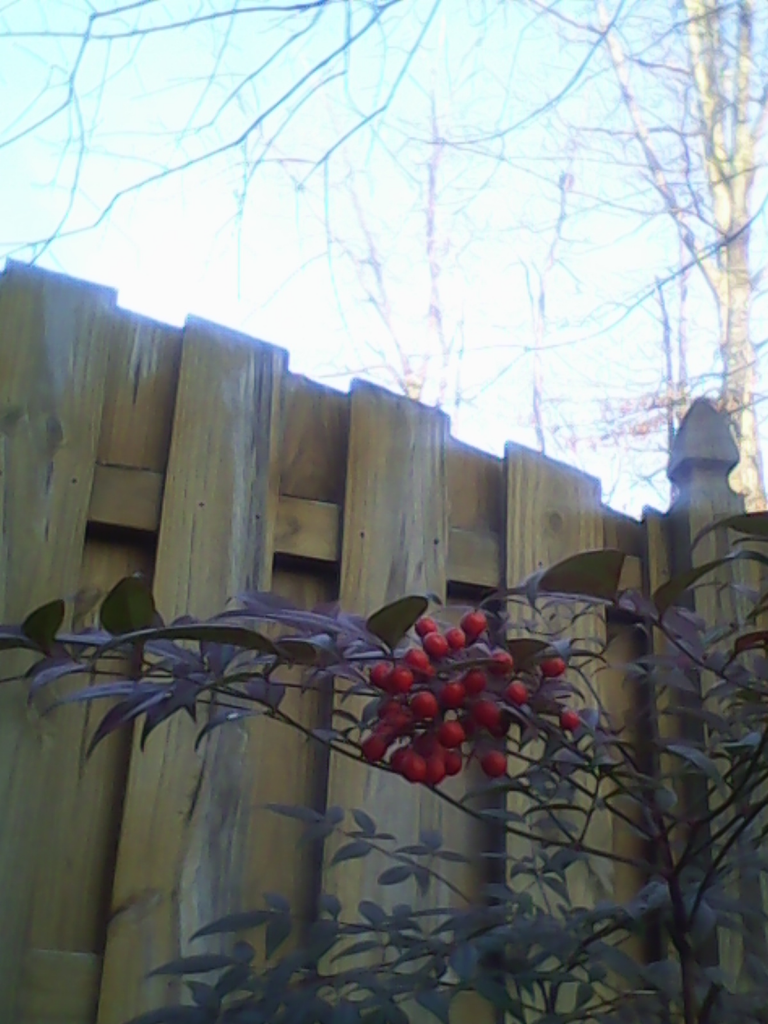 On the flip side, the rear camera the image looks much more clear and vibrant with its 5.0MP camera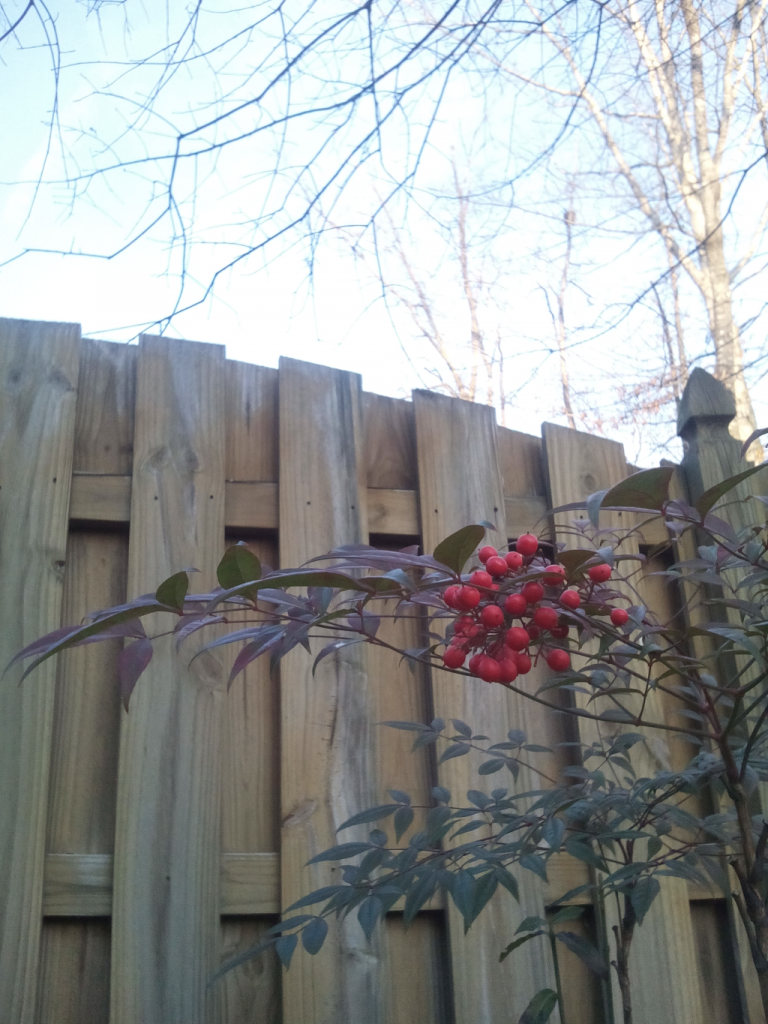 There is much more definition and a need for me to pressure clean and seal my fence.  Sorry, the last few photos are of these berries, its winter so I am trying to get as much color as possible.  5MP is much better for taking pictures on a tablet.  If you are only thinking about images, you would want 5MP, but if you are transferring data through Skype you can have a much more fluid true to life movement on a .3MP camera than a 5MP.  Why?  The .3MP camera's file size was only 450KB while the 5MP image was 2.29MB, the less data you pass the better the fluidity, get it?
Another thing about the 5MP camera is that it offers Auto focusing and also has flash, actual flash on a tablet is very nice.  I have a few tablets around the house, and this is the only one that has flash, yet all my phones have flash, another perk of having a phablet.
Here are the buttons along the side of this tablet.  It has the standard Volume Up/Down and Power buttons and a little reset button, accessible with a pin.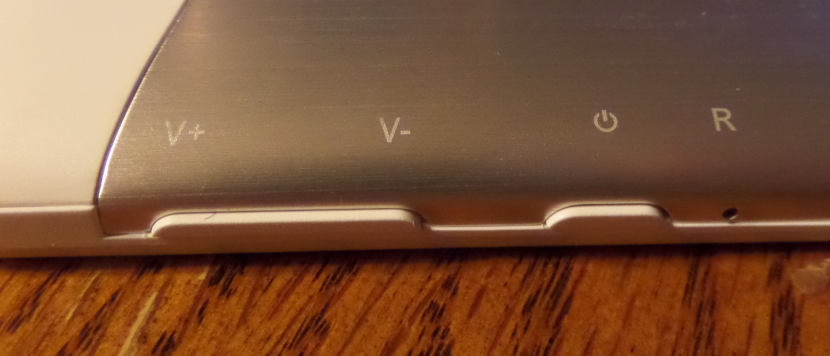 This tablet has an Android feature not present in many tablets, even with never versions of Android (4.4.4), some with the same version (4.4.2) don't even have it but I can't speak for Lollipop.  The features is a simple little soft button.
It may not seem like a lot to many of you, but when all you need to do is restart your tablet, it is rather annoying that the only options you have is Power Off and Airplane Mode.  Reboot is a forgotten feature in tablets for some reason, but it is refreshing that this has it.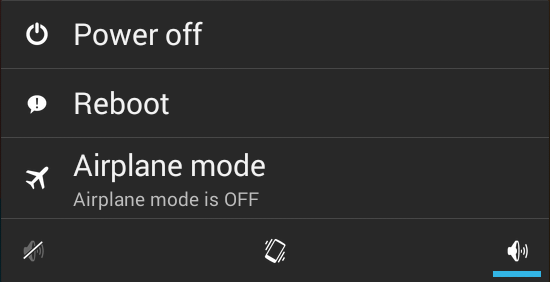 So, let me show you some real world use of this tablet, it has some surprises.
So you can see this tablet/phablet has many great features to offer, FM Radio a very unexpected feature, a flash light which of course also works for the camera and plays games very well and movies too.  I would like to mention, I ripped the DVD using WonderShare Video Converter Pro, it does so much more than simple converting of videos, but check it out by clicking on the link.
One other thing, kinda out of left field is that on all my reviews where I have had to use Wi-Fi downstairs I have prefaced the video stating that I had poor signal.  I didn't want that anymore so I revealed on the video above a Netgear N300 Wi-Fi Range Extender and it worked very well.  Best of all, the setup was a breeze, check it out.  I also show you the box and my full bars in the video.  So now I have Wi-Fi everywhere.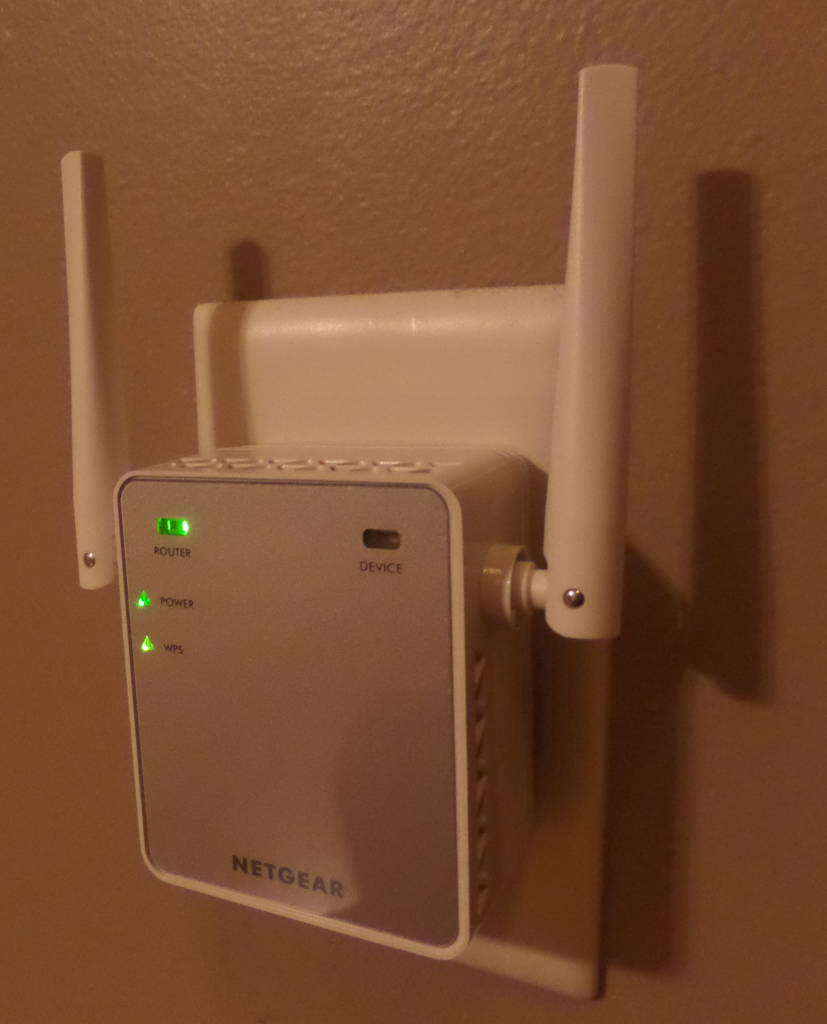 I did not test the Bluetooth during this review, but I will mention the previous tablet did not have Bluetooth and other features mentioned in this review.  This tablet/phablet does have Bluetooth, another welcomed feature.
Even though this tablet did not perform as well as some previous tablets in some reviews, it rocked in most others and what it lacked in performance it made up for in features and that battery was nice too.  With some of the pitfalls the good outweighed the bad and the price makes up for more; I would have to give this one a 4.5 stars out of 5.  One main gripe I have with Tablet Express is the resolution, but at 7", a higher resolution might not be noticed as much, then you would need a more powerful GPU and then the price goes up or would it really?
We are influencers and brand affiliates.  This post contains affiliate links, most which go to Amazon and are Geo-Affiliate links to nearest Amazon store.
I have spent many years in the PC boutique name space as Product Development Engineer for Alienware and later Dell through Alienware's acquisition and finally Velocity Micro. During these years I spent my time developing new configurations, products and technologies with companies such as AMD, Asus, Intel, Microsoft, NVIDIA and more. The Arts, Gaming, New & Old technologies drive my interests and passion. Now as my day job, I am an IT Manager but doing reviews on my time and my dime.