We are influencers and brand affiliates.  This post contains affiliate links, most which go to Amazon and are Geo-Affiliate links to nearest Amazon store.
When you enter the field of real estate, one of the first lessons you should learn is how to market the homes you will be showing. Luckily, technology has made this easier than ever with the explosion of drone tech onto the marketing scene. You can take photos from hundreds of feet in the air, capturing every angle of a property. Drones are advanced enough to carry multiple types of cameras, as well as precise enough to cycle through the photo options without ever needing to touch the ground. The market is flooded with drone models of all types, so, the question is, which are the best for real estate?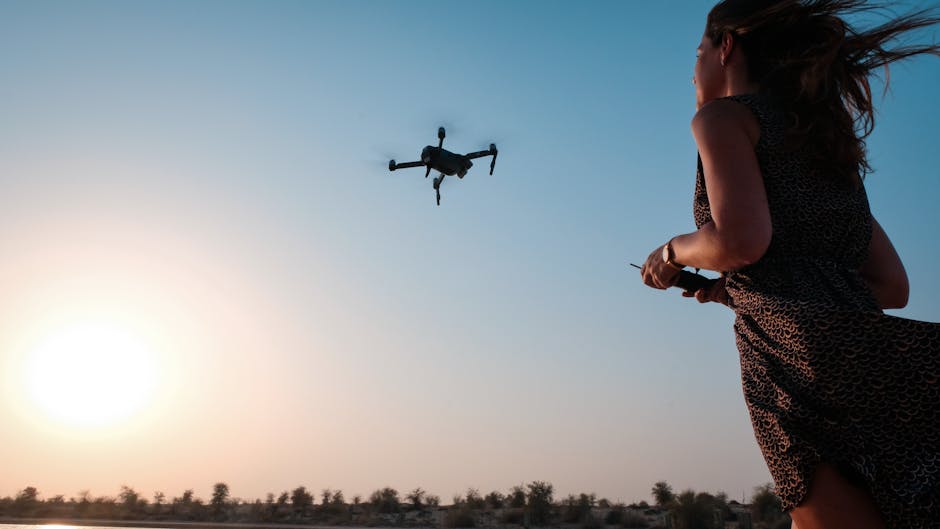 Real estate drones have the simple purpose of taking a series of images from fantastic angles. A few years ago the images drones provide would have cost much more than they do now. Luckily, tech has advanced enough to make it much more affordable today. This only leads to the question of what model drone you should purchase. Depending on your needs and budget, it should not be too difficult to find the right drone for your real estate marketing needs. Many quality real estate services use drone imaging, a function made even better depending on the model.
DJI PHANTOM 4
DJI is a popular brand when it comes to drones, providing quality models with plenty of customization options, all on solid builds. The latest model in their most popular series is the Phantom 4, a model that has actually become quite popular for real estate purposes. This model has a 4K camera installed, which is able to send a live feed of what it sees to your Android/iOS device. It also has some of the best batteries in the industry, making it capable of working for nearly half an hour, or more with extra batteries. This model even has a flight range that stretches into kilometers.
This model is also amongst the most user-friendly, sporting a collision avoidance system and easy to use controls. You should also be aware of the pro version of the Phantom 4. Unlike the regular version, the pro comes with enhanced obstacle detection capabilities and a shutter built into the 4K camera. Both versions are able to record video, but this version can do so in HD and at slow motion. The regular Phantom 4 costs $699.00, while the Pro is $1,499.00.
Walkera QR
The Walkera brand offers quadcopters of a reliable make with high standards for both their design and performance. The X800 model is actually sold in a Bind-n-Fly (BNF) state, where the basic framework is delivered and any pieces you want can be added on. This model's framework is made from a weaved carbon and it can fly for around an hour. The GPS controller means that the drone can be used at virtually any distance from you, the user. The customizable nature of the drone also means that any professional camera can be attached with ease.
The X350 Pro model is a lighter, more advanced piece of hardware that is both more portable and customizable. It can move at accelerated speeds of up to 45 MPH and has a battery life of around half an hour. The GPS controller is highly effective and this model is also able to carry modern high-quality cameras. Both Walkera models come at different prices due to the additional attachments that may be ordered. They may cost as low as $300 and as high as $1,500.
Yuneec
This brand has a solid reputation among drone hobbyists for its reliability and utility. The Typhoon Model comes with six rotors, a collision avoidance system, retractable arms, and a rotating camera built into the frame, it is also capable of taking 1080p shots. This model can soar in an area thousands of feet wide for up to half an hour. There are options installed into the remote designed to make it easier to control, such as a return function and transmitter screen.
Built for maximum utility, the Tornado model was designed to be used at a more professional level, making its price a bit higher. The carbon frame is built for both high-grade endurance and low weight maintenance. Its ability to lift heavy payloads allows it to carry up to 7 kgs of photography equipment. The drone also comes with a fail-safe feature for the safety of its equipment. The Typhoon H sells for as low as $799.00, while the Tornado model prices at around $1,000.
We are influencers and brand affiliates.  This post contains affiliate links, most which go to Amazon and are Geo-Affiliate links to nearest Amazon store.
I am interested in all things technology, especially automation, robotics and tech that helps change how society will live in the future.