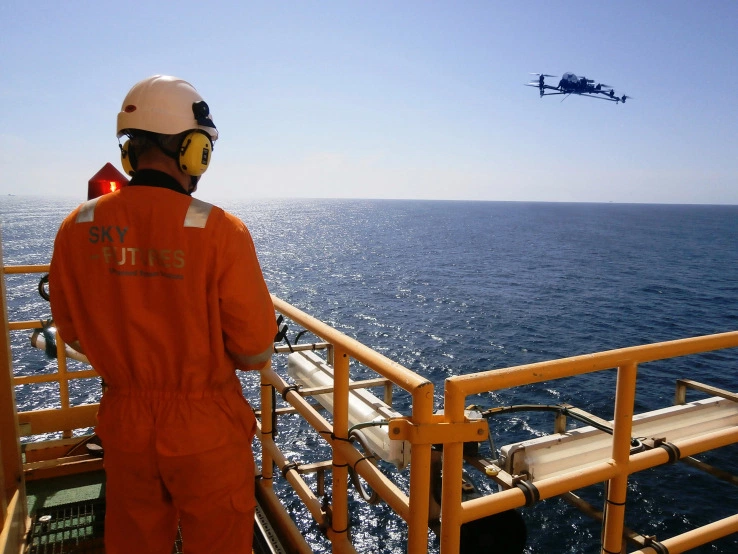 Image: Techcrunch
A fast evolving number of nations have passed regulations allowing energy organizations to station inspection drones for their maintenance needs. By this, they are saving man hours and money, as well as circumventing most of the potentially unsafe work. Drone inspection involves analysis of large volume of data(videos, IR thermal images, high resolution photographs) that are collected during drone flight. This article explains how drones are playing a key role in the oil and gas industry.
Drones can augment the safety and effectiveness of offshore oil and gas operations with the help of a strong and established communications network. The present methods of examining and reporting, identifying, and locating leaks in remote, rugged locations of an oil rig can be ineffective and cost-prohibitive due to shutdowns, and with safety being a major concern for offshore ventures, the workers in oil rigs have to brave hazardous conditions during the process of inspection.
The major problems associated with cost involved and safety are the major setbacks in accomplishing a successful offshore operation. The innovative technologies associated with aerial drones has put an end to all these problems. The drones can increase the efficiency, speed, and mobility of the operations in oil and gas industry. Let's see how drones are accomplishing this in the following section.
Impact of Drones on Oil and Gas Operations
The major applications of drones in oil and gas operations include flare stack inspections, offshore oil platform inspection, locating the areas where oil spill is happening, and maintaining regular surveillance over gas emissions. The drones can provide in-detail optical imagery during flare stack head inspections when responsiveness to fast flight control system is vital. During flare stack head inspections, the drones eliminate the need for employees climbing the stacks, and shutting down the stacks ensuring their safety. By this, the interruption to production can be avoided thus saving a lot of money for the organizations involved in oil rigging. Also, the drone inspection enable us to detect any damage caused to the oil rig much before so that serious damages can be evaded.
Coming to the offshore oil platform inspections, the real-time data including a high-definition video and still imagery is sent to sent to the rig or work boat operator by drones flying within some feet of offshore platform. This kind of information is highly critical for the rig operators because they can any work associated with platform inspection well in advance.
The sensors attached to drones can detect the oil spills and can provide information regarding where and how fast the oil spill is happening. Due to this real-time information the response vessels can act more quicker thus nullifying the damages caused due to oil spill. Another major aspect of oil and gas operations where drones are playing a major role is the detection of gas emissions. The optical sensors on few drones can detect gas emissions, thus minimizing the costs involved in inspection and making them quite safer for people working in the rig.
The drone inspection solutions for visual inspection offers advantages that include reduced costs and downtime, qualified and authorized inspection personnel, faster inspection system deployment, access to places that pose environmental, safety, and health risks to humans, optimized production and preventive ,maintenance planning, and inspection of places that are quite difficult to access. Drones have proven useful to minimize excess waste across sites in every possible way. By performing inspections on sites, the drones can cut down costs considerably when compared with previous methods, making their deployment a sustainable and long-lasting one.
Conclusion
Production and drilling equipment, tubular goods and wellhead equipment, floating production systems, oil and gas upstream maintenance needs for offshore structures, equipment for mid-stream refinery, including operations on downstream sector line, pressure-relieving systems, and storage tanks, all get benefited from drones. Drones help oil and gas sector in safe conduct and reliability of operations, fulfilling their security, environmental, as well as business responsibilities.
About the Author
Savaram Ravindra was born and raised in Hyderabad, popularly known as the 'City of Pearls'. He is presently working as a Content Contributor at Tekslate.com and Mindmajix.com. His previous professional experience includes Programmer Analyst at Cognizant Technology Solutions. He holds a Masters degree in Nanotechnology from VIT University. He can be contacted at savaramravindra4@gmail.com. Connect with him also on LinkedIn and Twitter.
This is the Dragon Blogger Guest Bloggers account for author's who want to submit articles and only have credit in the post instead of having to manage their own WordPress profile.