We are influencers and brand affiliates.  This post contains affiliate links, most which go to Amazon and are Geo-Affiliate links to nearest Amazon store.
[easyazon_image asin="B0051T47NQ" alt="Trollhunter" src="http://ecx.images-amazon.com/images/I/51SCh6OZtwL.jpg" align="right" width="300″ height="369″]Troll Hunter (Trolljegeren) is an adventure/comedy/fantasy directed by André Øverdal, and written by André Øverdal and Harvard S. Johansen. The film stars Otto Jespersen, Robert Stoltenberg, and Knut Nærum in a film where a group of students investigates a series of mysterious bear attacks, but learns that there are more dangerous "things" going on.
"On October 13, 2008, Filmkameratene AS received an anonymous package with two hard discs containing 283 minutes of filmed material. Everything in the film was shown in chronological order, and none of the images was manipulated. A team of investigators was trying to establish if the film was a practical joke or the material contained on the discs was authentic. It was concluded after their investigation that the footage was authentic."
Should Hollywood monster-makers take lessons in creature believability? The faux documentary Troll Hunter would serve best as "the" monster film template to follow. Some of you may remember the 2008 film Cloverfield? A film where indiscernible monsters or alien type-things invaded and plagued the city of New York, and filmed from the point-of-view of a pitiful group of party-goers. Cloverfield did not suffer from a lack of creative creature imagination–it suffered by teasing us with visually annoying, blurred, and 'brief' snapshots of a non-fascinating creatures. The premise also suffered as well–it lingered within a predictable set of survival circumstances.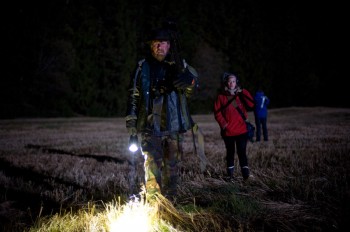 Luckily,  Øverdal paid attention. He chose not to err along the lines of enormously repeated explosions, axe murderers, and one too many panty-raids. Nope. He instead, came up with a genius film concept, utilizing state-of-the art cinematography, and a masterful collage of visual effects that comfortably sets viewers up for an "in-your-face" peek at a not so ordinary fairy-tale, filled with ginormous fantastical creatures.
Three curious Volda College students–Thomas (Glenn Erland Tosterud), Johanna (Johanna Mørck), and Kalle (Tomas Alf Larsen), heard rumors that there were bears making trouble within the mountains and in the deep forests of Norway. The students and a group of hunters suspiciously 'suspect,' that the disturbances are being caused by a mysterious hunter. However,  after the students interviewed a few of the hunters, they both begin to suspect that the destruction was caused by a different 'type' of animal. See, the hunters never heard of bears with the ability to level acres of trees, or maliciously mauling herds of sheep, all in one night. It was even believed at one point by less informed citizens, that wolves invaded their farm houses, smashing in doors, and ripping the roofs off barns where livestock were kept. Something strange is going on, and our trio of student filmmakers believe it all has something to do with the mysterious poacher, who drives a seriously tactical and 'suited-up' Land Rover.
Hans (Otto Jespersen), is no poacher. He is an under-appreciated government worker–a "trolljegeren," or "troll hunter," whose job it is to kill any troll who breaks out of its territory. He is out all night battling Jotnar's, Ringlefinches, Tosserland's, and Mountain Kings–trolls–while the people of Norway sleep comfortably at night. Initially, Hans shunned the probing trio of students, but then decided that since he is tired of the long nights and all the unfavorable business of government cover-ups (plus he is not being paid enough for his troubles), allowed the students to film him while he went out troll hunting.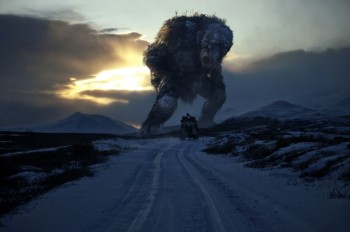 Hans turns out to be the unsung hero in this film, and these curious college students quickly learn that the fairy-tales they learned as children just did not match up with reality. The Norwegian government was truly hiding something–the existence of trolls and a less well know organization the "Troll Security Service (TSS), " cleverly documented in a modified Blair Witch Project/Cloverfield'ish sort of way.
Absolutely stunning views of the Norwegian landscapes, troll snatching sheep from a bridge, and even if there were a few "breaks" in the story's pseudo-details, Troll Hunter does not disappoint and is excitingly enjoyable. The film is so convincingly well done, that it teeters on being an imaginative interplay on the subconscious that still, even at the time I wrote this review, wrestled with the thought that somehow, every image, every disclosure, and every bit of rough-cut of film lingered–as if all of what I witnessed, were real.
Trust me. You will believe it too, when you see it.
[xrr label= "Troll Hunter (2011)'" rating=4.5/5]
[youtube width="555″ height="261″]http://www.youtube.com/watch?v=fWbxzKTdFN8&list=PLD17736A0F83A3105&index=3&feature=plpp[/youtube]
The 'Troll Hunter'  DVD host an engaging amount of Special Features:
Deleted Scenes – extremely entertaining – Hans collecting evidence – Hans 'the troll hunter' is digging through a mound of troll shit. In If you are driving at 80KPH – That's 80 kilometers per hour, and if you stick your hand out of the car window, you may or may not discern a mid-air "boob." I hadn't tested it yet.  At Finn's – Finn is the 'unofficial' TSS government liaison that monitors the trolls Hans kill. Cheeky chap. Wolf Wolf! – The townsfolk somehow believe that wolves are ripping the doors and roofs off of their barns. Troll hairball – Well, you can figure this description out for yourself.
Improv and Bloopers – Funny outtakes from the film – Trashed Car – The college trio's car was destroyed during a hunt, they seem to think it was Hans that did it. Frozen Pizza and Hunter's Stew – Self descriptive. Bloopers – More funny outtakes.
Extended Scenes
Visual Effects – This was awesome to watch because you get to see the breakdown on how the trolls were created.
More Behind the Scenes goodies
Photo Galleries – Troll sketches and habitats
HDNet look at "Troll Hunter" – The director and some of the actors in the film discuss what it was like on the set.
and of course, the Theatrical Trailer.
[easyazon_block asin="B0051T47NQ" align="left"]
Image credit: Magnet
We are influencers and brand affiliates.  This post contains affiliate links, most which go to Amazon and are Geo-Affiliate links to nearest Amazon store.
When AIDY isn't writing poetry, she likes to write film reviews. If she is curious about something she seen or heard, she'd maybe write about that, too.