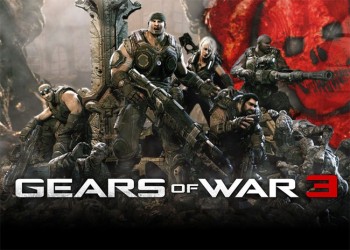 If you haven't heard, E3 is unloading a generous multitude of new features and games for the XBOX 360 console. It is with extreme excitement that I bring you the news that "the" most anticipated game of the year, Gears of War 3 (GOW3), is coming in September 20, 2011. And in case you were wondering, I already pre-ordered the Limited Edition of the game back in April, and also participated in the GOW3 beta–so I have loads to tell you about my GOW3 experience, along with information that will be included in the Limited Edition box, for the XBOX 360. First—let's discuss the highlights from the Monday's E3 2011 conference.
With GOW3 pre-order sales surpassing the 1 million mark, the fastest pre-ordered XBOX exclusive title—to have ever reached the 1 million mark—in the history of the XBOX platform– along with over 1.29 million (143 countries) of GOW3 fans participating in the public multi-player beta (including yours truly) on LIVE. There is no doubt, that the Gears 3 franchise will be a permanent cultural fixture in multi-player gaming history.
What does Gears of War 3 and rapper Ice-T have in common?
It was of no surprise that series's super-fan, Ice T, has been a Gears fan from day one. He will be the new in-game character Griffin—also, he and his metal band "Body Count," will be recording the music for Epic Games Gears of War 3. Design Director Cliff Bleszinski and Ice T took to the E3 stage and did a brief play through of the Gears 3 game demo and it was nothing short of exciting!
According to Bleszinski, the Delta squad members thought that they were safe from the infection aboard a large battle vessel/cargo ship—that was until a huge Kraken-like creature, attacked the ship, and the team has to down the beast or the entire ship will go down! During the E3 demo, one of the players enters the maintenance bay and equips some sort of mechanical power-suit, "silverback," which begins firing at the beast along with the other members of the Delta team attacking its sweet spot.
Fantastic graphics and real time destructibility are what make the Gears series the most entertaining  multiplayer experience EVER. To include, this Gears release will enable up-to four of your friends to share in the gameplay experience. The video from the E3 demonstration is below.
Gears 3 Beta – nothing short of EPIC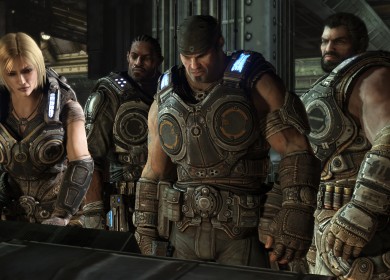 If you pre-ordered the game, or purchased Bulletstorm, you had the opportunity to receive the beta key to enter the LIVE multi-player experience. Playing any of the Gears games means knowing all about teamwork –  being a brotherhood. Over 1 million fans participated in the 4-week beta process. It was nothing short of epic. Grabbing the 360 controller and taking my place among my team, I was quickly overwhelmed, immediately after emerging from my spawning point. After a few rounds I started to get the feel for the game again, and no matter which team I was part of –locusts or COGs- I was laying down some serious evisceration, beat downs, and at least a hundred close range, shotgun kills. The rounds were fast paces, the maps were difficult to learn at first—but once I got the hang of it—I was riding the Cole Train Baby!
Gears of War 3 awards and unlocks
There were a multitude of bonus unlocks (ribbons, metals, skins, and characters) if you were one in the million of players participating in the beta horde rounds. So many, that they were entirely too many to list here. However, DO NOT delete the Gears 3 Beta saved games from your console, as they are the key for you to keep hold of your retail unlocks that you earned during the beta. If you absolutely have to delete the Beta executable, here is how you keep the saves:
Go to "System settings" on your 360 console > memory > games > select Gears of War 3 Beta (507MB) > delete.
Now your saves are secure and you have gained an extra 507MB of space!
Gears of War 3 – Limited Edition ($79.99)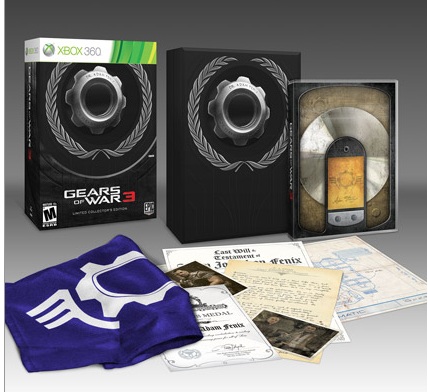 A 'must-have' for fans who want to celebrate the culmination of the trilogy.
Gears of War 3 Limited Edition includes:
Octus Award Display Box and Octus Service Medal—Replicas of the honors bestowed on Adam Fenix, Marcus's father, for his work on the Hammer of Dawn.
Unlockable Adam Fenix Multiplayer Character—Each Octus Service Medal replica is engraved with a

unique

Xbox LIVE code that unlocks Adam Fenix in multiplayer.
Fabric COG Flag—Proud colors that once flew above the House of Sovereigns.
Personal Effects of Adam Fenix—Includes his "Last Will and Testament," the initial Hammer of Dawn schematic, and other Fenix family mementos.
Gears of War 3 – Epic Edition ($149.99)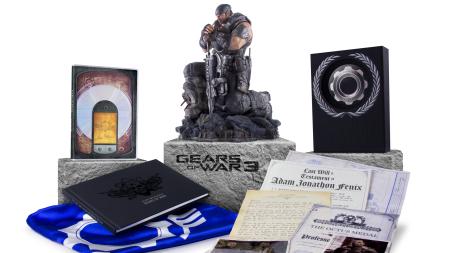 The 'ultimate collection' for hardcore fans who can't get enough Gears of War 3.
Gears of War 3 EPIC edition includes:
Collectible Marcus Fenix Statue—The collaborative work of Chris Perna and the artisans at Triforce, this fine PVC collectible makes an evocative living room conversation piece for any true Gears fan.
The Art and Design of Gears of War by Tom Bissell—Through unprecedented access to the Epic Games team, acclaimed author Tom Bissell (Extra Lives) gives readers an incisive behind-the-scenes glimpse into one of the most celebrated sagas in video game history with 96 pages of interviews, photos, concept artwork, and more.
The Gears of War 3 Limited Edition.
Infected Omen Weapon Pack — Custom multi-player skins for the game's five starting weapons; Lancer, Retro Lancer, Hammerburst, Sawed-off Shotgun, and Gnasher Shotgun.
Gears of War 3 Synopsis
"In Gears of War 3 players fight on as Marcus Fenix, the grizzled war hero and leader of Delta Squad. Eighteen months after the fall of the last human city, the war against the Locust rages on. Meanwhile, deep beneath the surface, a fearsome new threat is infecting the planet from within. With survivors scattered and civilization in ruins, time is running out for Marcus and his comrades as they fight to save the human race." – Official GOW3 synopsis, XBOX.com.
Look for GOW3 in stores September 20, 2011 or you can pre-order the game NOW!
[youtube width="555″ height="261″]http://www.youtube.com/watch?v=hZN-B-WuDj4[/youtube]

[easyazon_block asin= "B002I0H79C"]
Image credit and game description details – Epic Games, Infinity Ward – Gears of War 3
When AIDY isn't writing poetry, she likes to write film reviews. If she is curious about something she seen or heard, she'd maybe write about that, too.