Microsoft unveiled elaborate news about XBOX Live and Kinect, including a new way to enjoy entertainment from the comfort of your couch. This incredible time for entertainment gives people the opportunity to find new ways to interact and have fun with their gaming systems. Microsoft and XBOX 360 released and premiered new blockbuster games and entertainment at E3 2011.
On Monday, June 6, 2011, Microsoft premiered eleven titles, exclusive to the 360 and Kinect. This year, the XBOX console became the number one gaming system in North America, so it seems fitting that the console will be used to focus all of your entertainment resources and needs directly from the 360, itself.
Use your "voice" to search using Bing, on XBOX and Kinect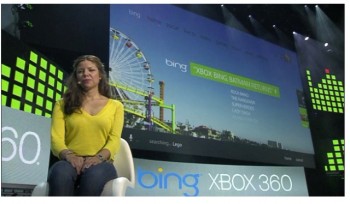 I was extremely excited to hear that in the future, I'll be able to control and customize my own way of using entertainment from my XBOX 360 console. Ironically, I've been heavily disappointed with the way many companies were—seemingly— 'short changing' me, modifying the way I enjoy my favorite games—not just by delivering consistent quality in a gaming experience. When Microsoft revealed that the 360 console will become an all-in-one hub for entertainment, I paid close attention to the details.
We now will be able to find all of our favorite games, movies, and TV shows directly from the console, itself, using only Kinect's voice prompts. Bing, incorporated within the system, allows you to search for your favorite movies on Netflix, your favorite television shows on HULU plus—which is available for free (for a limited time) on XBOX Live—which will create a faster, more efficient access to entertainment—right from the comfort of your living room couch. It was also announced that ESPN will also include UFC on XBOX Live TV.
"With Bing on Xbox and Kinect for Xbox 360, you can effortlessly find the games, movies, TV shows, sports and music you want. You say it, Xbox finds it." Don Mattrick, president of Interactive Entertainment Business at Microsoft, announcement at E3.
Microsoft has been in the spotlight recently because of the recent accruement of Skype for Kinect, but there was no specific announcement at E3 as to just what Skype will bring to the 360. What is truly awesome about this is; if you already own a 360 with Kinect, you can easily imagine all these new entertainment inclusions to the system, itself, making it all the more necessary to upgrade your console to be Kinect-ready, and have a LIVE Gold Account. Now would be a fantastic time to own a new system, ready for Kinect.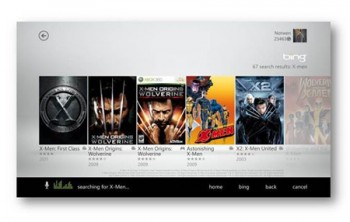 I remember when I first purchased my very own Kinect system. I was so excited that I could just say "XBOX" and my console would respond. Now, using the voice commands, it'll be able to extend to "Xbox > Netflix > Harry Potter and the Deathly Hallows," and it'd just come up, all with the sound of my voice.
"Next year will be even bigger; our goal is to become the leading console in the world," O'Donnell says. "It's a seminal moment."
Awesome.
Below is the video sample of Tom Clancy's Ghost Recon. I thought you all would enjoy the promo for the game, where it's all straight up game porn. The combination of the Kinect system and YOU as the controller…Sweet.
Are you ready? "Say it…and XBOX does it." Where you are in total control of what you watch!
[youtube width="555″ height="261″]http://www.youtube.com/watch?v=V0l9H0gRlXM[/youtube]
[easyazon_block asin= "B003O6JLZ2"]
Image credit – Microsoft
When AIDY isn't writing poetry, she likes to write film reviews. If she is curious about something she seen or heard, she'd maybe write about that, too.