We are influencers and brand affiliates.  This post contains affiliate links, most which go to Amazon and are Geo-Affiliate links to nearest Amazon store.
The EasyAcc Monster 20000mAh Dual USB Power Bank is thick but versatile.  It has two USB ports for charging phones and tables but there is also a DC port you can plug other devices into.  It takes that specific power cord to plug into it but that is something I have not seen before.  It all works pretty well together.  You may need a different pocket or pouch to through it into than other power banks but well worth the a possible pocket shuffle.
The EacyAcc Monster Power Bank has a huge capacity of 20,000mAh, which is able to fully charge an iPhone 10 times or an iPad Mini 2 times. It uses a precise LCD digital display, letting you see the exact amount of power in the power bank. Dual USB output lets you charge two smart devices simultaneously. It is recommended to use Port 1 for Samsung Galaxy Tabs and Port 2 for iPads. An output of DC 8.4V 1.0A that is suitable for Sony DV cameras, making this powerbank ideal for a wide range of people. Fits in your hand at a size of 7.28 x 3.07 x 0.98 inches, making it portable and easy to fit into a backpack; the best choice for a backup powerbank while traveling, meetings or for daily use.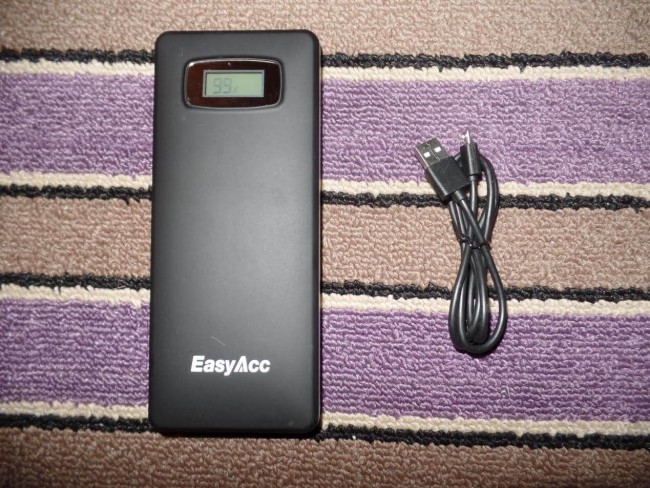 Many batteries of this ability are a little thinner but almost twice as wide.  This is not much wider than my iPhone 5s but is about twice as thick.  This form factor allows it to easily slide into many backpack side pockets where some of the wider power banks can not.  This provides someone with an option depending on where you want it stored.
The two USB ports have easily charged my iPhone 5s and my Nexus 7 this week while on the road.  I have not plugged either device into anything else all week.  I started the trip at 100% and the battery is currently at 50%.  That is multiple days of charging my iPhone from 20% ish each day to 100% and maintaining my Nexus charge from 70% or so to 100% each day.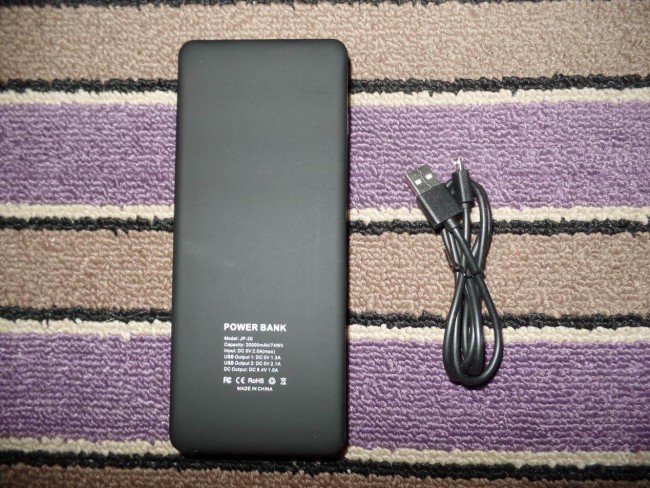 The 20k battery does give it some weight but it is on par wit other 20k power banks that I have reviewed.  The added LCD for exact review of where the battery is at with the amount of charge available doesn't seem to negatively effect it charging.  It is just and easy and quick way to determine what the power bank has left to offer.  Providing you the chance to make an informed decision as to when it may need to be plugged back in.  I am getting ready to jump on a plane and I will not have charged the power bank the entire week.  Just used it to keep my electronics fully charged.  And I still have enough left to cover any need I may have at the airport or on the place.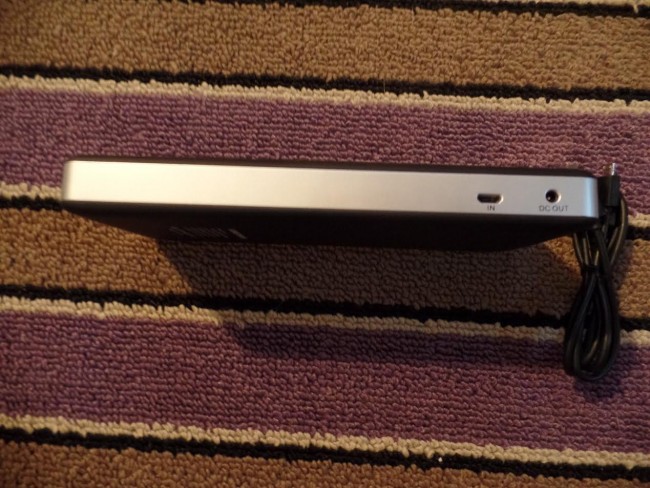 The power bank, when needed, is easily charged with a micro USB cable which is provided,  I didn't have a DC out camera I could charge off the EasyAcc power bank but my next camera will have this option.  Being able to go on a camping trip and have something to charge a camera readily available is a very nice addition.
So the EasyAcc 20k power bank provides the expected ability to charge multiple devices via USB repeatedly on one power bank charge with the added benefit to handle some DC charging for a camera or other possible devices.  With this in the bag I don't expect to be hunting the airport for a plug in any time soon.
I give the EasyAcc Monster 20k Power bank 4  stars.  It is thick and heavy but with good reason in that it has a lot of capacity!
We are influencers and brand affiliates.  This post contains affiliate links, most which go to Amazon and are Geo-Affiliate links to nearest Amazon store.
I am just a geek getting older but keeping up.