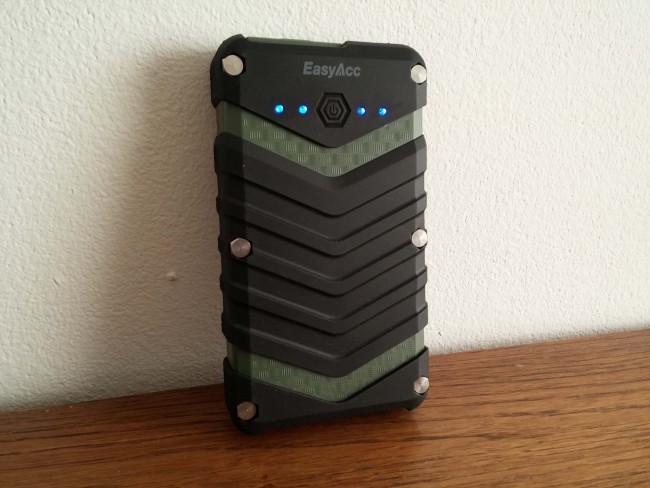 These days power banks are must have gadgets and I am not surprised to see power bank with IP67 rating. So recently Chinese company EasyAcc has presented rugged power bank which could be the first of its kind in the world.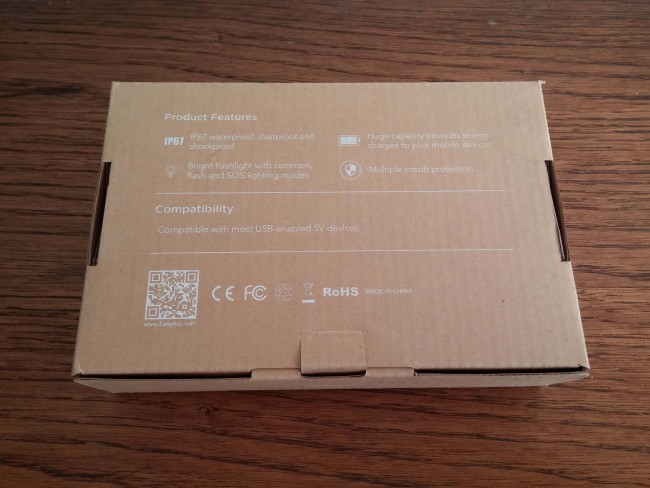 For me but for many others this is very interesting because this power bank has IP67 certificate and it is waterproof, dustproof and shockproof. Thanks to this kind of design for example it can be thrown into the water up to 1 meter depth for 30 minutes with waterproof lid closed. But it is also resistant to variety of other potential problems such as fractures. You can do some sports activities and at the same time you do not have to worry about your power bank, really cool right?
As you can see EasyAcc TP20000-BG has army design in green  black color combination including strong case made of industrial-grade plastic. In this way it is ensured that nothing would happen to your power bank. This rugged power bank can be also be used as flashlight because it has built in LED light. The light is particularly strong and it has functions like SOS.
For charging this power  bank has two available USB ports, so you can at the same time charge  two different or same devices like smartphones. It supports fast charging 5V 2.4A max, but primarily it depends on what device you want to charge because some devices does not supports fast charging. But you don't need to worry because power bank will adapt to your device like Borg. For charging itself it has Micro USB port and it also supports fast charging with maximum input 5V 2A. Also according to the company it needs approximately 12 hours to fully charge from 0%.
Talking about battery capacity, EasyAcc TP20000-BG has 20000mAh according to the company. During tests I have came to the conclusion that it has approximately 19000mAh capacity which is definitely good. Also according to the company you can seven times approximately charge iPhone 6s. So if you are interested you can buy it really cheap at Amazon.
source: Majordroid
This is the Dragon Blogger Guest Bloggers account for author's who want to submit articles and only have credit in the post instead of having to manage their own WordPress profile.