We are influencers and brand affiliates.  This post contains affiliate links, most which go to Amazon and are Geo-Affiliate links to nearest Amazon store.
With so many people moving to gaming. It's hard to tell what headset to get or use. Some say stick to wired headsets while others say grab wireless ones. One thing we can all agree on is that you will need a good set to use for both game sound and to chat with your teammates.
Lucky for us today we are taking a look at the EKSA E910 5.8GHz ENC/7.1 Surround sound gaming headset. They claim that since it is wireless and 5.8ghz that you will have very low latency during use. We will get into that a little later on. First, let's take a look at the packaging and what comes in it.
Eksa E910 Whats in the Package
The package itself is black and purple with all the technical specs that you will need labeled on it. On the back of the ESKA E910 Box, you will also get a list of items included inside the box. It lists one headset, one 5.8GHz dongle, 1 3.5mm Audio cable, one type c charging cable, one leather carrying pouch, and one user manual.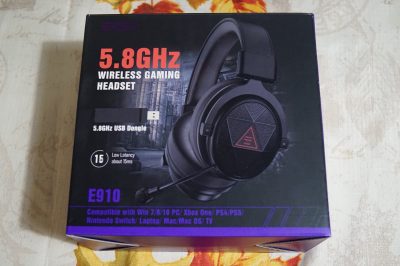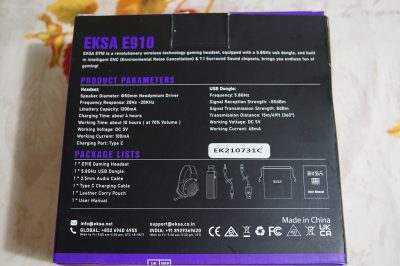 The cables are approximately 3 feet in length. The USB c cable is used to charge the headset. This will take about two hours from dead to full charge. Which now days is not bad charge time and will last for about 10 hours of use at 70% volume.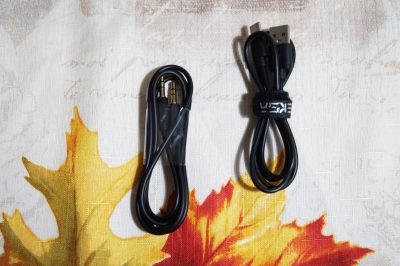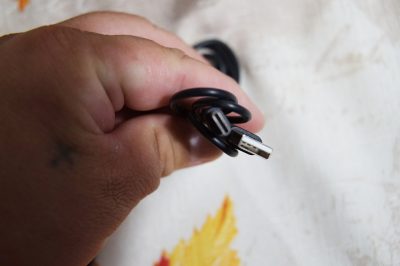 Eksa E910 Carrying Pouch
The carrying pouch is made from leatherette fabric. The pouch is nicely designed with their logo and red pull strings to close it. It is large enough to carry all the items included in the box. This makes for nice transportation of the items if you need to bring them on a trip or just to a friend's house for a nice gaming night. You can see the carry pouch in the following photo.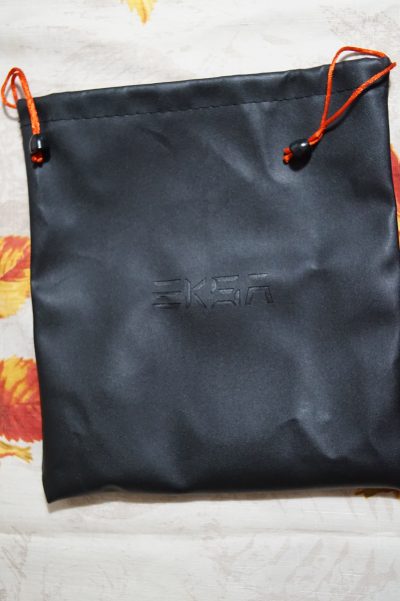 Check Out My Unboxing of the Eksa E910
The Eksa E910 Headset Itself
The ESKA 5.8Ghz gaming headset is very nice looking and comfy. On the headband, you have a  soft memory foam style padding with black leatherette fabric on it. On the top of the band, you have their logo engraved into it. Inside the band is a  metal band that has some flex and give to it. This can help if you accidentally sit on it.
The over-ear pad is also made from the leatherette fabric and memory from insert padding. Each side is labeled left or right with the red fabric on the insert of the earpads.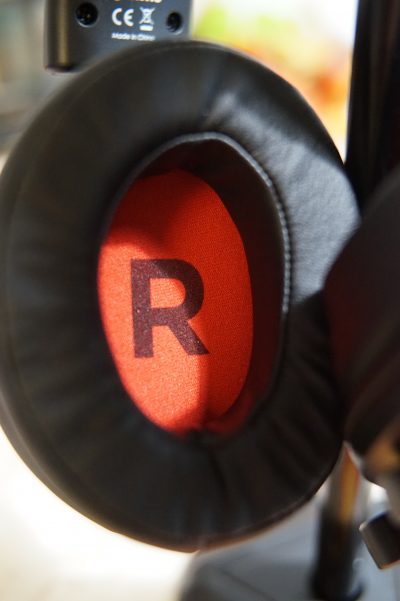 On the left side of the headset is where you will see all your buttons. These buttons include volume, power, mic mute, and 7.1souround effect. This is also where you will see the led indicator to show it on or off. You will also see a USB-C charging port and microphone. To use the power button you will need to use a long press 2 two 3 sec to power up. The power button is also used for the 7.1 surround effect. You will just need one sort of press to use that.
 The Microphone is Unidirectional that can be retractable. You also have an omnidirectional enc microphone inside the headset.
The 5.8GHz dongle has can be plugged into any USB port 2.0 and above. to support the headset. We will talk more about the dongle in a few minutes.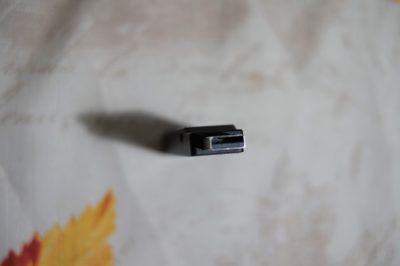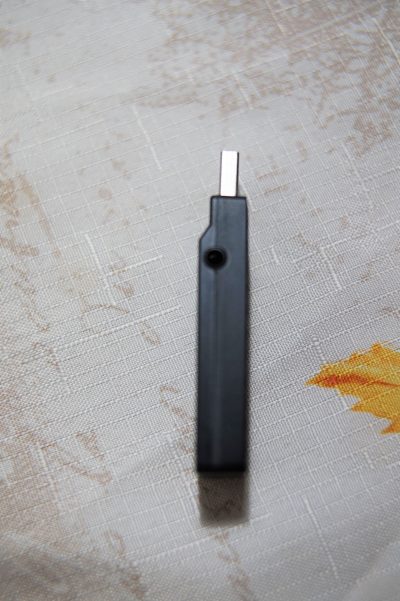 Final Thoughts
Now that you have a little run down of what comes in the package let's talk more about it all. First, the headset is very comfy and works well as they say. The 5.8GHz is clearly noticeable compared to other headsets using 2.4 GHz. This shocked me. The 20ms low latency clearly changes if you're going to hear your friend or foe walk upon you in-game. The 7.1 surround effect works well and is a noticeable difference when you shut it off to when you leave it on. I have tended to leave it on at most times to make gaming better and even music. It has some decent bass if you're looking for a deeper sound. You can clearly hear the highs. If you're trying to hear that cymbal sound or the pin drop in the back of the song it's there and makes up for it. 
The microphone works, and ok it is not the best on the market but defiantly not the worst either. Where I feel it lacks is some of the clarity of the voice on higher-end speech. Which isn't bad but noticeable when you compare it to desk microphones. But not so bad that I wouldn't want to use this headset. 
Now using the device itself for PC is very easy just connect the dongle and turn the headset on and you should be good.  Now for PS5 the same thing. Now they claim it can be used on your TV which I have run into some issues with. My TV has older USB ports would work but are sometimes a little finicky but that may also be my TV. The major thing to note is that this headset will not support Xbox Consoles (Series X / Series S / One) with Wireless and the brand doesn't claim to support Xbox,  so I would have to plug the device into the Xbox then connect the 3.5mm jack into the dongle and the controller to make it work and that to me is a drawback. I want to play wireless and not be constricted to a short cord in front of a 75inch tv. Now it works just not truly wireless.
With all that said the headset works and works decently. It works on many devices and very compatible. 
So with all that said the headset for its price is definitely a well-made headset and can be used daily. I have used it many times and will continue to use it for my PC.
You can buy the Eksa E910 Wireless Gaming headset over on the Eksa Store direct now, and at it's price point it is a fantastic headset and the low latency wireless makes a difference.
We are influencers and brand affiliates.  This post contains affiliate links, most which go to Amazon and are Geo-Affiliate links to nearest Amazon store.
Hi everyone I'm James Braga. I was born in Oregon and moved to New Hampshire a few years back. I love most things that have to do with video games and electronics, It doesn't matter if it for a car or a house, if it has electricity in it i will love it . I'm also in school for Information Systems Technology.