YouTube is a great website. It was always meant to be simple means to stream your favorite videos easily but it would be even better to have more options, more control on how the website works for you. YouTube Center does just that, it lets you alter and enhance almost every feature in YouTube according to your liking. It even adds much more functionality to YouTube like option to download videos and audios, full video buffering, and other numerous enhancements and modifications (possibly more than you'll ever need).
Some of the most useful features of YouTube Center for casual YouTube users are:
Option to download YouTube videos as well as audio in preferred quality, and file type.
Enable full video buffering.
Animated  video thumbnails.
Option to set a predefined resolution for videos.
Option to set predefined player size.
Etc..
YouTube Center is available as an add-on (extension) for every browser as well as a script which is really helpful as Google Chrome now doesn't support this as an extension. In this post I will be showing how to add this as a script in Google Chrome as for other browsers, it is as simple as adding any other extension.
---
Installation
To install YouTube Center as a script, you first need to install an extension which allows you to install scripts in Chrome. I am using Tampermonkey in this post (download here). Assuming you have Tampermonley installed, head over to Chrome's extensions page by clicking on the hamburger icon (three lines) -> More tools -> Extensions. Under Tampermonkey's extension, tick the Allow access to file URLs option.

Now, head over to YouTube Center's download page and download it's script. Now click on Tampermonkey's icon and click on Dashboard to open it's dashboard.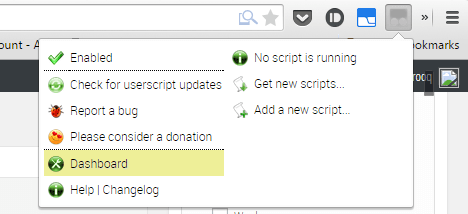 Now just drag the downloaded script to it's dashboard to install it.
---
Configuring YouTube Center
When you will open YouTube for the first time after installing YouTube Center, it's settings would automatically pop-up. You can access it's setting anytime by clicking on the tiny gear icon on the upper right corner.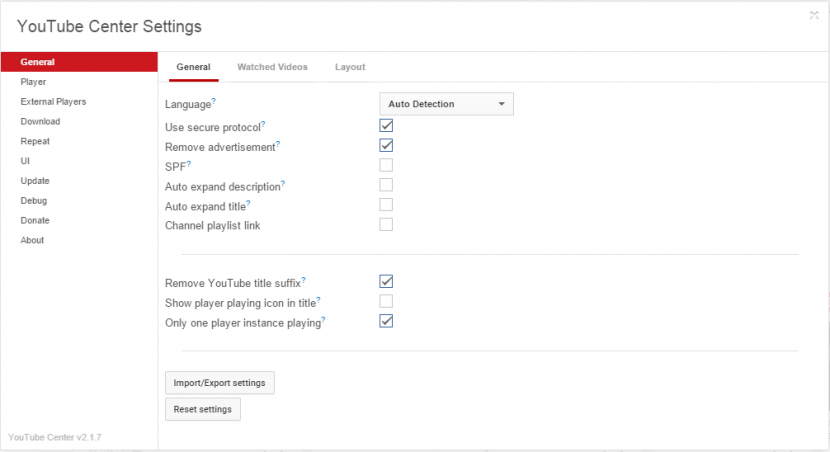 YouTube uses Dynamic Adaptive Streaming over HTTP (DASH) playback which doesn't let you buffer full video in one go. It is generally good if you are on a fast connection but if you are on a slow connection and have paused a video to let it buffer completely, it would just buffer a little bit more and then stop. To disable this, open YouTube Center's settings and click on Player tab. Now just un-tick the DASH playback option.
To enable downloading, open the settings again and go to the Download tab. Now just configure these setting according to your liking.

These are just two of the numerous available options in YouTube Center, open the settings and play with it's tonnes of options to further enhance your YouTube experience. In case you want to revert back to the default settings, you can do that as well as Import/Export your settings too from the General tab in YouTube Center's settings.
---
Have some doubts to clear or suggestion? Shoot them in the comments section below! :-)
If you found this article helpful, please share this article and subscribe to our newsletter too!
Hi, I am Ishaan Farooq, let me introduce myself. I am a Tech Blogger from Lucknow, India and am a big Techo Freak who loves to Surf Internet the whole day and is a Modding, Programming and Customization Enthusiast.