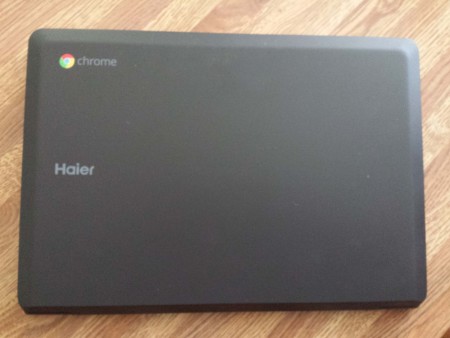 Over the next few months, I will be writing a series of articles on the new Chromebook by Haier. I'll go through topics from my initial thoughts, to traveling with it and where it exceeds expectations, as well as where it has limitations. This article will cover my initial thoughts on the Chromebook. This includes first impressions upon taking it out of the box, as well as opening it up and turning it on for the first time.
When I first learned I was going to be receiving a new Chromebook, I've got to say, I had mixed feelings. On one hand, I've been without a computer for going on 5 years and I've never owned a Chromebook. The only thing I was unsure about was the brand. I've always been a big fan of the bigger name brands like Sony and Samsung so to hear this one was made by a company that has the highest market share of white goods, not electronics, had me worried.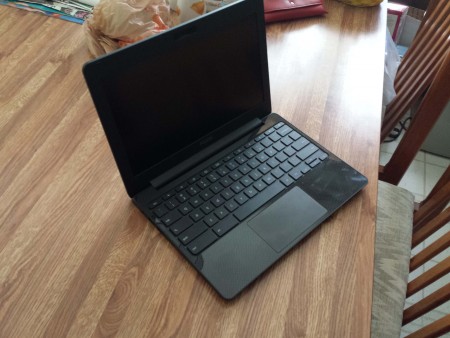 Right out of the box, I noticed a few things. The Haier Chromebook is slim and compact, which makes traveling with it fairly convenient. It's rather heavy, which is surprising to me, considering how small it is. It only weighs 2.5 pounds but I was honestly expecting something lighter. It's not really a negative, just an observation. The only real negative I had with the Chromebook straight out of the box is no disc drive. Now, I've done some research and I realize a lot of Chromebooks, as well as Netbooks, don't come with a disc drive. I understand this, but if I were to choose a laptop on my own, it would definitely have a disc drive.
Before opening it up and turning it on I made sure to plug it in first. I had read that these Chromebook literally take seconds to power up and become ready to use and I wanted to make sure it had enough power to do so. Sure enough, within 10 seconds I was customizing and setting up my Chromebook. I really like this feature for no real reason at all. I've never been one who is short on patience so it doesn't really bother me when a computer boots up slow or fast. I will say, however, that it is really convenient because I can shut it down and turn it back on faster than I could put a normal laptop or computer to sleep and then wake it back up. I feel this saves energy because it can be completely shut down when not in use.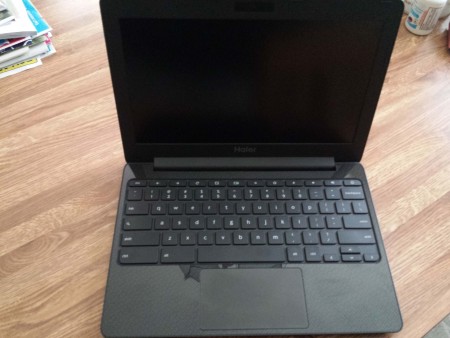 Now, I was unaware that the keyboard would be different from a normal laptop. There are no F keys, which, after two weeks, I'm still trying to figure out. There's also no caps lock key, which I like because I'm a traditional typist and I don't have to worry about it getting in the way. Besides the funky keyboard layout, this Chromebook comes with minimal ports. Two USB ports, a headphone jack, a micro-SD card reader and, surprisingly, an HDMI port. It has Wi-Fi capabilities as well as Bluetooth capabilities, which are essential. A laptop wouldn't be complete without a terrible trackpad or touchpad and, unsurprisingly enough, the one on the Haier Chromebook is just not very good at all. I immediately got a wireless mouse which plugs into one of the USB ports. Nothing fancy at all about the mouse but it is much better than the touchpad.
The Haier Chromebook isn't revolutionary by any means. It's a run-of-the-mill laptop that is just equipped with, what is essentially, a beefed-up Chrome browser. For the price of $149, however, you can't really beat it. I have a Samsung Galaxy Tab 4 10.1″ that costs almost double. It is small and compact, as well as light enough, to travel without hindering movement. It's not going to be the greatest thing since slice bread but the Haier Chromebook definitely holds its own.
Full specs on the Haier Chromebook
Screen Size: 11.6″
Resolution: 1366×768
Processor: Rockchip RK3288 1.8 GHz
RAM:  2GB
Storage: 16GB eMCC Flash
Weight: 2.5lb
Wireless: A/C
Battery Life: 10 hours
I'm 28 and currently living in upstate New York. I'm an amateur review writer, mostly for movies, and I'm looking to take it to the next level.