So FotoproOfficial reached out to us here at DragonBlogger.com and wanted us to run a giveaway for our fans of the OVC Modular Headphones they sell over on their Amazon store.  This is a unique pair of headphones with a denim design that work for the iPhone, iPad and iPod.  Now it specifically says it was designed for the Apple devices and includes software for these devices, as we didn't review a unit but it should mostly work with any device that accepts 3.5mm input jack and I saw in the Amazon product reviews that it even worked with the PlayStation 4.  Because it has a mic it will function as a gaming headset as well.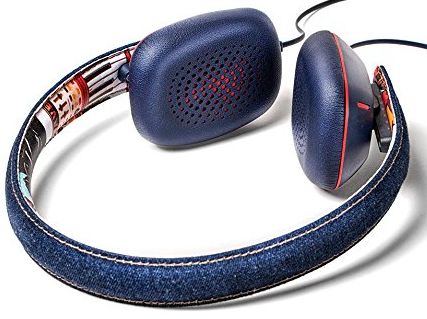 Now the specs of these OVC G3H Versatile Earphones are listed below.
Impedance: 32Ω±15%
FR range: 20~20KHZ
Rated power: 20mW
Max power: 50mW
Now this headset comes with detachable earcups, 2 earcups specifically, the Earcup with a Blue Collar is for HIFI Balance,and the Earcup with Red Collar is for Bass Enhance.  This is a unique feature that you won't find in many headsets and you could just pop on and off the ear cups to place the ones on that you want to use.
Enter for a chance to win the OVC G3H Modular Headphones
OVC On Ear Stereo Headphones Giveaway