Here Is Your Chance to Win 1 of 3 Annual Subscriptions to Design Resources and Premium UI Kits from PixelKit The innovative team at PixelKit is ready to share 3 Annual Subscriptions with you, our readers! What a great way to start your day! The three lucky subscription winners will get an Annual Membership Account for Free at PixelKit.com. We have thousands of graphics available, making us the ideal choice for web designers. PixelKit is actually 100% specialized in UI kits. They include everything you will need for app screens, navigation and so much more. Check out what's available, and you will find all the buttons, sliders, icons and other elements you'll ever need. If this all sounds exciting to you, consider the main advantage you achieve. You'll save energy, hassle and time. You get the highest quality in UI kits and you get them right away. So you can finish up each project and hit the next one in record-breaking time. Check out these UI kits and icon sets you can get if you win:
Red Carpet – Movie UI Kit
This flat style movie UI kit is designed for anyone who wants a great looking website or app. It was created with a TV or cinema review website or blog in mind. Red Carpet UI kit has a lot of design elements that will let you create a movie store with ease.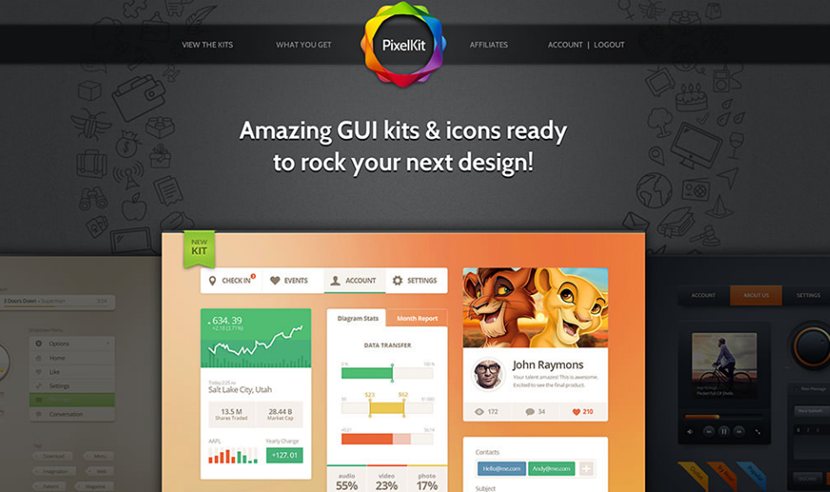 Modern Touch – Flat UI Kit
This flat UI kit is not just eye candy. It will guarantee you a functional website, too. The right balance of positioning and weight, along with colors, margins and paddings, will bring your website an exquisite feel and a focus on content.
Charming Boutique – Shopping Icons
These multi-purpose shopping icons are an excellent companion to your online store or eCommerce website. The kit has 30 pixel-perfect icons that offer a flat and modern look. This allows them to cover almost any "call-to-action" needs.
Fashion Ave UI Kit – eCommerce UI Kit
This eCommerce UI kit is perfect for any web designer working on a shopping website. This kit gives your site an exquisite feel to make it stand out from the rest.
Gentle Edges – Minimalist Icon Set
This can be your only stop if you need a set of minimalist icons. And what a complete set this is! It contains over 1000 vectorized icons in more than 40 categories that you can use in any of your commercial projects.
Spicy Treats – Restaurant UI Kit
A gorgeous restaurant website or application needs incredible ingredients such as: modern design, handpicked elements and inspiring layout. Carefully crafted sliders, buttons, footers and tabs are part of this wonderful restaurant UI kit making Spicy Treats UI perfect for a BBQ restaurant or bar website. It can be also used for an online coffee shop.
You want to know how to get a voucher, right? Here's how:
PixelKit Premium UI Webkit

Look at this special treat– the Free PixelKit Bootstrap UI Kits. These modern HTML templates are easy to download and use, to make your design even cooler-looking and more functional.