Our friends over at Havit sent us a Gaming mouse to  try out and review. Now from  the keyboard from them I use I was expecting a over the top nicely designed box and boy was I not disappointed.
From the great eagle logo to the larger then life picture of the mouse and other graphics  on the box you are not disappointed as you can see in these pictures.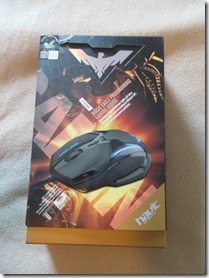 Now as you move on to the back you get all the details and specs you would expect  to come on the box.
MMO 7 programmable buttons with multi-task macro functionality
Ergonomic design with optimized weighting and skid proof surfaces for all-day gaming comfort
Precision optical sensor that can be adjusted to 3200, 2400, 1200, or 500 dpi
Light up design that changes colors based on settings
Positioning engine firmware that is optimized for hardcore gaming
Now one thing I notice as I opened it was the plastic cover  for the mouse that is part of the package was off and loose. I was a little worried the mouse was damaged in shipping.I didn't get a picture of it off like that but think it is shown in the video unboxing. But, I can say it wasn't damaged at all in shipping. It was by the looks of it just a missed packing issue from the warehouse and purely cosmetic.
Now in this package was the mouse weights and a small software disc with user manual .
Check out my video unboxing and review here!

I have used a few gaming mice in the past and most take a while to get use to, specifically the fit and feel in your hand, but this one did not take any time at all to get used to. That was a great and awesome surprise to me. It  has a very ergonomic feel to it. This is the first mouse that I have used with weights in it too ironically since I have used a lot of gaming mice. In these next few pictures  you can see the weights and the great shape of the mouse.
I wasn't sure that  the weights did much for the use of the mouse until actually trying it with and without them in.  I can say without them in the mouse is so light it required too little effort to slide it across the desk and you kept having a tendency to overslide the mouse.  With the weights in I can say it slide smoothly and gently, but even with all the weights added there is only some noticeable weight difference but it isn't drastic but definitely was better with the weights in for me.
As for game play function I couldn't tell much of a difference other than again it slides a little to light without the weights. But, like I said though this is my first time using a weighted mouse so may depend on the person or maybe there just isn't enough of a weight variance to notice.
As for the user inter face software nice and easy to use and install and use. You can change what your buttons do or shut buttons off entirely. Which is nice if you, like me and have slightly larger fingers and don't like the thumb buttons.
There is a button on the mouse that changes the color and speed of the DPI. There are four colors and speeds  as you can see in the next four pictures.There is red, blue, green, pink colors. This is a great option to switch on the fly  that is for sure. I just wish the colors could have been changed separate to the DPI. I think that this is one lacking part in the set up but not a downfall  that for sure.
I bet you guys and gals want to know how she works and fells as you use it huh. Well I can tell you it works like a charm I can say it is more comfortable then my old wireless mouse I kept for seven years. This mouse unlike most doesn't take long to get used to the feel. This is one of those mice that instantly screams game play for days on end with no break. The macros settings work superb. There where no glitches that I could see in the use of this mouse. I went and played a few different games to test this out.
Starting with tried and true Battlefield to which I suck at (it's ok to laugh at me about that game). I then went on to  playing games like Skyrim, Thief,  Deus Ex to call which never failed to work correctly with the Havit Magic Eagle Mouse.
Now for Havit they hit this one on the head for function and use. Just wish it had a few more options on the UI and more color options. I would not change a thing on the size and feel  that is for sure. Now I would love to see some different placing of the weights to see if it would change the function of use and how it slides and works. For the price of $19.99 right now on the link I have provided this is one fair gaming mouse for the price. Now if your looking for your first gaming mouse or just simply a gift for that gamer in you life this is a great option.
I love how they come up with some nice products and cant wait to see what they come up with next
I give this mouse a four and half stars. I give it a solid  four stars for fit, feel, function, and ease of use. I give it another quarter star for the user software. That leaves us with the last quarter star which would be way higher but lack of colors and the option of of not being able to change colors separate of DPI use.  All and all a great mouse from are friends over at Havit however and I highly recommend it based on the function and really reasonable price.
Hi everyone I'm James Braga. I was born in Oregon and moved to New Hampshire a few years back. I love most things that have to do with video games and electronics, It doesn't matter if it for a car or a house, if it has electricity in it i will love it . I'm also in school for Information Systems Technology.