We are influencers and brand affiliates.  This post contains affiliate links, most which go to Amazon and are Geo-Affiliate links to nearest Amazon store.
I got from our friends over at Etekcity one of there digital voice recorders to review. The model they sent me was the VR-BK8. The Etekcity VR-BK8 has quite a few applicable uses like recording seminars, classes, notes, dictation and anytime you need to record a conversation or presentation or thought for playback later.  It comes in a small box with a small footprint.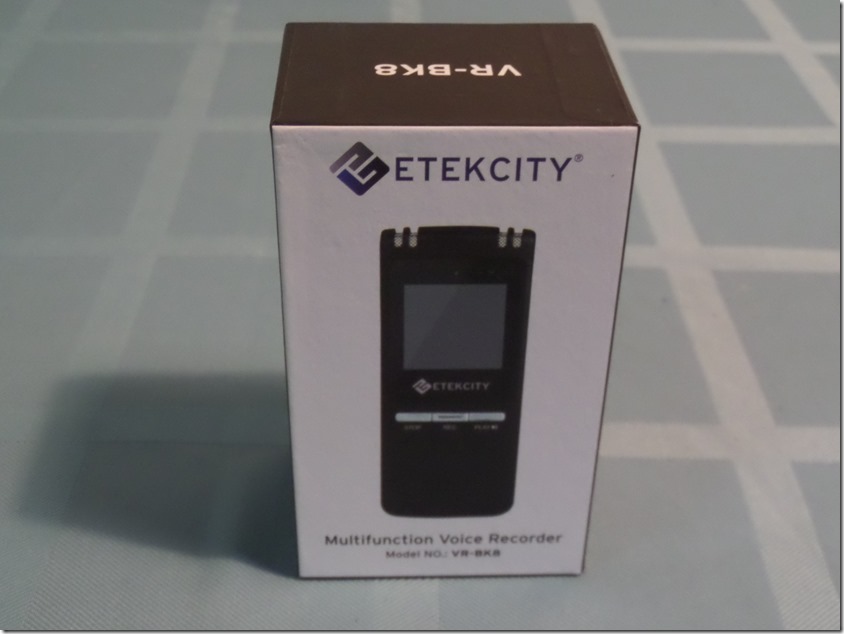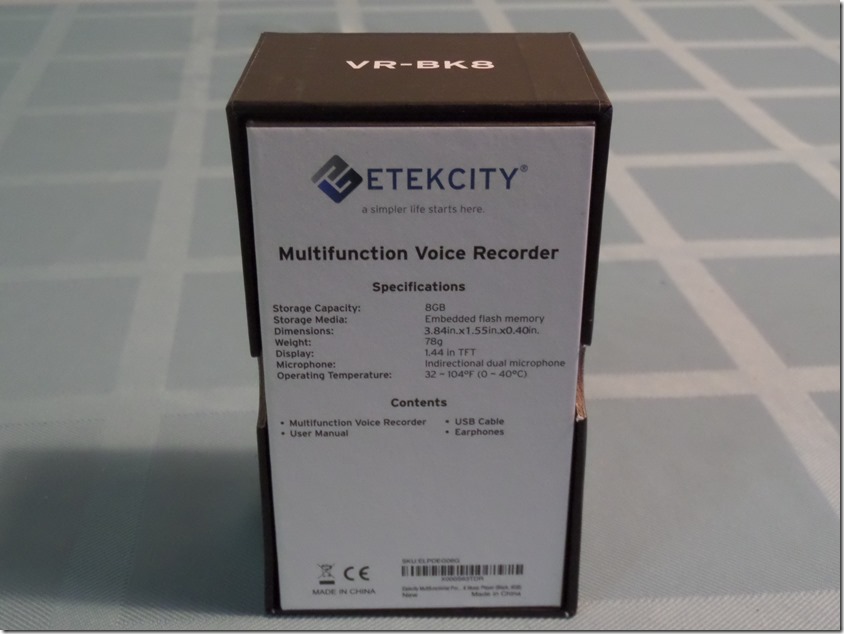 Once you open the box your greeted with a nice little compact 8gb digital voice recorder. This device is black. You can see what it looks like in the following picture.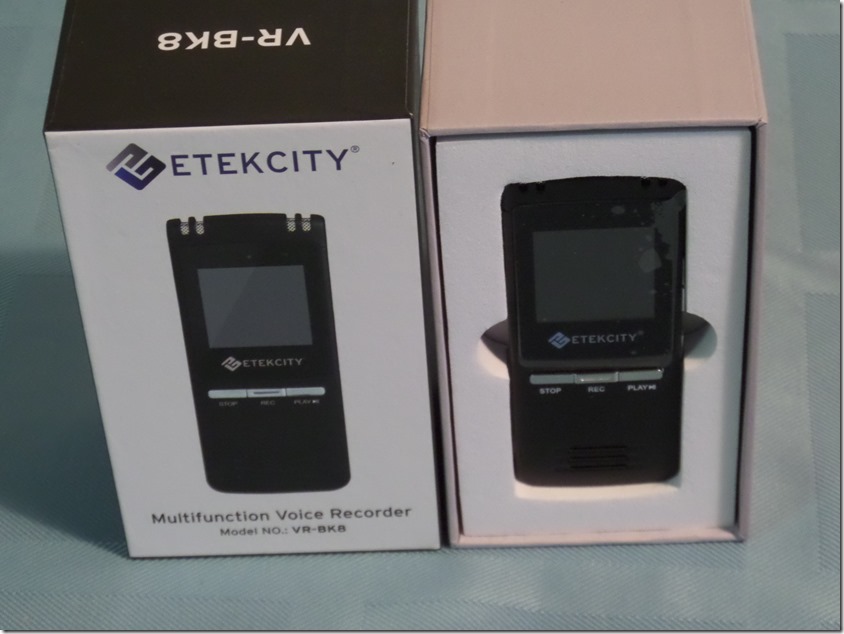 Watch My Unboxing here !
As you seen the Etekcity Digital Voice recorder is very compact. Inside the box you get the charger/USB cord, Ear buds, and instructions. The ear buds are kind of cheap and don't have extra ear lobe pieces to make them fit better which was a bit of a bummer. To be honest it does not matter on that part to me however. Who is going use ear buds on a voice recorder, you just want to record and playback later. You can see the stuff that came in the box in the next picture.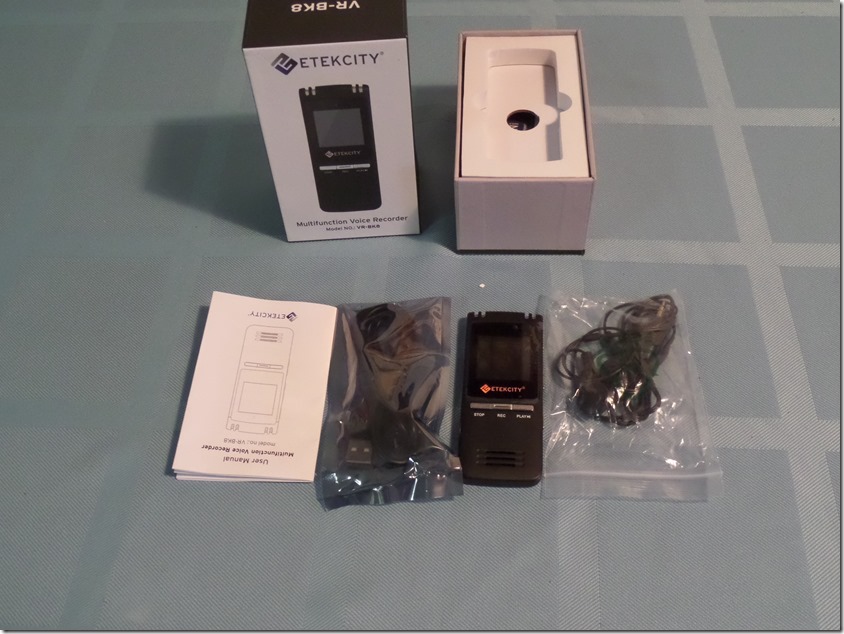 Well turns out the ear buds are for the function I did not realize it had. What is the function you may ask? Well it can play music. Boy did I feel dumb. Now it just don't just play music but it plays it rather nice. The sound is decent and clear and the Etekcity VR-BK8 also has a equalizer. So I was not expecting the Digital Voice recorder to actually double over as an MP3 player (like the old school ones where you drag and drop mp3 files and play them). With the Equalizer you can adjust the output and sound even better for what ever music you choose. You don't have to use the ear buds you can use the on board speaker which is rather clear itself too.
On the Etekcity VR-BK8 digital voice recorder there are several buttons. These buttons are stop, record, play, on, off, menu, volume up, and volume down. There is a plug for the headset. Then on the opposite side there is a plug for the USB plug. The USB plug can be plugged  straight into your PC or a USB wall charger. I will post a few pictures of the buttons for you now.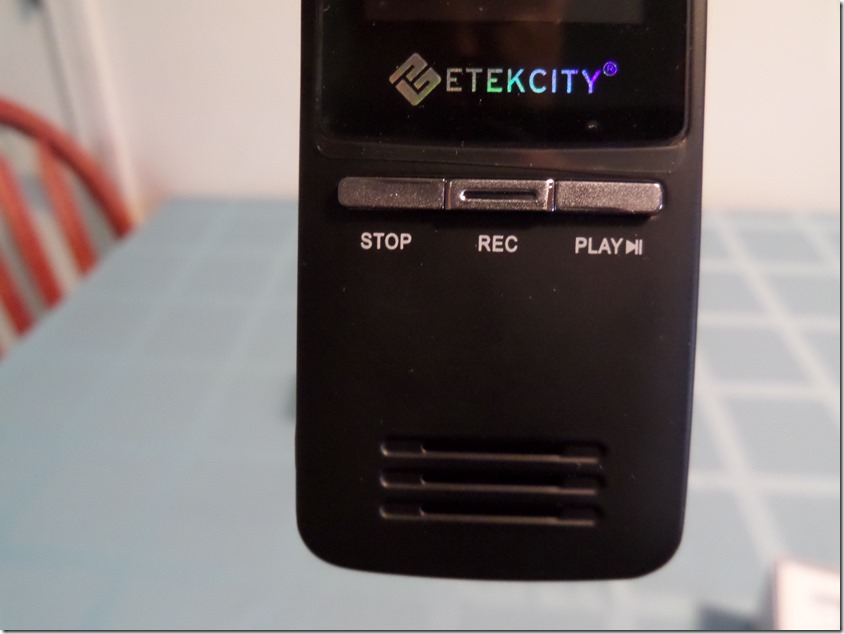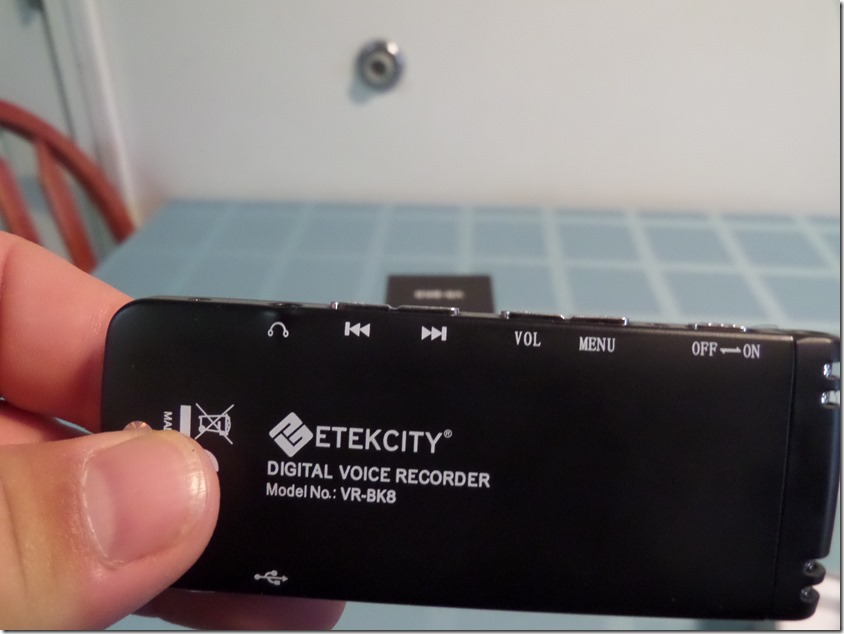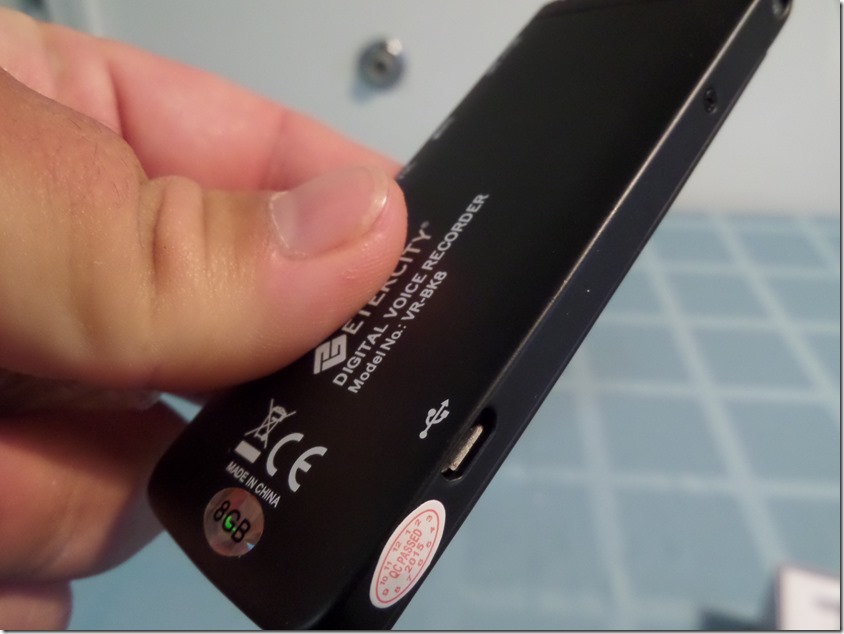 The Etekcity Digital voice recorder has a small LCD screen. Now I wish it was a touch screen to be honest, but even though it isn't its not too bad. It is a rather clear screen with no frills or video play back but hey who really needs that it a voice recorder not a MP4 video player or a TV.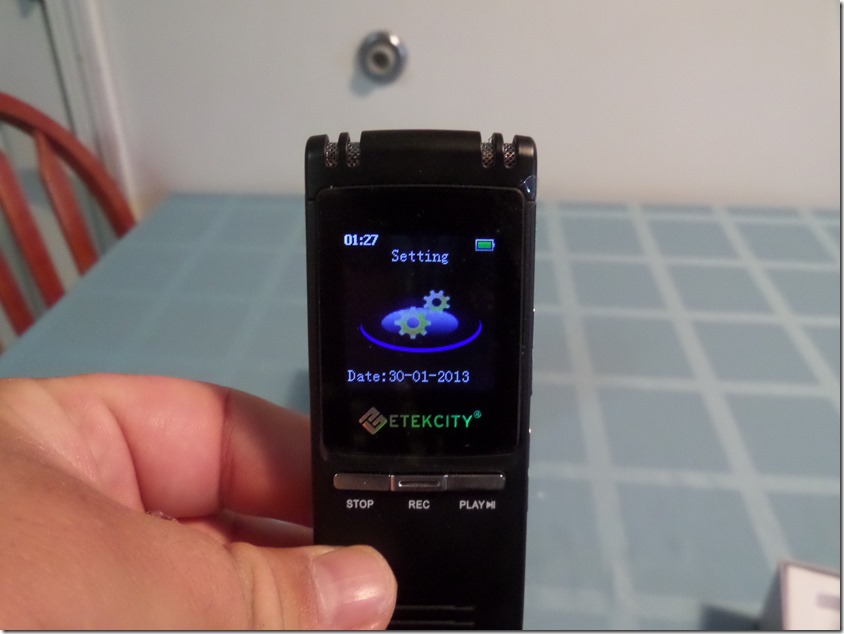 The digital voice recorder can be set to tell you the time. You can also change the language. It can be set to auto start record as well. I guess they want you to play spy and see who you can catch off guard.   There are several other options like display settings, and sleep timer.
 Watch My walk threw Video here!
Like I said before it can be used for a music player. All you do is connect it to your pc and the drop and drag your music files in to the device and you have a music player. This is also how you remove or delete music and voice recordings.
Now to record  you can either set auto record or manually press record. You will also need to press stop when your done. The VR-BK8 has 8 gb of storage. This is a nice amount of storage. It can fill up fast if you add to much music. That is your choice though if you want more music then space to record stuff.
Now I did test the recording options. It records rather nice.When you play it back you can hear it rather clear. You can also drop and drag files and listen to them on your PC if you choose. With 8GB of storage you can record rather long sessions. Now I may choose to use this in class to record the class when I'm at school so I can go back and see if I missed something. The Etekcity VR-BK8 would be a nice addition to anyone's arsenal. From the private eye or the college student that needs to remember something from class.
I cant see anything wrong with the VR-BK8 except I would have loved to see the touch screen so I can delete files or music from the device itself. Other then that this digital recorder is rather nice.
I give it a solid 4 and half stars and this is well worth it if you need a voice recorder.
Disclaimer: Etekcity sent me the VR=BK8 Digital Voice Recorder to do a honest review on. All opinions are mine and mine alone.
We are influencers and brand affiliates.  This post contains affiliate links, most which go to Amazon and are Geo-Affiliate links to nearest Amazon store.
Hi everyone I'm James Braga. I was born in Oregon and moved to New Hampshire a few years back. I love most things that have to do with video games and electronics, It doesn't matter if it for a car or a house, if it has electricity in it i will love it . I'm also in school for Information Systems Technology.