We are influencers and brand affiliates.  This post contains affiliate links, most which go to Amazon and are Geo-Affiliate links to nearest Amazon store.
The M555 is one of Etekcity's latest mice to enter the gaming mouse arena.  A market dominated by big named high performance mice offering tons of features with a huge price to match and many times those features reduce the most important feature, comfort.  With that said, let's take a look at this mouse and what it has to offer.
Let's start off by mentioning the features of the Etekcity M555 Gaming Mouse.
Features
ADNS-5050 sensor by Avago ensures high precision responsiveness and stability
125 -1000Hz polling rate allowing for smoother and more accurate movements
Adjustable DPI buttons at 800/1600/2400
Customizable back/forward thumb buttons as well as left and right buttons backed by Omron Micro switches.
Anti-Skid Rubber coating
Braided wires
Gold-plated copper USB plug
Powered by the Avago ADNS-5050 sensor this optical mouse offers higher precession responsiveness and stability.  This is obtained by the software selectable 125/250/500 and 1000Hz polling rate.  Do not confuse this with the adjustable DPI, DPI and Polling are different.

The polling rate determines how often the mouse sends information to your computer.  By default this mouse comes at a polling interval of 500Hz, raising it within the software to 1000Hz doubles the number of times per second that data is being collected from the mouse, which increases the accuracy of your movements.   A higher polling rate means head shots are now a little easier.  On the negative side, if you have an older/slower processor you may notice performance degradation.
DPI (Dots Per Inch) is how many steps the mouse reads over the distance of one inch. If you increase the DPI, the mouse will register more steps over the same distance moving the cursor farther across the screen.  There is a nice feature that when you click on the physical buttons to change the DPI, or select the DPI through the software, the breathing light changes color.  800 DPI shines green, 1600 DPI shines Red and 2400 DPI glows blue.    The mouse wheel itself shines a nice red color, but its color cannot be changed.
As mentioned above in the features, this mouse sports 7 buttons, standard left and right, +/- DPI (is actually 1 button but is considered 2), customizable back and forward buttons and a clickable scrolling wheel.  The Omron Micro switches allows for firm and crisp quick clicks.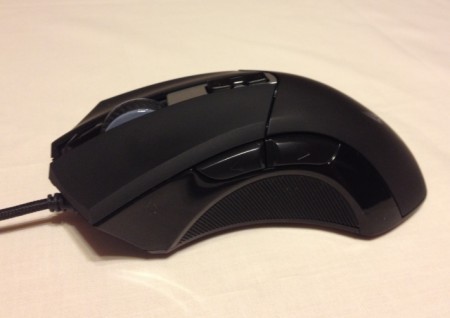 Right out of the box I felt the anti-skid rubberized matte coating alongside the ergonomic design allowing it to almost feel like it was meant for my hand.  My thumb fit snuggly on the left hand side just beneath the forward and back buttons, index on the left mouse button, middle on the right mouse button, ring finger seemed to fit on a ledge on the mouse possibly designed for that in mind and my pinky fit into an odd pocket on the right, it feels right.  To top it offer, my palm rests on the breathing light, which actually doesn't breathe (they say it does) but pulsates a nice multi colored light, please check out the video to see what I mean.  The Palm rest just feels so right with the rubberized coating.
The cable itself was sheathed in braided wire to offer a more durability and also to help in less tangling and kinking of the cable.  The cable is 5 feet, about average and at the far end of the cable, opposite the mouse is the Gold-Plated/copper USB plug.  Not a feature you would look at too much as it would be inserted into your computer, but hey it's there.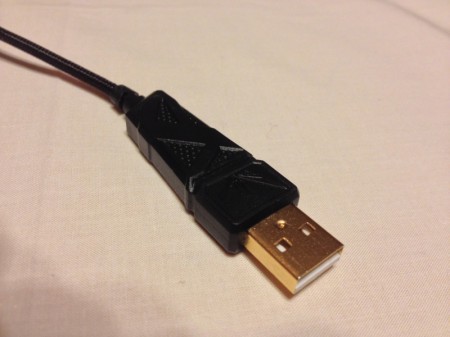 Not sure why, but it brought a set of additional rubber feet for the mouse.  I thought originally it was an option to put the feet on or leave them off (mentioned in the unboxing), but I noticed that the mouse already came with the pads placed.  Maybe these are additional pads in case the ones attached wear down.  I will state that this is an odd feature, but a nice additional touch.
I myself NEVER install mouse software/drivers as they always seem to mess something up, but for review purposes I installed this one.  I fought myself in doing it, but I actually found some nice things about it.
The first of 2 tabs, "Main Control" allow you to change what each mouse button does, allows you to set macros and in case you mess that up allows you to reset the factory defaults.  The second tab "Advanced Settings", allows you to change the polling rate (125Hz, 250Hz, 500Hz and 1000Hz), adjust the mouse wheel scroll speeds and double click speed (I will leave those at default) and the change the CPI (Counts Per Inch) which is just DPI from 800, 1600 and 2400.

To add to the nice software features (I am surprised I am actually saying that) this software allows you to save each configuration as a profile, up to 3 profiles.  Adding to this, if you are like me, I tend to reformat often just to keep my PC at peak performance, this allows you to export and import these settings.  If I love the profiles I have and don't want to lose them, I would export them onto a thumb drive and when I formatted and was back in windows, I would reinstall the software and grab my thumb drive to import my old settings and I am back up and running in seconds. 
It looks like they thought of everything,… but the software's naming convention.  The software itself is titled "Gaming Mouse" while the software is running, which can be overlooked but when installing the software it makes no mention of Etekcity or M555.  The software is labelled everywhere during install as "Standard Mouse Driver" and then the start button folder is also titled "Standard Mouse Driver".  Out of everything mentioned, the only complaint I had was the software name, which means so far I am thrilled with this mouse, but now let's try a game.
I tried Battlefield 4 Naval Strike before installing the drivers, and while I did notice the DPI improvement over my old MX518 (offers up to 1600DPI) my aim was off, very off.  While I liked the improved scrolling I did not much like my lack of accuracy.  After installing the software and adjusting the poling rate my accuracy improved and with it my score, I love me some Battlefield.  The 1600 between the MX518 and the M555 were noticeably different, leaning more towards the M555 being the better performer.
I also played Titan Fall and while it did play nicely, the game does not rely too heavily on precision so it felt like a standard mouse, no fault of the mouse though.
Here are some of the specs
Specifications
Interface: USB 2.0/3.0
Cable length: 5ft.
Sensitivity: 800/1600/2400 DPI
Polling rate: 125-1000Hz
Size: 129 x 72 x 40mm
Keystroke life: =5 million clicks
Power: 5V =100mA
Color: black
With all this said, the only complaint again is the software name, but what is in a name?  Mice with similar features from the likes of Corsair, Logitech and Razer would cost you anywhere from $59.99 up while this one comes in at a humble $13.99 on Amazon.  One thing to add to this price comparison is that no other mouse that I have see reports its keystroke life.  This is possibly do to the fact that it is nearly impossible to count a humans key strokes with everyday use, but 5 million clicks sounds real nice to me.
I can't say enough good things about this mouse; it really did impress me and will become my main and only mouse.  I highly recommend you check this out.
We are influencers and brand affiliates.  This post contains affiliate links, most which go to Amazon and are Geo-Affiliate links to nearest Amazon store.
I have spent many years in the PC boutique name space as Product Development Engineer for Alienware and later Dell through Alienware's acquisition and finally Velocity Micro. During these years I spent my time developing new configurations, products and technologies with companies such as AMD, Asus, Intel, Microsoft, NVIDIA and more. The Arts, Gaming, New & Old technologies drive my interests and passion. Now as my day job, I am an IT Manager but doing reviews on my time and my dime.