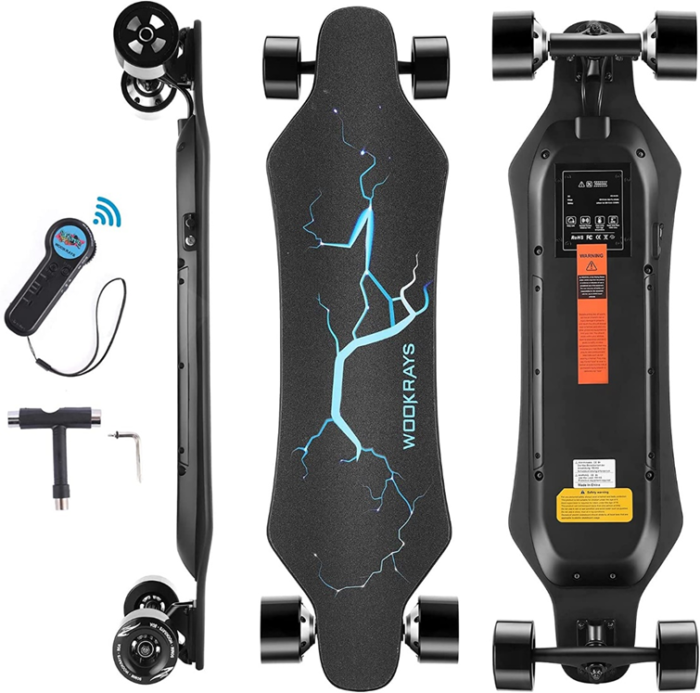 Looking for a high-quality electric skateboard to have fun on the streets of your city?
Using a skateboard is one of the most hated means of transport by our moms, it is true, beginners often have some accidental falls when they start using a skateboard, but when you begin to understand how easy it is to use it, then the fun is guaranteed. As you know, accidents are only frequent when you do stunts, once you understand how to use a skateboard you can have fun on the streets in a totally safe way (remember to use good safety equipment). So, instead of using a bike or scooter, you can use a skateboard, but how about getting twice as much fun with an electric skateboard?
The electric skateboard is one of the most fun products you can get, it is designed for people who have used a traditional skateboard at some point, so, no matter if you are a beginner or even have never used one, an electric skateboard is easy to use, but it has some advantages and disadvantages. The main advantage is that they are easy to use and usually have an advanced security system so you can drive without worries, the disadvantage is that they usually have a high price compared to a traditional skateboard, but it is worth it if you want to have fun on the streets of your city.
The HIFRRUY adult skateboard is a great option to consider if you're looking to have fun safely. It is designed with durable materials so you can use the skateboard through the streets of your city. It can reach high speeds and is fully adjustable so beginners can learn quickly. Next, discover the most interesting features of this product.
Features of the HIFRRUY Electric Skateboard for Adults
The main feature of the HIFRRUY electric skateboard is that you can get a top speed of 25mph, which means you can have fun on the streets of your city without worries, besides, you won't have to worry about heavy traffic, you can use this skateboard as a main means of transportation, many workers and students use it as an economical means of transportation, You also won't have to sweat when you use it. The maximum speed is adjustable so you can safely drive, there are 3-speed levels (7mph, 16mph, and 25mph). Please note that speed may vary depending on terrain conditions and user weight (maximum weight of 330 pounds).
To reach a top speed of up to 25mph you need to have a powerful motor and the HIFRRUY electric skateboard includes a high-performance dual motor that offers a maximum power of 900W, allowing you to reach high speeds incredibly fast. So, the engine is so powerful that you can overcome up to 25% of a hill, forget about getting sweaty to work, you can use this electric skateboard without worrying about speed and performance, it is designed so that you can get everywhere in the shortest time. Not only is the engine high quality, but the wheels are designed for a smooth ride on all types of terrain, it is also made with 8-layer maple wood, which makes it incredibly resistant and durable.
6000mAh certified battery
If you plan to use this to go to your work or university, then autonomy can be an issue, but you should not worry, the HIFRRUY electric skateboard is equipped with a UL certified battery, which offers a large capacity of 6000mAh, this means that with a full charge, you can travel a distance of up to 21.7 miles and best of all, charging the battery will only take about 3 hours. A 2.4 GHz remote control is included which will allow you to control the maximum speed, change the direction, and other additional functions. The HIFRRUY electric skateboard is designed so that you can learn in a short time, so what are you waiting for to get it?
You can buy this item here on Amazon
My name is Joel! I love to read, I go to university like most people my age.
In my free time I usually train boxing, I love music, I also know how to play the guitar and the harmonica.