We are influencers and brand affiliates.  This post contains affiliate links, most which go to Amazon and are Geo-Affiliate links to nearest Amazon store.
Want to make your WordPress blog more social and display various Facebook feeds on it ? Well, no problem ! Facebook Feed WD plugin can be your best partner and help you bring profile/public group/page feeds to your blog or website in a matter of a few clicks. You need custom adjustments and styling for the displayed feeds and content ?You got it! The plugin actually gives you full control over the content type, length, and the overall feed style, so that it best goes with your website.
Let's dive deep into the features of Facebook Feed WD plugin and see what steps do you need to do through to have it up and running.
To get the plugin you need to go to the WordPress.org page and download it absolutelly free of charge. It's the FREE version of the plugin which is somehow limited in functionality as compared to the PRO version (more about it later), but it still offers a bunch of cool features that you'll find useful and handy.
Once you have the plugin downloaded and activated you'll have to create an app on Facebook to get an app ID and app secret necessary for displaying the feeds. You're not required to do so if you use the FREE version, but the users of Facebook Feed WD Pro can't go further without it if they want to display profile based feeds.. That's a necessary step required by Facebook API. Due to the detailed installation guide that the plugin comes with you can easily have your app created.
As you get the app ID and app secret you'll need to enter them in the plugin options section, where you'll also find the settings for feed autoupdate interval, time zone, date formats for posts and events.


For creating a feed you'll need to go to the WordPress dashboard and click on the feed button under Facebook Feed WD plugin options. It will open up a feed creation tab with an "add new" button on the top. As you click on, it it takes you to the Main, Lightbox, Comments ,Events and Page plugin settings page necessary to create and adjust the feeds. There is a plenty of adjustable feed settings available,  so let's have a look at each of them separately.
Main Settings
Under the main settings tab you'll find the essential options for the feed view and posts. What you'll have to do first, is to choose the feed type you want to display and give it a title. As mentioned above you public group and page feed types to choose from and the profile feed option which is a PRO feature.
There are two content type options for page and profile feeds. You can choose to display the whole timeline of the feed, with the preferred post types (statuses,photos ,videos, links, events), update options, number of the posts displayed. If your update to the PRO version, you'll get an option to choose a specific content to showcase, such as only photos, videos, albums or events.
There are also multiple layout options available for PRO users – Album view for albums, Masonry and Thumbnail view for photos/videos, Blog style and thumbnail views for events.
For group feeds there is only timeline display option available.
You'll find pretty much impressive settings under the feed view settings. Choose one of the 5 available themes ,select between the the full width or half width view styles,enable showing the comments, likes,shares,etc.
If you choose to display a page feed in your post, there is an "show page plugin" option available. As you enable it , It displays a box with the page name and number of the likes that it has on Facebook. You can fully adjust the settings for the box from the page plugin settings page, and include a link that will redirect the viewers to the Facebook.
Lightbox Settings
The plugin features a really powerful lightbox with some advanced settings. It supports full width and full screen view options, 15 transition effects, and can show the post likes, description, share buttons, etc. The PRO users also have access to a wider number of lightbox effects and can showcase sharing buttons, info and comments and enable filmstrip.
Comments Settings
There are two options available for comments filtering. Top level- which offers the same structure as they have on Facebook, and shows the comment counts excluding the replies. And the stream option, showing the counts including the replies.
You can also choose between chronological or reverse chronological comments order types and choose whether to display replies or not.


Events Settings
Under the events settings tab you can define the maximum length for event description, and choose whether or not to showcase event date and some location details, such as city, street, country, etc.
After you create the feed and configure its settings you just have to click the "save" button. As the feed is saved you'll get a specific shortcode which you can later use to display it in any of your website's posts and pages.
Facebook Feed WD plugin is actually the most comprehensive, user-friendly and feature-packed plugin available in WordPress directory. It's built with clean coding and ensures the fast operation of your website. The plugin can be used on any kind of site, be it a personal blog, or a famous brand website.
Find below the full list of the both versions of the Facebook Feed WD, and don't forget to check the plugin demo to see all of its cool features in use.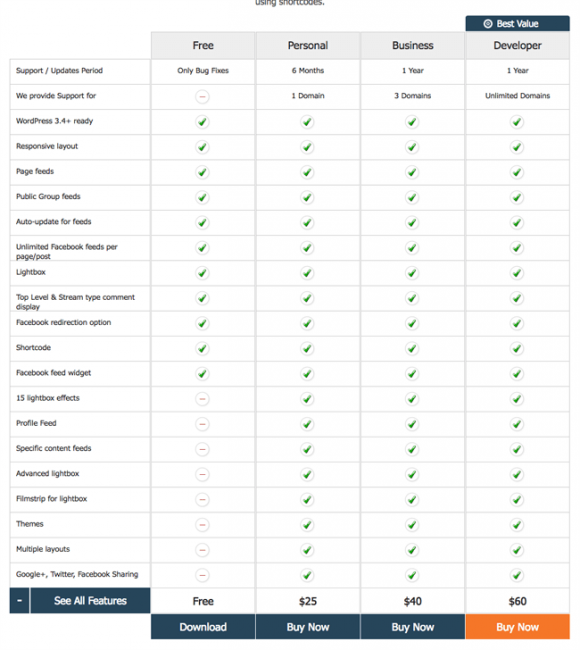 We are influencers and brand affiliates.  This post contains affiliate links, most which go to Amazon and are Geo-Affiliate links to nearest Amazon store.
This is the Dragon Blogger Guest Bloggers account for author's who want to submit articles and only have credit in the post instead of having to manage their own WordPress profile.