With everything going on in the world every single household should have a thermometer for checking temperatures and a Pulse Ox meter which measures the oxygen in your blood.  It is even more ideal to have a contactless thermometer that can read very quickly and give accurate results rather than an older style thermometer that you have to place under your tongue and wait for usually more than a minute to get an accurate read.  Plus you don't have to deal with the germ factor, sanitation and potentially transmitting/catching something contagious dealing with a thermometer that was just placed in a sick person's mouth and then you may accidentally set it on a counter or somewhere before you clean it.  This thermometer you don't even have to touch the skin, the measuring distance is 30mm – 50mm above the skin to take a temperature read.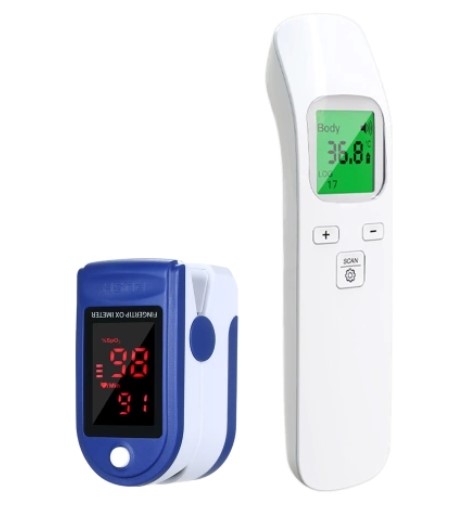 Right now on a special sale you can get an Oximeter/Thermometer combo for less than $13 , this is a Non-contact Contactless IR Infrared Sensor Forehead Body/ Object Thermometer with Fingertip Clip Pulse Oximeter L-ED Display Mini SpO2 Monitor Oxygen Saturation Monitor.
Included in the Kit:
1 * Non-contact IR Thermometer
1 * Manual of Thermometer
1 * Oximeter
1 * Manual of Oximeter
1 * Sling
Features of the Thermometer:
First off you just gently hold it right over the forehead, you don't have to stick it in anywhere.  It has an extremely fast 1 second temperature read and uses 2 Triple A batteries.  It is very light weight and has a U shaped design to make it curve with the forehead for more accurate reads as well.  You can switch between ℃/℉ for display and it is accurate to within .1 ℃ according to the brand.    What also stands out is it can store memory of the last 32 temperature reads, so many don't show previous history and with this you can track measurement of the same individual over time to see a trend without having to write it down separately or remember each check temp in your head.
It auto shut down when not in use to preserve battery life, and probably my favorite feature is the color LCD backlit display which will color code indicate when a fever level temp is detected.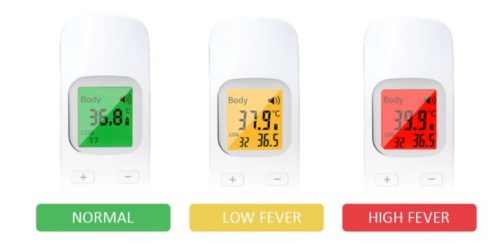 It is also one of the few human body thermometers that can also be used to measure solid objects temperatures as well.  So for the specifications of temperature monitoring, here is the details
When measuring an object it can measure and display between 0-80℃, when tracking a body it's range is between 32-42.5℃ with the body accuracy chart below.
Body Accuracy:
32℃-34.9℃ ±0.3℃
35℃-42℃ ±0.2℃
42.1℃-42.9℃ ±0.3℃
Features of Oximeter: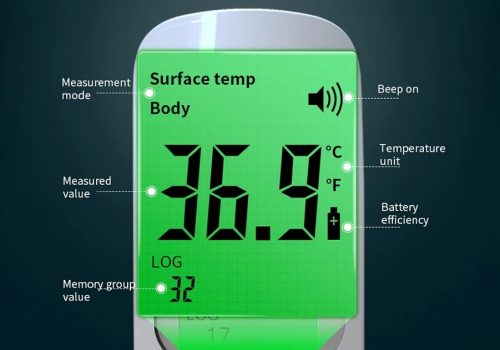 So with the Oximeter you get SPO2 value, pulse value and a pulse waveform chart.  It has a clear LED display and contrasting background to make it very easy to read.  It uses 2 AAA Batteries just like the thermometer and has automatic shutdown after 8 seconds to conserve battery live.  Like the paired Thermometer it stores memories of previous reads for comparison.  The pulse reading and display range is between 30 and 240BPM with a ±1% accuracy (±1 BPM) in the case of less than a single digit variance.  For the blood oxygen saturation measurement it measures between 70% and 99% with a ±2% accuracy.
So here is the thing, with COVID being prevalent and the holidays it isn't enough to just take a body temperature anymore to rule out a flu or cold, it is more important than ever to take both a body temp and a pulse/blood oxygen saturation read so you can get a little better picture if anything serious may be developing or there is anything to be concerned about.  If your blood oxygen is under 95% after taking a few reads to be sure of accuracy, you should consult a doctor.  If it is below 90% and the person is displaying any signs of distress, paired with a fever…etc you should contact emergency services right away. When using a pulse ox meter, make sure you don't have any fingernail polish on because these devices can be less accurate if put over a painted nail.
Stay safe everyone.
Pick up this Contactless IR Infrared Sensor Forehead Body/ Object Thermometer with Fingertip Clip Pulse Oximeter for only $12.99 while on the Flash Sale.