Vibe – the atmosphere of a place as felt by others – can decide everything for you. It expresses how you feel about yourself. Vibe also drives people behavior toward you. Vibe is also an important factor for you to make influence on other people. Lastly, it guides your behavior toward hardships and rough situations. When you tell a bed time stories, it is more engaging for kids to immerse with the right  vibe. Or when you are at the Hawaiian themed party, you need to set the vibe of a tropical sandy beach. The vibe can elevate the experiences to the next level. Realizing how importance of vibe is, we will present a supreme vibe maker product from LaView- the Star Projector.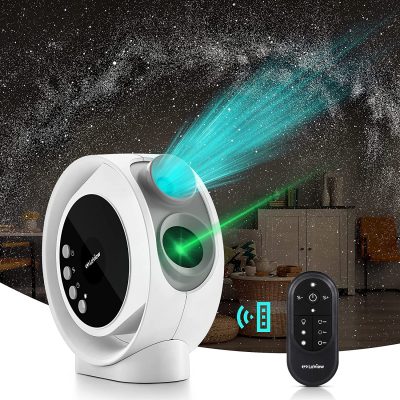 Who is behind this supreme Vibe maker?
LaView is a technology company focusing on innovations of high end consumer security and smart home industry. Even though they just started their footprint in 2013, they have been marketing in more than 20 countries and regions around the globe. With an innovative attitude, LaView has spent lots of effort to dedicate a top-class R&D department. On top of that, they also recruit the most innovative engineers, as well as connect the world top-tier suppliers and manufacturers. Their core business domain idea is innovation. It has been and will always the guiding compass for them to gain brand value and opportunities. Together with the core mission, LaView will keep innovating and improving, So that they will deliver the reliability, professionalism, and persistence in their smart home products and eco-system.
What is the hype behind this Vibe Maker ?
The LaView's star project will meet all the expectations that you have set. It will deliver excellent image experiences. It comes with 8 sets of high light transmission (LTR) optical lens and 3 level light adjustable green light. Thanks to these lens, the LaView star projector can cover up to 130 square feet of projection area. As a result, you and the audience will enjoy a spectacular, unforgettable experience with all the lifelike images.
One of the best features from this star projector is how versatile it is. Technically, you can easily swap disc to change to the right view for your purpose. By default, the product will come with two discs. However, there are various of options from parties, gaming room, meditation space, or even a mesmerizing night life. The projector can easily brings the instance mood ambience to your occasion or event. LaView will not stop releasing new disc for the projector either. Looking for a romantic dinner under the sky? How about mythical setups for a Grimm Forest bed time stories? Fortunately, there will be a disc for your need.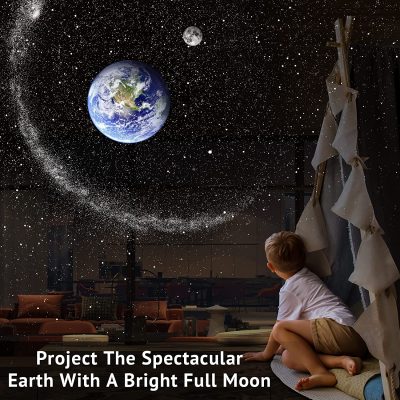 In addition to how versatile it is, the star projector is a good addition for your room decoration as well. As you can see, the design takes inspiration from the moon. It comes with a half-moon shape hollow carved design. The white body color makes the unit look so clean and refreshing. Moreover, this product is very user-friendly and portable. Thanks to the 0-90 degree adjustment, you can switch the display from wall to celling and vice versa in a simple operation. Not only does this increases the portability, but also it improves the usability of the product. You have more flexibilities to utilize the Star Projector. You can bring and create your vibe anywhere you want.
The features you need
You can also use it as a night lamp with the auto-off timer. With this feature, the projector will automatically shut off after a certain amount of time. As of now, there are three options : 10, 30 and 60 minutes. Also, this feature will help reduce your electricity consumption for the projector.
Another feature that you can't miss is the ease of controlling. You don't have to use all the physical buttons on this device. Indeed, this comes with a remote button, which is very convenient to use. It has all the buttons you need to operate your LaView star projector.
With all the above feature and elegant design, LaView star projector easily becomes one of the most wanted gift ideas. It is a fantastic present for kids, party decoration, meditation time, and theater night. It is suitable for all family members. You can get the LaView Star Projector at this link