Having spent a lot of my time in life traveling and more so driving my car to a lot of different places. Using the GPS on my phone has been something that I can always rely on. However, when you are using your cell phone as your GPS, you don't get a car mount with your phone, something that I have never really understood. The BESTEK Gooseneck Phone Holder serves as a car mount. Something that I feel is very integral product needed for any successful long-distance drive.
What's great about this product from what I can tell, is that not only does it serves its main purpose as a car mount, but you can also use it as a place to hold your phone on your desk or on your bedside table. Another way this product could be used is if you are needing something to hold your phone while filming a YouTube video. So no more trying to hold your own camera when doing your video blog or next product review. The BESTEK phone holder works with just about any Apple or Android smartphone. It also has an incredible 360-degree rotation as well as anti-shock and anti-slip rubber cushions on the clamps to prevent your device from being scratched or broken in any sort of way.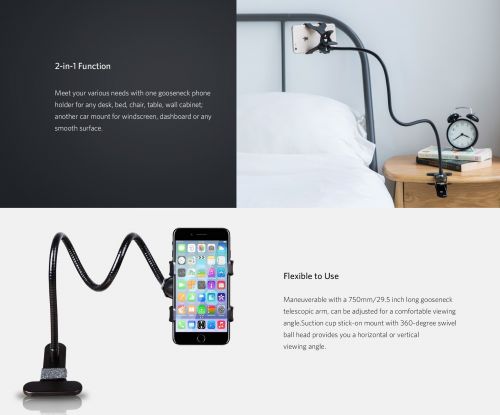 The clamp supports either a horizontal or a vertical means of clamping your phone so you can use your device's GPS in a display that suits you. The neck on this phone holder makes it easy to adjust to your particular reach so you won't have to stretch your arms out too far to use it comfortably while on the go. You will definitely find a use for this whether it be needing something to hold your phone while reading a book from Amazon Kindle or taking those long drives while on vacation or for business travel. The BESTEK Gooseneck Phone Holder & Car Mount provides a very sturdy and reliable product that is going to be very useful and will meet your travel needs. Not to mention it is at a very affordable price at $17.99 and you can find this product at the BESTEK website or click on this link to be taken right to this product and pick up one for yourself, today.
Sale: GET THIS FOR .01 CENT, yes you heard that right you can get this product for only 1 penny by following the promotion on the product page.