For freelancers, there are many challenges, some of which were unanticipated from the start. Hey, you find what you are good at, and before you know it, people are paying you and the money starts rolling in at a favorable rate.
It is easy to miss that part about actually setting up a system for your freelancing business. And, especially formalizing the financial management portion of your freelance business.
After all, when did you become a freelancer? … Not sure if you are a freelancer? You may have a day job and still be a freelancer on the side.
Let's talk about freelancing just a bit before closing out with a discussion on the topic of financial management. As a bonus, we'll include a review of just such a solution, called Due.com.
Statistics of the Freelancing Community
According to a study last year (commissioned by Freelancers Union and ELance-oDesk), 53 million freelancers contribute to the United States' national economy. The amount of that contribution was quoted as $715 billion. Who says that? It was ELance. They put together a very informative SlideShare version of the study:
It is possible that you are a freelancer and simply do not think of yourself as one! If you are performing a service and getting paid, you are a freelancer, even if you do not do it full-time.
Five Types of Freelancing
Independent contractors are the traditional freelancers. These are the types of freelancers that come to mind when we think of the word, "freelancing."
Moonlighters are those who have a "day job," but also freelance on the side.
Diversified workers are the types of freelancers that have a sort of combination of the first two, a little traditional, a little non-traditional…
Temporary worker label may apply to the one who is doing a freelance gig in between "regular employment" gigs.
Business owners of small businesses (i.e. five or fewer employees) function on a similar business model as a single freelancer, but with a few more moving parts.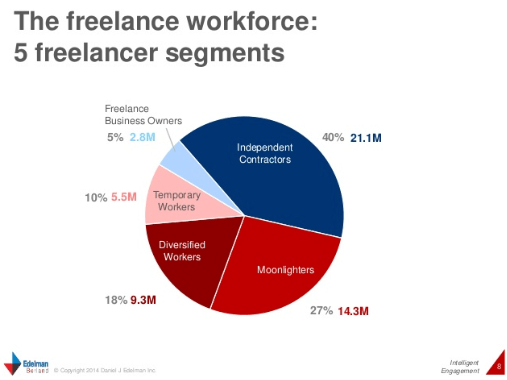 You can check out more information on this topic in the report, above, and the SlideShare.
All You Need To Know About Freelancing (and Accomplishing It Successfully)
Due.com (reviewed, below) offers a guide for freelancers, called the "Ultimate Guide to Freelancing." As if the tool (Due.com financial management tool) itself were not enough (which it is!), the folks at Due.com (John Rampton and Murry Newlands) also provide helpful information in answering your questions and closing the gaps in the topic of "Freelancing."
They cover the following topics, which pretty much encompass the discussion on freelancing (and point you in the right direction for any additional discussion or questions):
What is Freelancing?
Pros and Cons of Freelancing
Setting Up Your Workplace
Branding Yourself
Creating Your Portfolio
Setting Estimates and Rates
Marketing and Promotion
Where to Find Work
Working With Clients
Project Management
How to Get Paid ***
Final Words of Advice
The above listing is quoted from the Ultimate Guide, itself.
*** This is where the Due.com web application truly comes in handy.
John Rampton granted me an interview and shared a bit about himself, as well as this new venture. You can watch that interview here:
So, let's talk about the application and a review. But first, some helpful
startup resources
that I helped compile (worth a bookmark). I helped put together this list of tools and helpful links for anyone looking to forge ahead with their own start-up or diving into the freelancing work.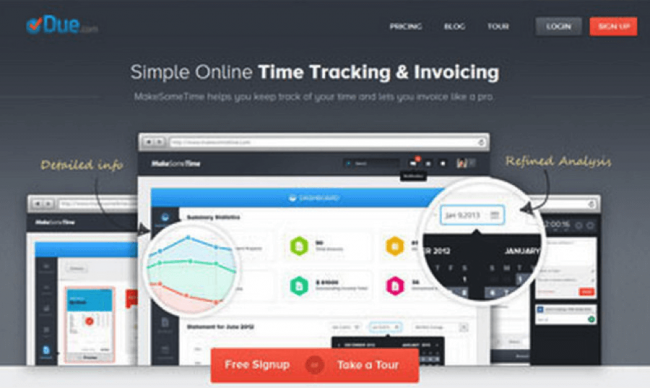 Due.com: "Time Tracking and Invoicing"
Sometimes it is easy for us to get so involved in getting the project done for a client that we miss some details of invoicing (or even project management). Fortunately, Due.com handles the details.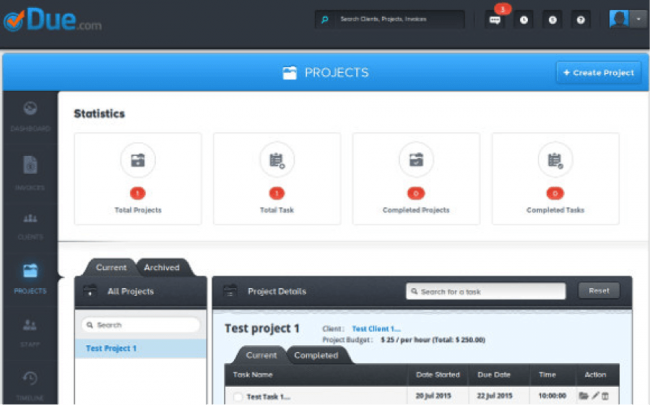 Project Management That Gets It Started
There are applications online that help manage project management. One of them is the well-known BaseCamp, known for its ease-of-use in project management and especially working with teams and project management. Fortunately, Due.com is built on the same framework. That means that anyone who is familiar with BaseCamp will find the project management aspects of Due.com easy-to-use.
Why does this (project management) matter? It matters because not all freelancer projects are the same. Speaking from experience, what may appear to be a simple task-type job may turn into a multi-layer complicated project.. overnight. By setting it up (no matter how easy it may seem at first) in a project management framework, you are prepared and ready for that moment when it becomes more complicated.
And, the more projects that you complete, the more your process will develop and the more efficiencies will emerge. Most importantly, it provides you with the opportunity to develop the appropriate pricing… that pricing that pays you what you are worth.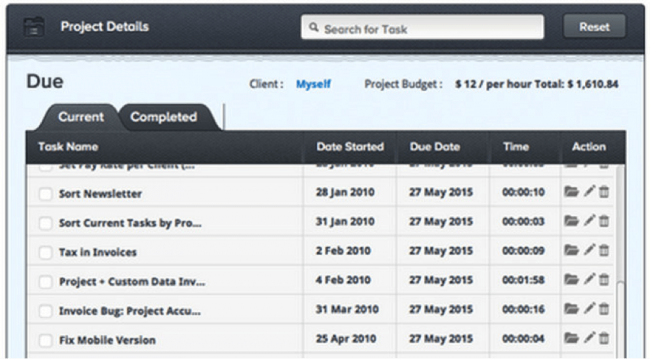 Drilling Into the Details
Because Due.com is built on this project management framework, it is ready for the details. You can make it as detailed/complicated as you like, or as simple as you like. Either way, you can keep the invoicing side of things simple, for your clients. By logging as much (or as little) detail about what you are doing, you are ready to answer your own questions(s) of "what was that project all about?" and any questions that your clients may have for you. It's all in the details, and more importantly, you can control it to whatever level you want.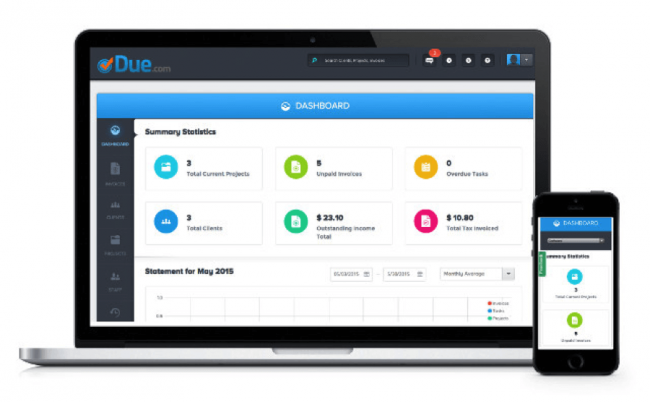 Take It With You Wherever You Go
We live in a mobile world. We need to be able to be adaptable to whatever situation is presented, whether it is our office or a Starbucks. Fortunately, Due.com goes with you, adapting to the mobile world, the laptop, and the desktop with the 27-inch monitor.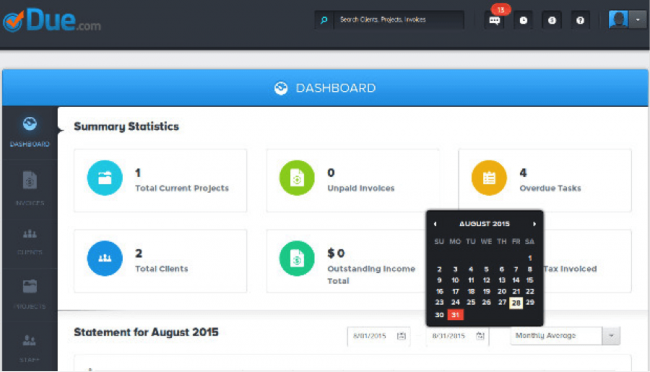 Overview (Dashboard)
As expected, the Due.com dashboard is easy to follow. After logging in, you are presented with the opportunity to choose which part of the software you want to use, including setup and configuration. Even if you have forgotten some of the features that come with the Due.com software, you have this simple reminder in the Due.com dashboard.
The Cons
I am told that a proper review includes the plusses, but also the minuses. Truly, Due.com is so wonderful, that it is difficult to come up with any negative aspects (especially since it integrates so well with my Quickbooks application!).
The only drawback is two-fold, and it is not really a fault of Due.com, but is a by-product of "the way things are."
I sent an invoice to my client, and later my client claimed I had not sent an invoice. Why? The client was looking for an invoice directly from PayPal.com and was searching for an email literally from PayPal. This is more of a product of our culture. So many people invoice via PayPal and so, to this client, that became the expectation and that is what he/she searched for in his/her email inbox. It probably didn't help that I mentioned that it was payable by PayPal.
"Payable by PayPal" meant that the client would be able to pay via a PayPal link (which is 100% doable in Due.com!). However, the client interpreted that as an invoice coming from PayPal.com. So, therein lies the two-fold aspect, the client expects an email from PayPal.com (literally), and they expect that the invoice is a PayPal invoice. Instead, the email is a notice to view the invoice online (and PDF) and click a link that will direct the client to PayPal to pay the total amount of the invoice.
In reality, there is a very nice (pretty!), functional, printable (PDFable) invoice that is presented via Due.com. The invoice could be considered more impressive than the PayPal invoice, in some cases. Also, that Due.com invoice is connected to the details of the service, so it is easier for the freelancer to track the service and the billing. The potential hang-up is that the invoice is accessible at Due.com and the email does not come from PayPal.com.
You know what the good news is? This is so easily managed. Simply include the verbiage in your documentation and messaging and let the client know that they will be receiving a Due.com invoice with a wonderfully easy link to pay via PayPal. By managing the expectations with the client, this "issue" becomes a "non-issue."
In Summary
There are so many wonderful things about Due.com that I could not possibly sing all of its praises in one article. And, as you can see, the only drawback is so easily overcome with up-front communication with the client.
The only regret that I have is that I did not implement Due.com from the very beginning. Instead, I spent weeks (months!) of time developing my own solution. So, take some advice from me and use Due.com earlier rather than later. It will save you the time that you need so that you can apply that time toward drawing in more clients and putting out that awesome freelance work that you do!
Deborah wears many hats, from professional sound engineer, to marrying a professional sound engineer and recording a Jazz album that put her and kept her on the RN Jazz charts in Los Angeles, for a year. From that experience, she learned how to make it work with social media marketing. She traded in her position as Chief Technology Officer in the financial industry to help small businesses to realize their success online.