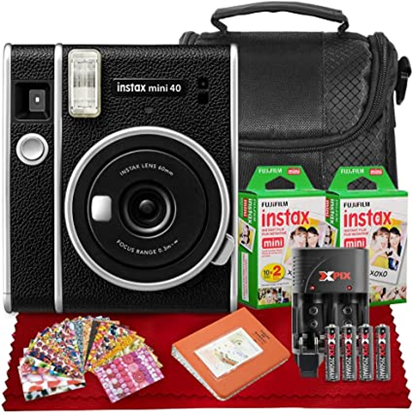 Do you usually spend time with your friends and would like to turn those moments into photographs?
Photos allow you to get memories of almost anything, allowing you to view them at any time. As you know, cell phones take amazing photos, which makes cameras less purchased compared to 20 or 10 years ago. Even so, you know that something digital will never give you the same feeling as something physical. I think we all have an album in our house with old photographs of our relatives, which can be very emotional when we see our relatives when they were young or when we graduated from school. Maybe you can find old friends you've never seen again, but there they are, and those memories will be forever.
If you are looking for something that allows you to get instant photos to save to an album you should try the instant camera. With this camera, you will not have to wait to develop the photos or save them to a micro-SD memory, and without waiting times, get the photos printed immediately. I know, it sounds amazing and it's exactly what it can do. Keep in mind that the photos will be small, but of good quality considering that they have an affordable price compared to a digital camera. You shouldn't expect the quality of a Canon camera or anything like that, but the idea of getting those photos right away can be very exciting if you usually spend time with your loved ones.
The Fujifilm Instax Mini 40 is one of the most popular instant cameras. It is compact and easy to carry a camera so you can carry it in your hand or in a backpack without any problem. Best of all, it includes 40 sheets so you can take dozens of photos before you have to buy more. Below, discover the most interesting features of this product.
Features of the Fujifilm Instax Mini 40 instant camera
Classic and elegant design
The Fujifilm Instax Mini 40 camera has a classic design to simulate old cameras, so it has a very nice vintage look that you will surely love. This camera also has a light weight of only 330g so you can take lots of photos without getting tired.
Included accessories
This instant camera is included with a pack with everything you need to start using your new camera. You can find a photo album, a charger with 4 rechargeable batteries, 40 sheets for photos, and a case to store the camera.
Easy to use
Starting to take pictures is quite easy with this camera. Once you introduce the film inside the camera, you will only have to take the photo, after you have the image in your hands you must wait 90 seconds until the image is developed, and voila, you will have your photo that you can save in the album that Fujifilm includes. If you use all 40 sheets, don't worry, you can buy more separately.
The Fujifilm Instax Mini 40 instant camera is certainly a great product for modern young people or for people who want to get memories with their friends or when they make trips to beautiful places. Best of all, it's included in a pack, saving you time and money. Ideal to give to your loved ones.
You can buy this item here: Amazon.com : Fujifilm Instax Mini 40 Instant Film Camera with 40 Sheets Instant Mini Film, AA Batteries, Battery Charger, Frames, Stickers & Photo Album in Deluxe Accessories Bundle Perfect for Photographers : Electronics