I have a laptop and as many of us, I hate the built in touch pad that is on the laptop. I like having one in my hand, but, do not want to use a wired mouse. I went to Wal-Mart one day, and did not have a lot of cash to spend, so I found a cheap $15.00 wireless mouse that looked like just the right size. I love it.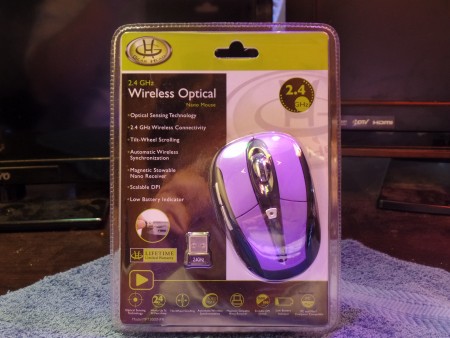 The company is Gear Head, and the mouse is a 2.4 Ghz device with several neat features. One is color. There are many different ones to choose from. They even have a camo one. The mouse is typical of many others, it has the standard two buttons and wheel in the center, but the wheel also moves left and right to use the left/ right scroll bars. On the left side are two buttons for media. This allows you to fast forward or reverse, or skip to the next song or back to the previous one. One other feature I love is the auto power off. I did not see this feature mentioned, but noticed that when left for a while, the mouse turned off. Simply clicking the small silver button below the wheel, turns it back on fast.
The mouse feels very comfortable in the hand, and from what I have noticed while using it, responds quick and easy. If you are looking for something for graphics or gaming, this one may not be enough for you, but if you just need a mouse for everyday use, this is a great buy.
Note, on  Amazon they have a similar version of the mouse for only $11.37 which is cheaper than the one I paid for.