We are influencers and brand affiliates.  This post contains affiliate links, most which go to Amazon and are Geo-Affiliate links to nearest Amazon store.
Everyone loves multi-screen setups, be that for gaming purpose or for more work-space on desktop. And Gechic is a brand dedicated to bring consumers the best portable screens that you can attach to your primary monitor or laptop or other devices to achieve those results.
Gechic might be a new name to our readers, however they have been producing these portable screens for about 7 years now. And today, we are going to take a look at the Gechic 1503H On-Lap portable monitor.
The Gechic 1503H On-Lap Portable Monitor is a 15.6 inch 1080P IPS screen. The screen to body ratio may not be the best feature about this monitor however the wide bezels are there to house 2x 1w speakers at the top, and 1x audio port, 1x microHDMI port, 1x microVGA port and 1x USB Type-C port on the left.
One of the best feature about this monitor is that it doesn't require any special type of cable to power it on. You can power up the Gechic 1503H using the 2x USB ports from your laptop, PC, powerbank or USB charging adaptors. It only requires 2x 5v2.4amp USB inputs at max. And if you're wondering "But the monitor only has 1x USB Type-C port", then, Gechic 1503H comes with a 2x USB 2.0 into USB Type-C cable so you're good. There monitor also has some features like a dedicated port for various purpose at rear, a magnetic stand for vertical and horizontal positions, navigation buttons and various display settings.
Even though the 1503H doesn't require any special cables other than the ones provided with the monitor, there are some other accessories that you can buy for the monitor for maximum customization. Gechic is also selling a few different adapters to make the 1503H work with devices that doesn't have HDMI port. There's also a proprietary cable for the monitor that installs at the back of the monitor. And Gechic is also selling a rear docking port for Compute and TV sticks. And there's also a mounting  tool available for the monitor.
Gechic was kind enough to send us the proprietary cable and the rear dock along with the monitor, so let's check them out in the unboxing video below.
Gechic 1503H On-Lap Portable Monitor Unboxing:
Closer Look at Gechic 1503H:
I know that the video quality isn't the best out there, so here you go with some quality pictures.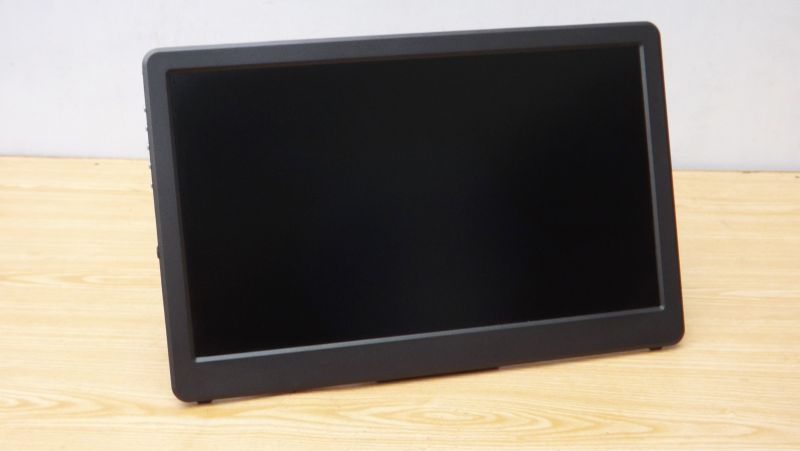 As you can see, the screen to body ratio is not the best feature of the screen. Gechic should have done at least some branding on the front as it looks empty and doesn't look very pleasing. But the build quality is exceptionally good and feels sturdy.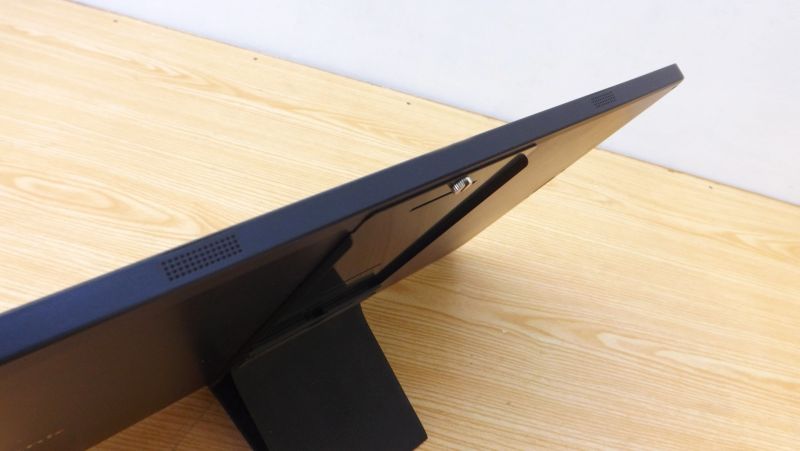 At the top, we have 2x 1watt speakers, 1 near each corner.
Whereas at the bottom, we have the information stickers and certifications.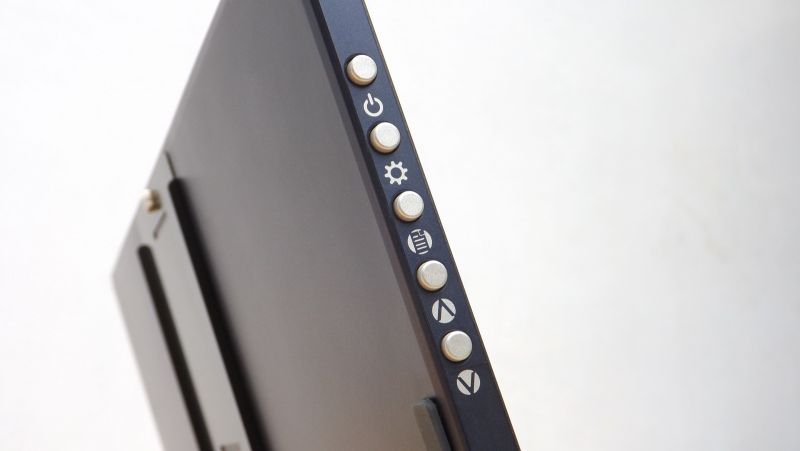 On the left side, you'll find all the buttons this screen have.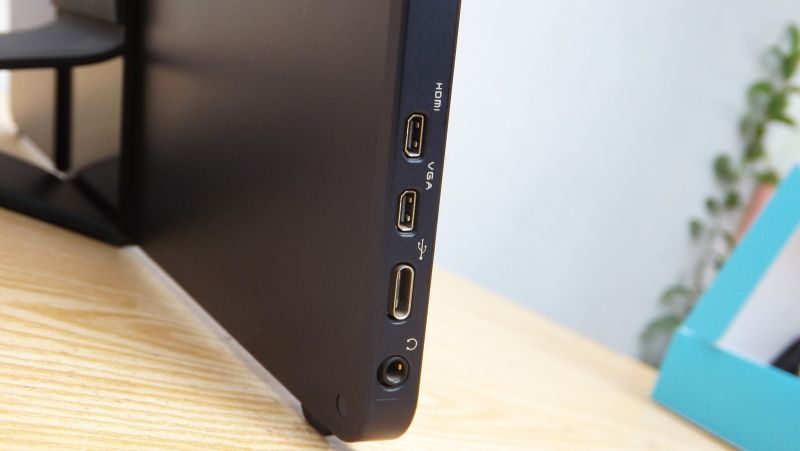 And just below the buttons, you'll find the input ports. We have 1x audio output, 1x USB Type-C, 1x microHDMI and 1x microVGA port here.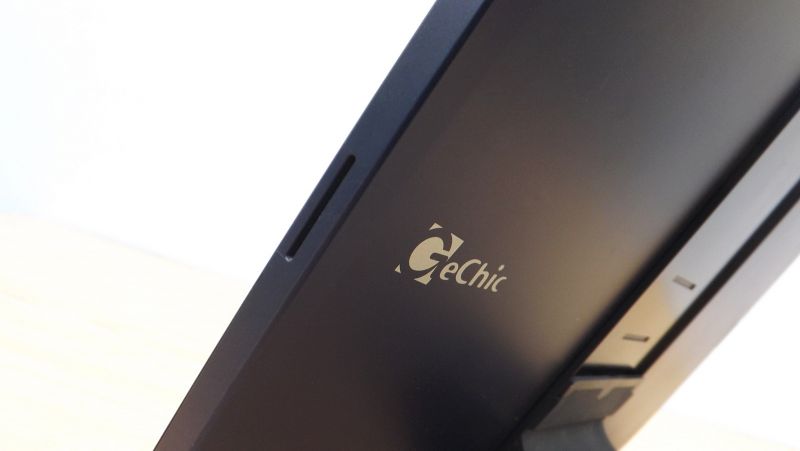 On the right side, you'll find a cut on the body. That is to install the magnetic stand here so you can use the monitor vertically. Also, the only branding on the product is at the back as well.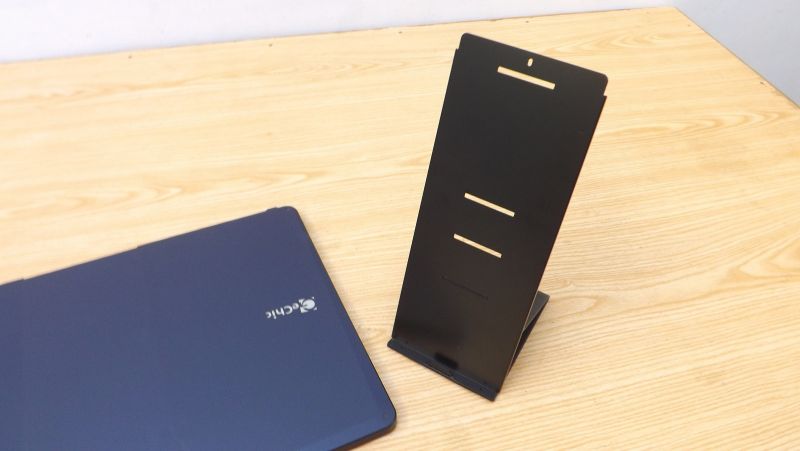 This is what the stand looks like when not installed. There's a little body part coming out of the bottom that goes into the cut on the right side of the body if you want to use the monitor horizontally.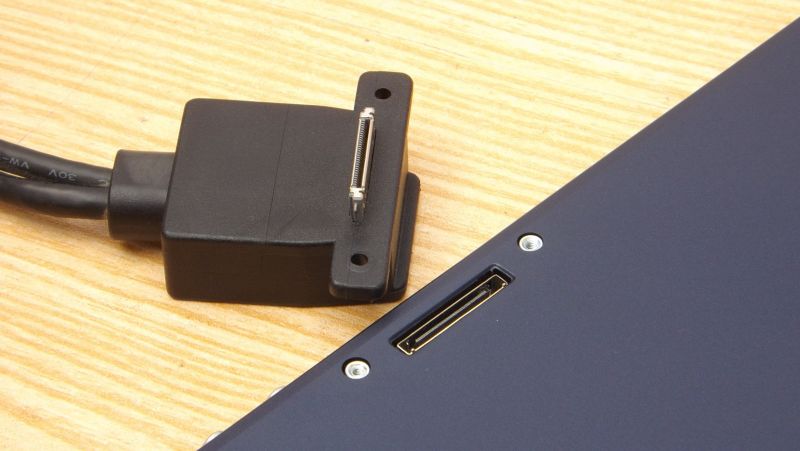 At the back, you'll a strange port, that's for Gechic's rear dock and proprietary cable. It actually comes with a rubber cover so you can keep it covered when not using the proprietary cable or the rear dock.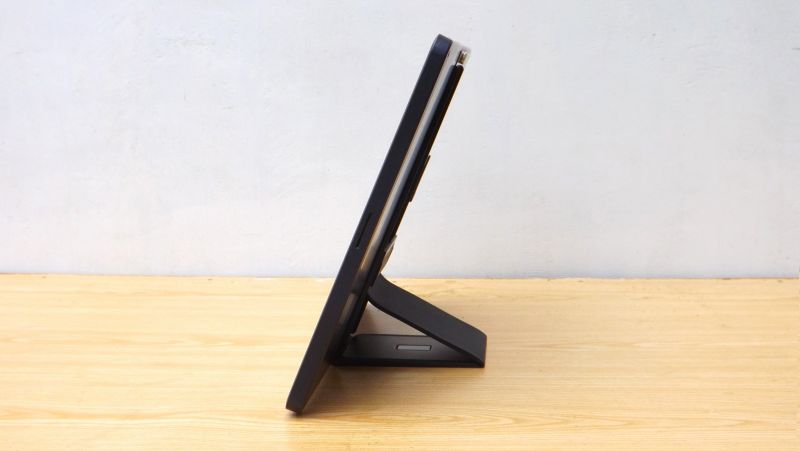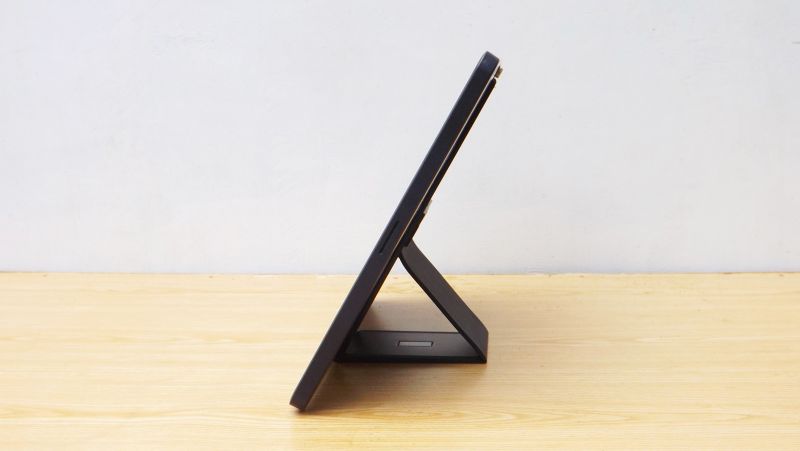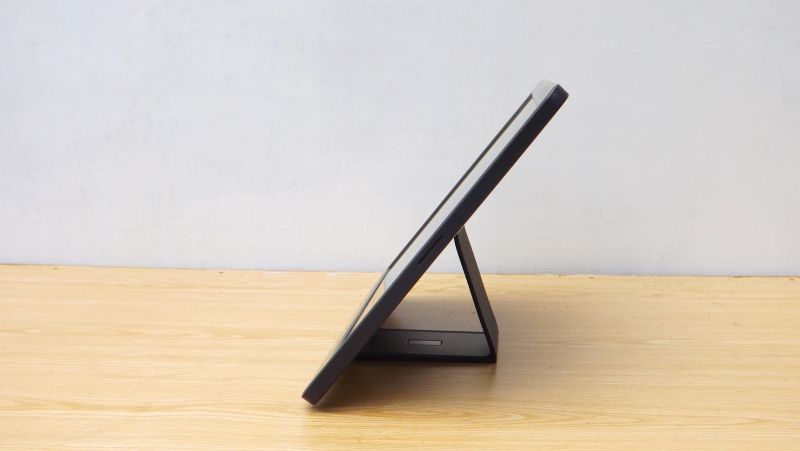 Here are the three different positions you can set your monitor to using the stand in horizontal installation.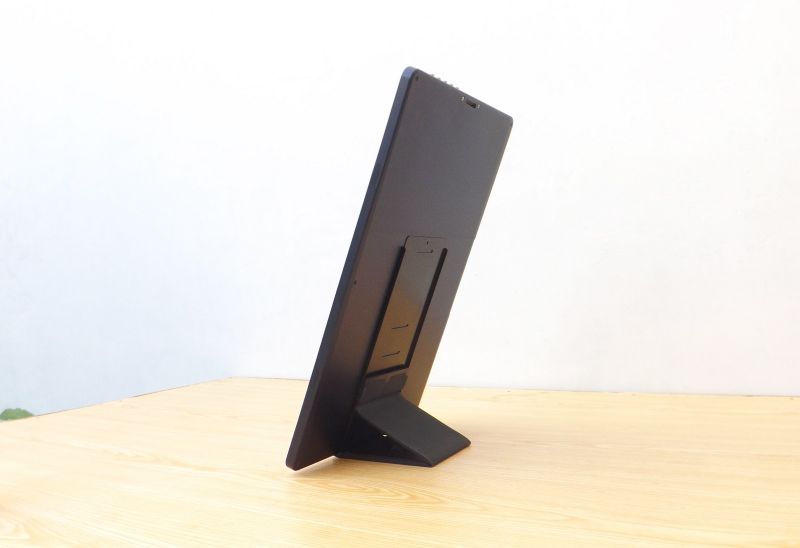 Here's a view of the magnetic stand installed on the right side. Whereas the stand is held in place via a total of three screws in horizontal orientation, there's no screw holes for the vertical orientation. So you will be using it just by sliding the stand into the cut on the right side.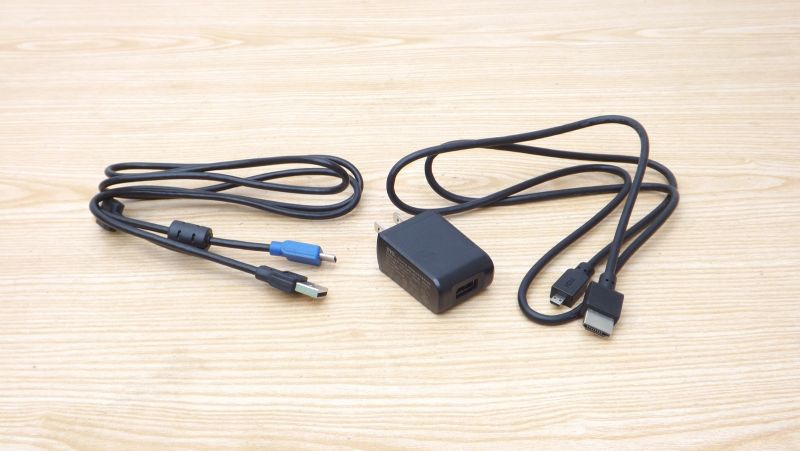 As far as the cables are concerned, we got 1x dual USB 2.0 to USB Type-C cable and 1x HDMI to microHDMI cable along with the monitor. We do get a single port USB adapter as well which is weird since the cable features dual USB ports. There's also 2x velcro Straps, 3x Screws and 1x instruction manual that came along with the monitor, covered in the video.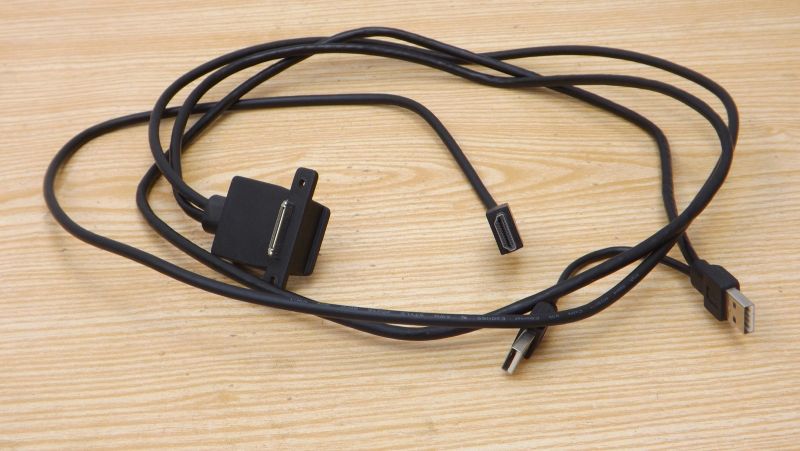 This is what the proprietary cable looks like. We have the unique port on one end that goes into the monitor. And on the other end, we have 2x USB 2.0s and 1x HDMI connector.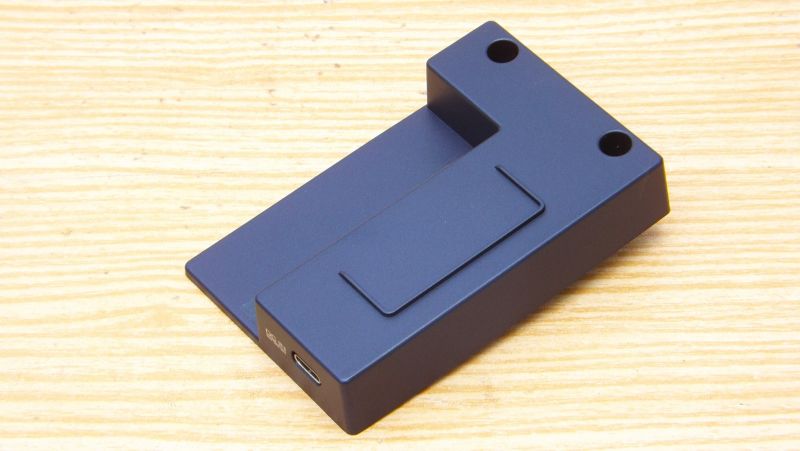 And this is what the rear dock looks like. It's used to house stick shaped devices like PC or Amazon Fire sticks.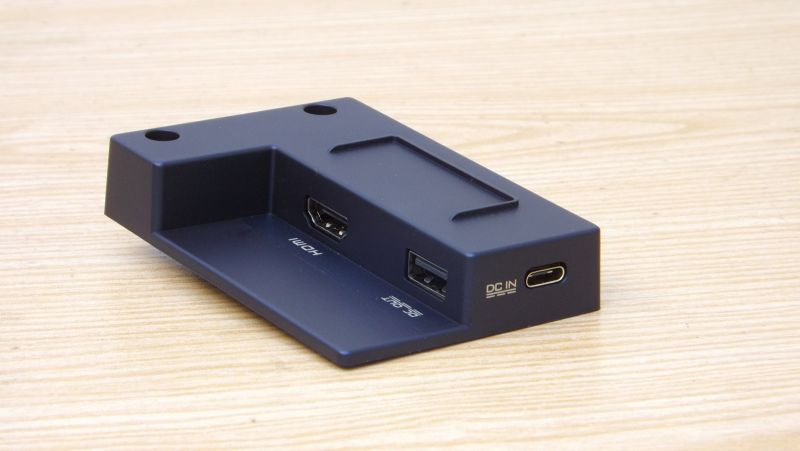 We have all the ports on this side that includes HDMI in, DC Out and DC In port. Also, there's a bracket at the top where you can attach a power bank using the magnetic slab provided with the rear dock. Covered in video.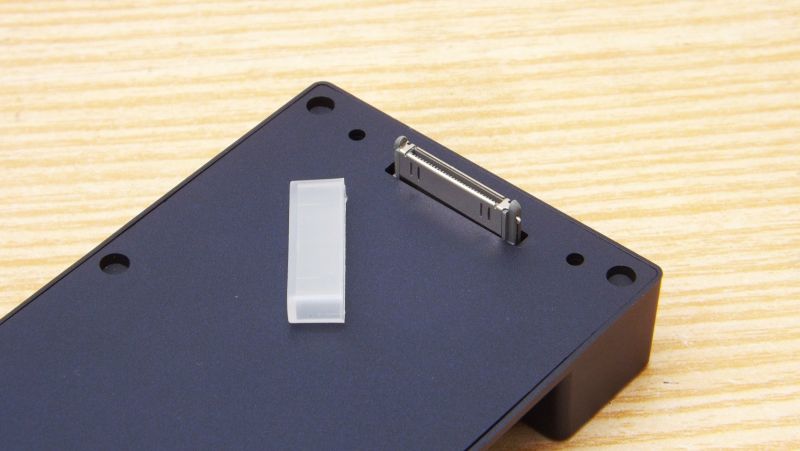 And if you're wondering how it's installed, it uses the same unique port as that of the proprietary cable and is mounted via two screws.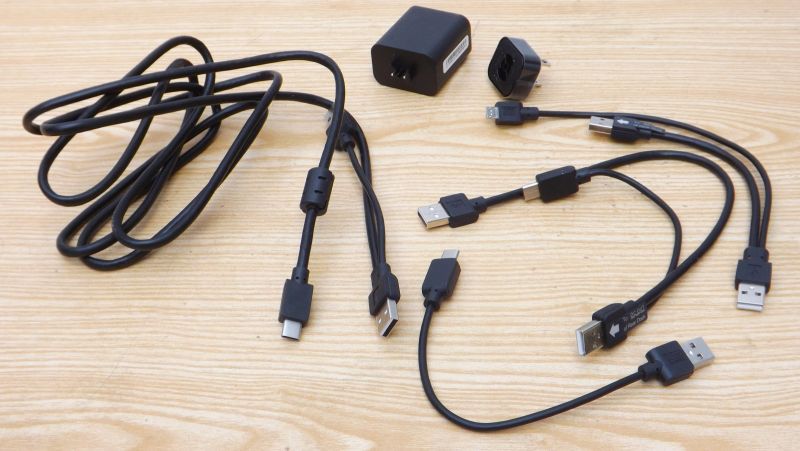 It is with rear dock that we get the most cables. So we have 1x dual USB 2.0 to USB Type-C cable. That's the longest one in the lot. Then we also have several USB to USB cables and a charging adapter.
Gechic 1503H Specification:
Panel
15.6" TFT IPS LCD (16:9 Wide) LED Backlight

1920 x1080 /262K colors (Anti-Glare)

Viewing Angle

(U/D/R/L)

80°/80°/80°/80° (Typical)

Brightness

Lifetime: 15,000 hours (Brightness Declines 50%) 

​2x 1.0W(Max.) (Rated Impedance 4Ω  at 2KHz)

Headphone outx1
Micro-HDMI x1
VGA x1 (Optional)
USB(C)*1
Rear Dock Port*1

Resolutions of PC inputs including HDMI and VGA input

1920*1080(60Hz);1600*900(60Hz); 1440*900(60Hz); 1366*768(60Hz)

1280*1024(60Hz); 1280*960(60Hz); 1280*800(60Hz/50Hz); 1280*768(60Hz/50Hz)
1280*720(60Hz/50Hz); 1024*768(60Hz)
(Caution: If video output frequency of computer graphic card is out of the above range, it may cause the panel damage.)

HDMI Video Display Capabilities

1080P(60Hz/50Hz);1080i(30Hz/25Hz);
720P(60Hz/50Hz)

Accessories in Retail Package

USB-A to USB-C power cable(1.2m) *1
HDMI-A to micro-HDMI video cable(1.2m) *1
Protective Cover*1、 Stand*1、5V-2A adapter*1
Slotted Screw_silver(M2x7.5mm)*1、Philips Screw_Black(M2x3.2mm)*2

Rear Dock: HDMI-A, USB-A, USB-C ports
Proprietary HDMI-A and USB-A to dock port cable(1.2m)
mini-HDMI to micro-HDMI video cable(2.1m)
HDMI-A to micro-HDMI video cable(2.1m)
USB-C to USB-A power and touch signal cable(2.1m)
Proprietary VGA video cable (1.2m)

382mm*246mm*11mm(Monitor);
389mm*251mm*10mm(Cover)

​front bezel:black  backcover:bluish black   cover:black

798g (Monitor); 282g(Stand); 290g(Cover)

​BSMI, CE, FCC,RCM, VCCI,KC and RoHS
How to Install Gechic 1503H:
The installation processes is very easy, be that with the cables provided with the Monitor or with the Proprietary cable. You can check out the process in the video below or in text further down.
As far as the cables provided with the monitor is concerned, you'll require two cables. The microHDMI to HDMI cable and the USB Type-C to USB 2.0×2 cable. All you're going to need to do is, install the Type-C end of the cable into the monitor's power port and the microHDMI cable into the monitor's microHDMI port. Do note that the microHDMI port on the monitor is marked as HDMI port. Now go ahead and install the USB 2.0×2 ends into any charging adaptor that can give up to 5v2amps. And finally connect the HDMI cable into any device that has an HDMI port like your computer, Laptop, Raspberry Pi, PlayStation etc.
Whereas the installation with provided cables are tool-less, you'll need a Philips screw driver for the installation with the proprietary cable. For installation with proprietary cable, you'll need to remove the rubber cover from the proprietary cable insertion port at the back of the monitor. Then insert the proprietary cable there and tighten it up with two screws provided with it. Now all you got to do is connect the USB 2.0×2 cables coming out of the proprietary cable to any charging adaptor with 5v2amp output. And connect the HDMI cable to any device that has an HDMI port.
As far as the Rear Dock is concerned, I didn't had any TV sticks on me, however the processes isn't too difficult. The installation processor with the rear dock varies from device to device depending on the I/O ports. Let's take a Compute Stick for an example. The first three step are pretty much the same in all the cases where you have to install the rear dock on the monitor like the proprietary cable first. Then take the USB Type-C to dual USB 2.0 cable and plug in the Type-C end in the DC-In port and connect the USB 2.0 ends to a power bank or charging adapter. And finally install the Compute Stick into the HDMI port on the rear dock. Now depending on the Compute Stick power input port, you're going to use the other cables provided with the rear dock for powering it up. The cables are marked with DC Out so you won't make a mistake.
Gechic 1503H Display Settings:
The monitor also comes with many options to customize the screen according to your preference. The menu is accessed by pressing the menu button, that's the 3rd one from either sides. And pressing that will open a popup on the top left corner of the screen.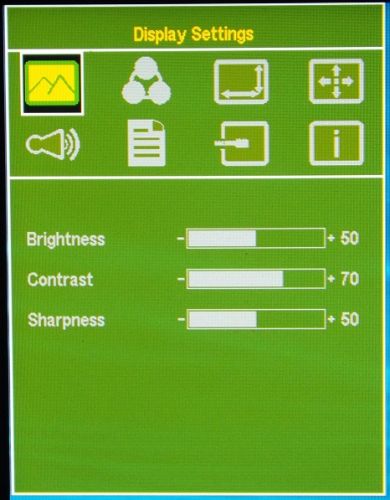 From the home screen, you can edit the brightness, contrast and the sharpness of the screen.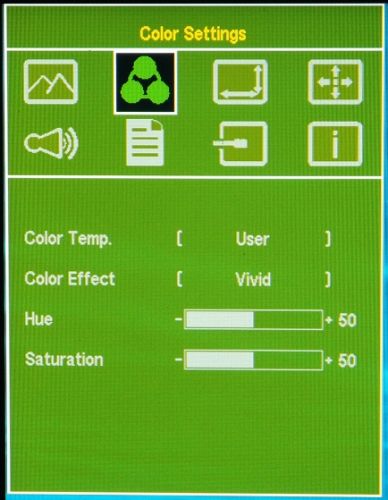 Besides that, you'll find the color settings. You got 3 color temperatures available including User settings, warm and cool. As for color effects, you got user, standard, game, movie, photo, and vivid. From here you can also adjust the Hue and saturation of the screen.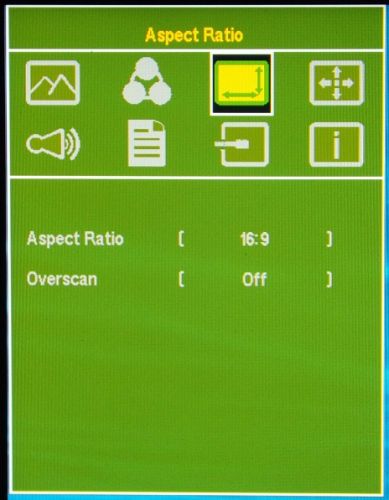 Then we got the aspect Ratio and overscan.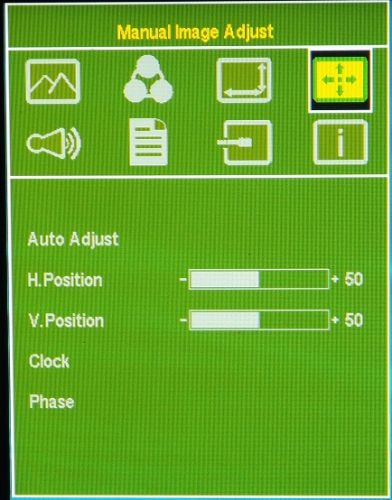 Besides that is the image adjustment menu.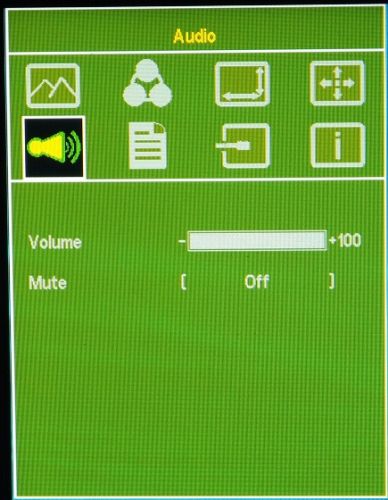 Even though there's dedicated buttons for the audio settings, there's still a menu for audio adjustment.
Then we have the OSD menu. From here you can adjust the on-screen display menu itself.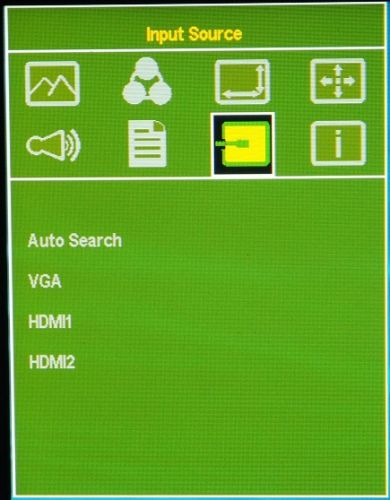 Then we got input source menu. From here you can change the input sources if you've connected multiple devices to the display.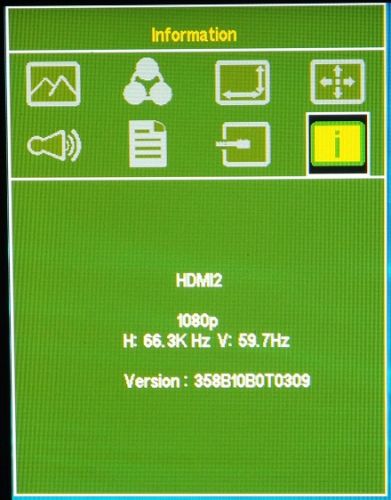 And then finally, we have the information menu which tell you the current resolution, refresh rate, input source being used and the monitor version.
Gechic 1503H Display Comparison:
Here's a 1 on 1 display comparison of the Gechic 1503H with MSI Dominator GT70 2PC on different color temperature and effects. The laptop was set to default preset with 100% brightness, while the brightness on Gechic 1503H was set on 50% while the settings are mentioned on the image captions. There's a total of 3 color temperature, namely default, warm and cold. But when you change the color effect, the color temperature changes to user settings.
Using Gechic 1503H as a secondary Gaming Monitor
Here's a video I made while using the Gechic 1503H as a secondary screen for gaming alongside my other monitor. From 4:38, you can also see a side by side comparison of the two screens in a mirrors gameplay video.
User Experience & Conclusion:
So I've been using the Gechic 1503H On-Lap portable monitor for a long while now. And as a reviewer/content writer, having a second screen for a wider workspace is always welcome and is sometimes a necessity. The Gechic 1503H does not only gives you a wider work-space, but it also gives you the portability to connect it to any device anytime as long as you can provide it enough juice via USB ports. So whenever I'm tired of sitting on my chair for using the PC, I could just take out the monitor, go to bed and attach it to my laptop and continue working from there and still have that extra work-space of 1920×1080 pixels.
Other than that, this isn't just any generic screen with only brightness adjustment option. The Gechic 1503H comes with a wide variety of screen settings you can play around with. And the best settings for me for the Gechic 1503H was setting the brightness to 50% and having the color effect set to vivid. The word itself is self-explanatory, it makes the screen look more lifelike with attractive and exciting colors which is good for attention when you're doing something as boring as writing 2000 word articles. And not only that, the screen may be only 15.6″ in size but it's a 1080P 60Hz screen. So it packs a lot of pixels in that small form factor.
However there are some things that I would like to see improved in a revision of the screen or next Gechic models. The first being the bezels, which are huge on the 1503H. Now the Gechic 1503H is also advertised as a portable gaming monitor, but having those huge bezels just ruin the overall experience of surround sound. It is understandable when you consider that they had to implement the ports for input and the port at the back and the speakers at top, but the annoying bezel size is still there. Secondly, the on-screen speakers aren't the very best for a medium sized room. Given the screen's low input rating, that much was pretty expected, but luckily, the screen also comes with a 3.5mm audio port. So even if you find the screen lacking in terms of audio quality, you can still connect an audio device for better audio experience. And we all know, we won't even be needing that when it's connected to a Laptop or PC.
So let's talk about who this screen is targeted towards. At a whooping price tag of $349.99, yes exactly; the screen surely is not for average consumer. As an average user is better off with a larger screen with higher resolution and refresh rate in the same price range. This screen is targeted towards those, who need portability with their screen. It's targeted towards those who needs another screen on the go and don't want to bring their humongous screen with them. So in short, the screen is targeted towards those content writers, programmers, developers, troubleshooters etc. who needs a screen or another pair of screen that they can move around or pack alongside their laptops.
Let's consider a scenario with a blogger, a programmer or a developer. In case of blogger, they can be editing their article on one screen and have multiple sources for their news pieces open on another. In case of programmer, they can be writing their programs on one screen and executing/debugging or finding solutions on another screen. And in case of a developer or video editors, they can be working on their projects on one screen and see the results in real-time on another. So this is basically for those users, who needs more work-space and the availability whenever they need. Which, in case of standard size monitor, isn't always possible.
And when it comes to troubleshooters or PC repair centers, this can save a lot of time and energy. And it's not only limited to PC's and Laptop, since it takes input from an HDMI cable, you can connect almost anything that has an HDMI port to it. And you can have at least 3 devices connected to the monitor at a time. And one of its best feature is the slim design, so you can bring it alongside your laptop in the same backpack.
So let's conclude the review now. As mentioned before, the monitor is listed on Amazon for about $349.99 which just doesn't make any sense at all for a 15.6″ 1080P 60Hz screen. But when we break it down to what it has to offer and what it actually is, it actually does seem like a good option. But then again, there's always competition wherever you go. And if you're looking to buy a portable screen for only your PC or Laptop, then there's a few models available in the market that utilizes only a USB 3.0 or Type-C port for display and power, and costs about as half as the Gechic 1503H. But if you must absolutely need the HDMI cable option, then I've only come across Gechic that provides such monitors. And not only that, but compared to the USB monitors, it also provides you with the option of being connected to 3 devices at once and then there's the rear docking station and various other cable adapter options.
It's a bit difficult to conclude this review since this is a very niche product and boils down to what a user is after. And being at $349.99 already, purchasing the proprietary cable and the rear dock for an extra $29.99+89.99 if you may require seems like a bit much. As far as what's this product is targeted towards, I feel like it should be good enough to fulfill those requirements. There's one thing I can say, If the Gechic 1503H sports the specifications you're looking for, you won't be disappointed with it in person, as long as you're willing to pay the premium price. A lower price tag would have done a lot of good for the product. So, in the end, I would like to rate the monitor a 4.5 stars out of 5 stars and give it our Editor's Choice Award.
Click the following links to buy:
Gechic 1503H On-Lap Portable Monitor
Gechic 1503H Proprietary Cable
We are influencers and brand affiliates.  This post contains affiliate links, most which go to Amazon and are Geo-Affiliate links to nearest Amazon store.
Hi, I'm Ahmed Kazim and I've been a gaming freak since like 7-8. I'm also a geek-o-nerd who keeps looking around for latest development in hardware/tech/gadget industries so expect some quick news from me. I'm also interested in anime (Japanese animation) and can't stand a day without music and gaming.