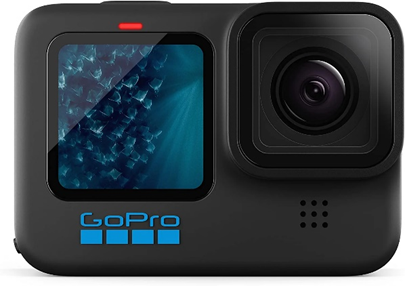 Do you plan to do some sports activities during the winter? Need to try the new GoPro
If you are one of those who usually do sports, you probably like to get some recordings, either to have them as memories or to publish them on your social networks. As you know, not always when we do sports, we have a partner with us, it can be difficult to get a good recording. You could use your cell phone, but it's uncomfortable and could cause an accident. Using a GoPro is a great help if you want to get a very high-quality video. GoPro cameras are preferred by professional athletes, not only because they are popular, but because they are the best cameras for recording all kinds of sports. You can watch hundreds of Red Bull events and you'll notice that they all use a GoPro camera.
There may be thousands of similar cameras, but none can offer the same quality as an authentic GoPro, since its first release in 2004 they have been a success. Whether you want to surf, ski, ice skate, run, walk, or do any physical activity, a GoPro will offer you a high-quality recording. They are easy to use and offer you professional recordings.
The GoPro HERO 11 is the latest launched by the popular brand, now with state-of-the-art features you can record all kinds of activities in the best possible quality. 4K? Forget about that, now with 5K, your videos will look spectacular so you can publish them on your favorite social network. Get professional photos and videos with the new GoPro. Below, discover the most interesting features of this product.
Features of the GoPro HERO 11
Professional videos and photos
We all know that GoPro cameras offer professional image quality, but the GoPro HERO 11 has taken things to another level and offers image quality up to 5.3K, which is 90% better than 4K and more than 600% better than 1080p, so enjoy spectacular recordings with these new features. Enjoy perfect stabilization no matter how much you move. No matter what you want to record, the GoPro HERO 11 will make everything look great.
Ridiculously amazing slow motion
One of the best features of the GoPro HERO 11 is its spectacular slow motion so you can see your recordings in detail. Get X8 slow motion recordings with 2.7K 240FPS image quality, this is crazy, surely your stunts will look amazing using this feature. You can also get 4K slow-motion recording, but the video is only available on X4, which is still great.
Durable battery
The GoPro HERO 11 has an improved battery compared to previous models, allowing you to record more without worrying about charging the battery. Now you can use the GoPro for up to 80 minutes using 5K 30FPS resolution or 60 minutes if you choose 5K 60FPS. This is amazing when you consider that 5K files are heavy and difficult to process. If you use 1080p resolution you can use the GoPro HERO 11 for up to 3 hours. Not only was battery life improved, but it also performs better in cold weather.
Works like a webcam
Although the GoPro HERO 11 is designed to be used for sports recordings, it can also function as a webcam and obtain a superior image quality to any camera of this type. The GoPro HERO 11 is much better than any webcam with the difference that you can take it anywhere. It can be a great gift for your friends who play sports and share content on social media.
You can buy this item here on Amazon
My name is Joel! I love to read, I go to university like most people my age.
In my free time I usually train boxing, I love music, I also know how to play the guitar and the harmonica.