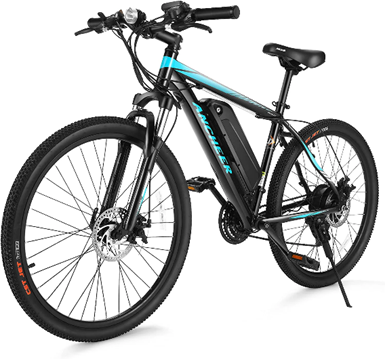 Looking for an electric bike to explore the streets of your city?
With climate change, more and more people prefer to use electric means of transport, which helps reduce pollution caused by carbon emissions. if you think like me, I congratulate you, thanks to people like you we can help our planet reduce pollution. There are many alternatives to traditional means of transport, you can use an electric car, electric motorcycle, electric scooter, and of course, an electric bicycle. Electric bikes are an alternative to traditional bikes, but now you can travel long distances without fatiguing your body, so you can explore the streets of your city in a much easy way thanks to the fact that electric bikes use a brushless motor.
Before choosing an electric bike, it is important to consider some important aspects. Make sure that the electric bike offers a good range, so you can travel long distances without worrying about charging the battery again. Another aspect to consider is the quality of the materials (rims, disc brakes, aluminum, pedals, and more). Expect to spend more than $500 on a good electric bike, for less than that price the hard to find something durable.
The ANCHEER electric bike is a great choice for outdoor sports adventurers. Whether you want to go to work or explore the mountain roads, you can do it in a much more fun way. No hassle, long-lasting battery to give you the best experience. Below, discover the most interesting features of this product.
Features of the ANCHEER electric bicycle
Powerful 350W brushless motor
The ANCHEER electric bike is designed to give you the best experience no matter where you go thanks to the high-performance removable battery. The battery offers 374W performance, allowing you to use Pedal Assist mode for up to 40 miles (64km). The 350W brushless motor offers a top speed of 20mph so you can drive through your city streets smoothly. No matter where you want to go, this high-performance electric bike ensures you can get an enjoyable experience. Charging the battery again will only take 4 hours, so you will have your electric bike available in no time.
If you want to increase the life of your bike, then you need to get one with good materials. With the ANCHEER electric bike that won't be a problem. The frame of this electric bike is made with aluminum alloy, which improves not only the service life but also the performance while driving. Moreover, the fork is made of sturdy carbon steel.
For a comfortable ride, you can adjust the transmission to 21 speeds, so you'll be able to drive effortlessly on steep roads. Set speeds so you can drive on all types of terrain without problems. Disc brakes on both wheels ensure safe braking in the event of an emergency. The tires are also designed to offer greater protection on rough terrain.
4 levels of pedal assistant
Whether you want to make the most of the 350W brushless motor or use the pedaling assistant, you can do it very easily. The ANCHEER electric bike offers 4 levels of pedal assist so you can ride smoothly on most terrains. You can switch between pedal assist settings while driving for a more comfortable and safe drive.
You can buy this item here on Amazon
My name is Joel! I love to read, I go to university like most people my age.
In my free time I usually train boxing, I love music, I also know how to play the guitar and the harmonica.