We are influencers and brand affiliates.  This post contains affiliate links, most which go to Amazon and are Geo-Affiliate links to nearest Amazon store.
I had to pick up a Google Chromecast the day it came out so I could compare it to the Roku 3 and other services which can stream your laptop video to your TV such as the Veebeam.  This $35 device with $24 Netflix coupon is basically a bridge between your TV and your Chrome browser or for now direct Netflix and YouTube apps on iOS.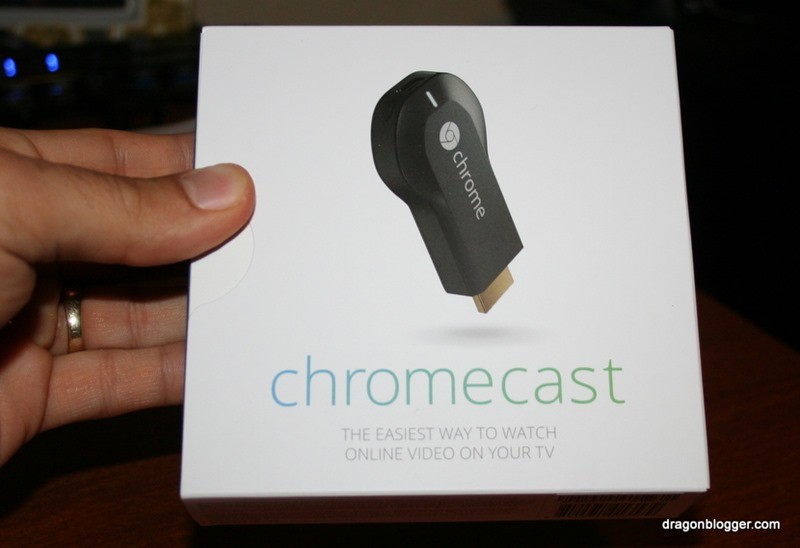 For this review I couldn't test with an Android device as I don't have one, but focused on Chrome for Windows 8 and an iPad which only had support from the Netflix app and the YouTube app directly.  The Chrome iOS app doesn't yet support connecting to Chromecast and streaming what it has on the screen to your Chromecast though I would expect this functionality to come and if it does it would greatly improve the service.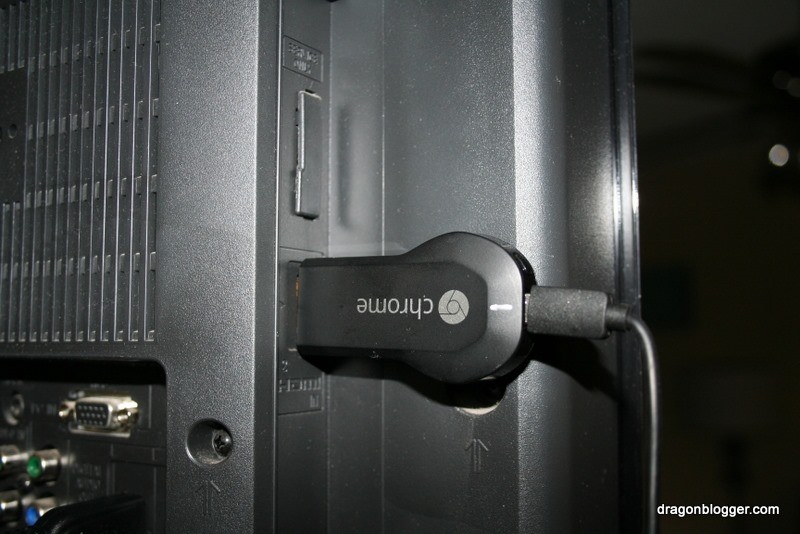 The Chromecast gets power one of 2 ways, if your TV has a USB Port, you can plug the thing into your HDMI port, then plug it into your TV USB port and it will charge from the USB Port.  If you don't have a USB Port on your TV or device with a USB port close by, you can plug it into a wall A/C outlet to charge.  The cord however isn't very long ,and if your TV is mounted high on a wall you may need an extension cord or buy a longer microUSB cable than the one provided.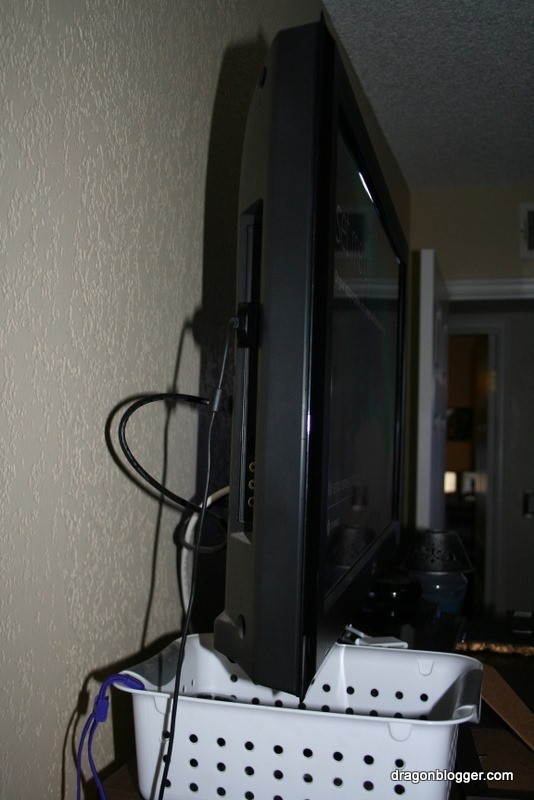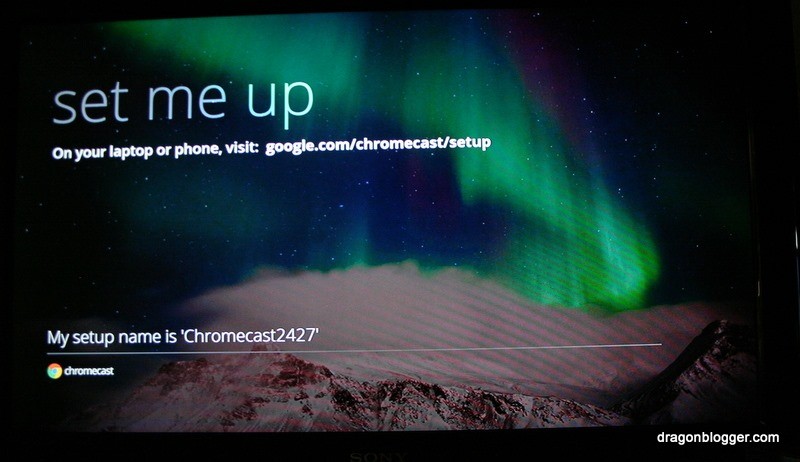 To get started once you have the Chromecast plugged into a TV, you have to download the Chromecast app and configure it to your local Wi-Fi network from a wireless enabled PC, you get this from google.com/chromecast/setup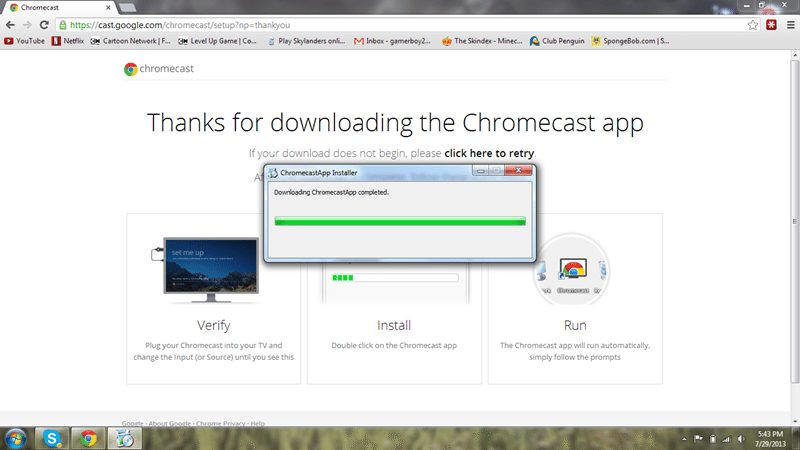 Once your Chromecast app is setup it will scan your Wi-Fi to try and pair with the Chromecast.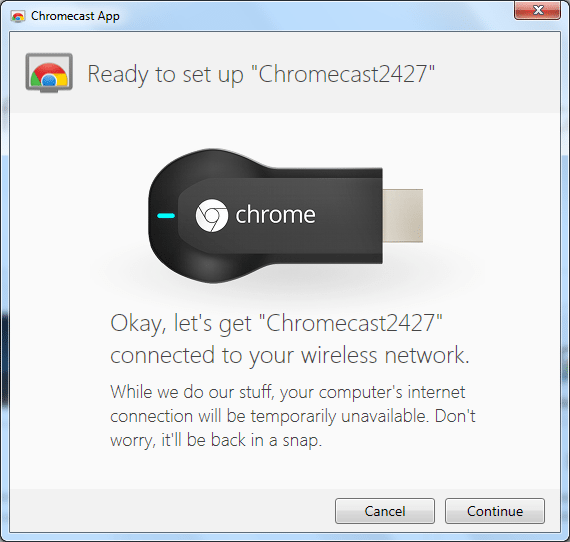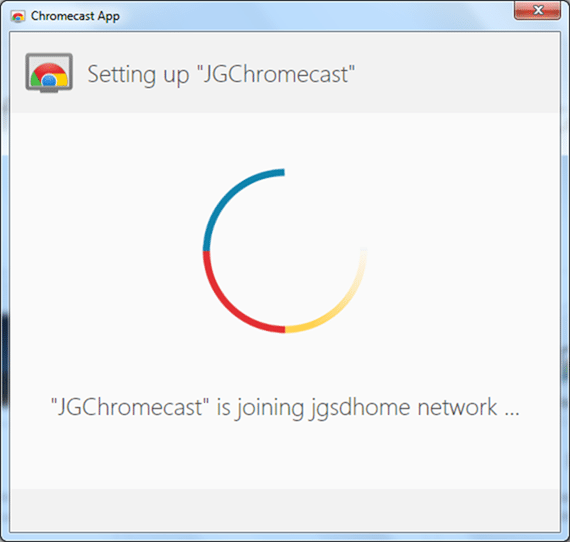 Then, don't forget to install your Chromecast Extension for Google Chrome browser which you will want to use to share your browser over to your TV, this is where the capability of the Chromecast really shines.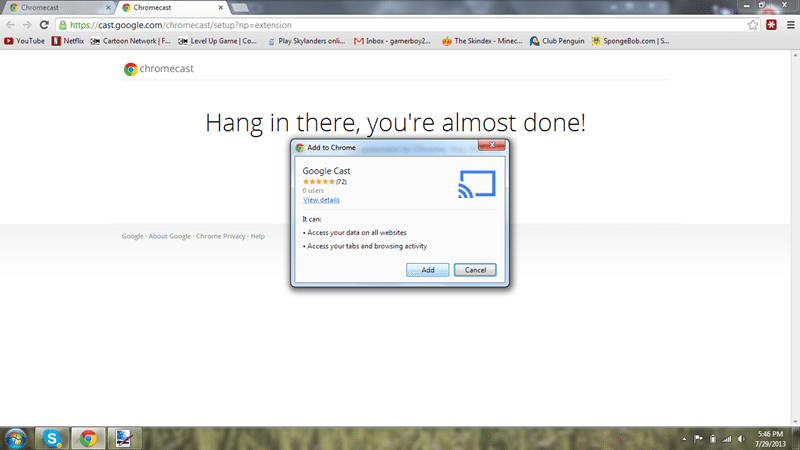 So first I tested streaming from Netflix to the Chromecast through the Google Chrome browser.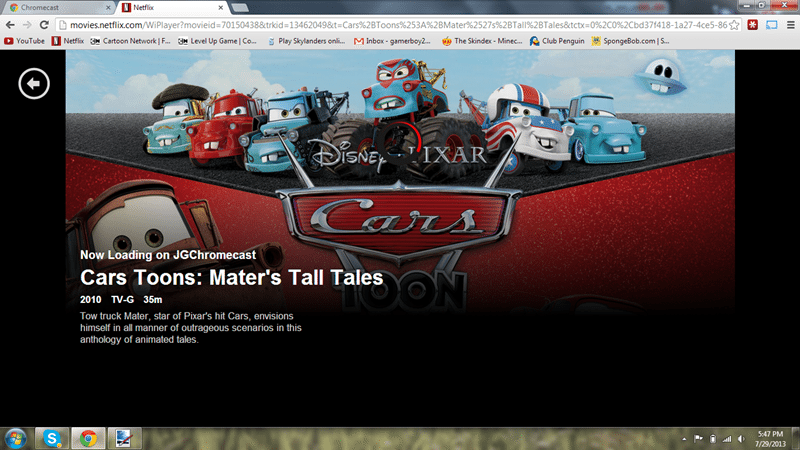 Netflix understands the Chromecast, so when it detects the Chromecast and is set to stream to it, your video will stream directly from Netflix to your Chromecast device, not from your laptop to the Chromecast device and this means it will stream perfectly.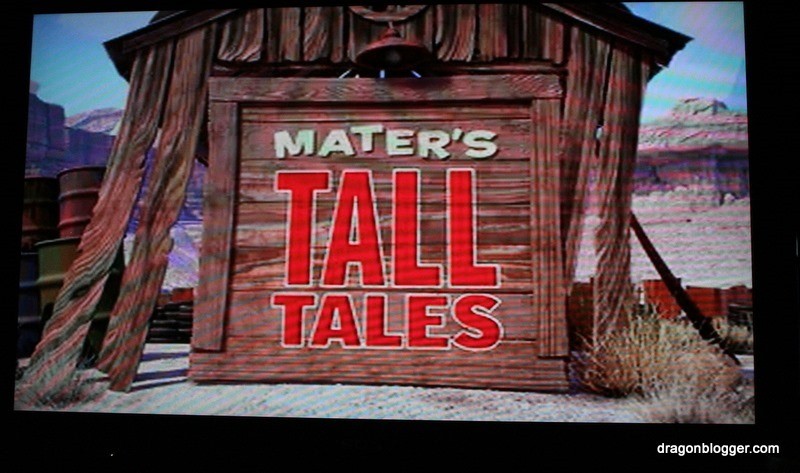 Streaming Google Chrome browser itself wasn't bad either, I tested with a variety of sites and media sources.  Including episodes of shows on Cartoon Network, streaming Cartoon Network games, and more.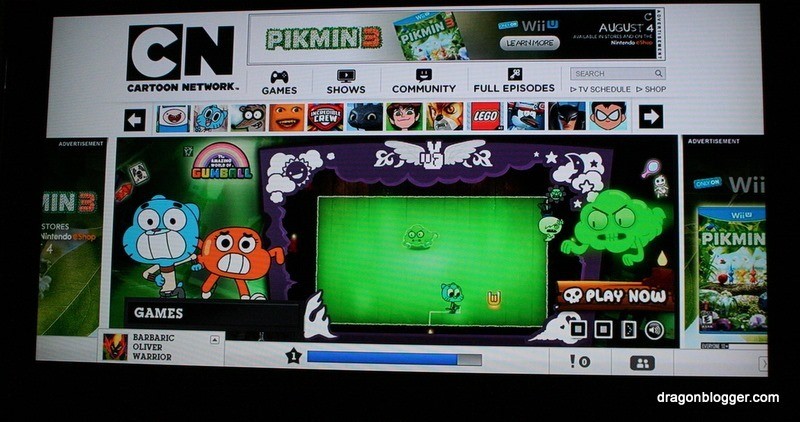 Most video which buffers and plays in your browser will play fine with very little stuttering I found, if your Wi-Fi network is fast and your laptop and Chromecast have a strong signal to the Wi-Fi router then you likely not have too much a problem with video stutter, but man if you move the Chromecast 15 or 20′ away from the router then you will have some serious video drop issues.
It was hit and miss on some sites, and streaming CNN from Google Chrome Live to Chromecast had no audio drop but terrible video frame stuttering when the Chromecast was about 15′ from the router with 2 room walls in between.  For people who have their Wi-Fi router in another room far from their living room TV this won't be much of a boon.  Note:  I have the same problem with the Dish Anywhere service where my Dish Receiver is 15′ away from the router with 2 walls and can't maintain a signal strong enough to serve up video content.  A wireless repeater or bridge is something that can help enormously here.
TechEngage also features an article where you can mirror your Android device to to your TV as well.
When the Wi-Fi router is close and the signal for the Chromecast is very strong, you get much less video stutter and it becomes watchable without any major issues.  About as good as watching a movie from my streaming Samsung SmartTV anyway.
If you like to visit all the movie sites online to stream movies to watch (even ones that aren't released yet or available as Roku channels) then the Chromecast is a fantastic option at $35 and is nearly $80 cheaper than the Veebeam though you need to make sure the Wi-Fi signal is strong.  The Veebeam which uses a receiver and beams data directly from the PC USB card to the receiver is not subject to the Wi-Fi router  but does require that your laptop be in close proximity to your Veebeam so you basically have the issue where something has to be in close proximity to something either way.
Testing Chromecast with iPad
So for my testing of Chromecast with the iPad my options were limited as only the Netflix app and YouTube app have built in Chromecast support at this time. The Chrome browser for iPad cannot stream to the Chromecast.  Again, since your iPad is using Netflix or Google which knows about the Chromecast the content is streamed from the Internet directly to your Chromecast and not from the iPad to your Chromecast device.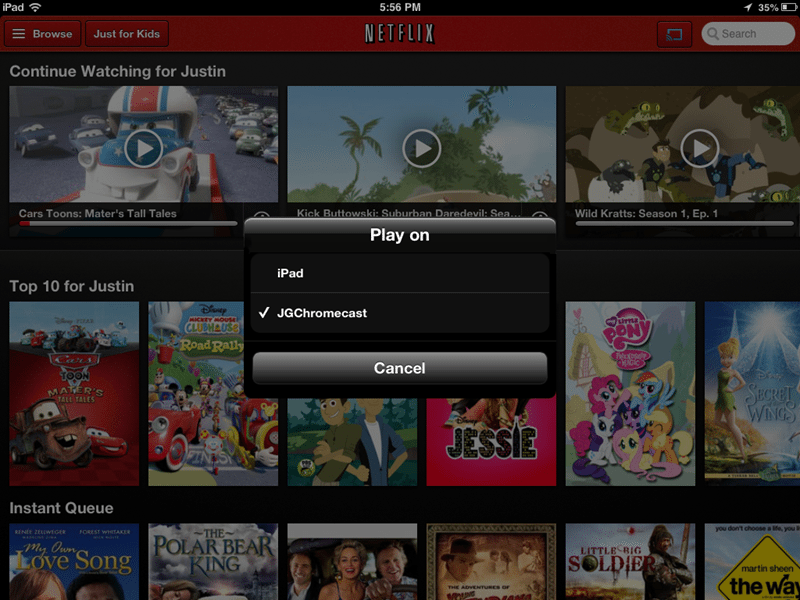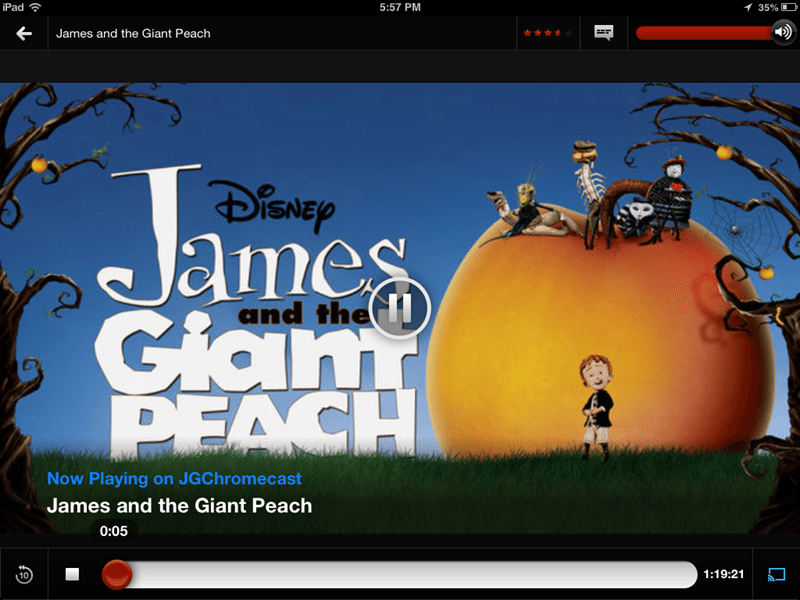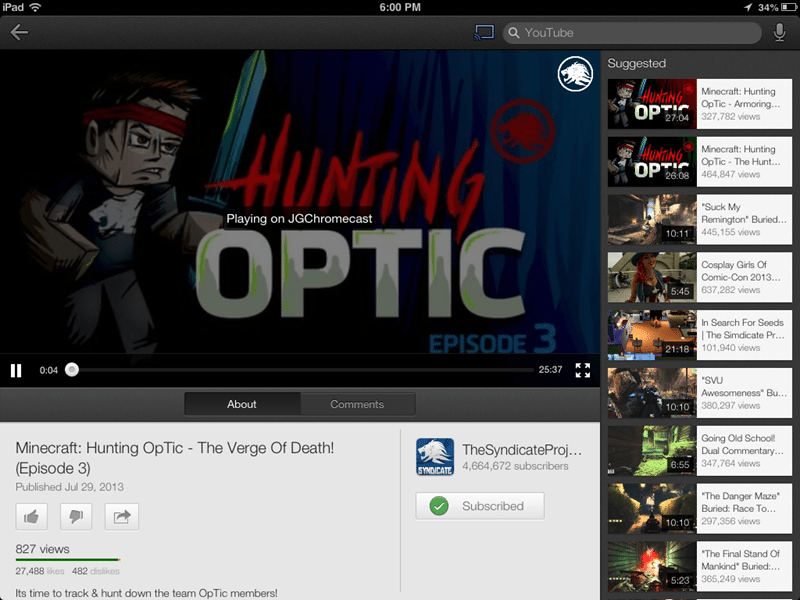 Roku still doesn't have an official YouTube channel at this time and if you love watching YouTube on a TV with an HDMI port open but no Internet access, you really can have a field day wth YouTube streaming to the Chromecast.
I found the Chromecast had faster and better streaming quality with Netflix than using my Blu-Ray Player Internet Netflix and my Samsung SmartTV Internet Netflix application, it was however not better than the Roku 3 when comparing Netflix only through the various Internet streaming channels.
In Summary:
The Chromecast is fantastic and for the price is probably the best device for giving instant access to Netflix, YouTube and Chrome browser streaming support.  It is already in the news that HBO plans on possibly having Chromecast support and I expect dozens of other applications and companies to setup.  So once the Television networks, Hulu and other sites support Chomecast then I imagine it will rapidly become the most inexpensive and best device for streaming Internet content to your TV.  At the moment however the Roku 3 still wins in terms of flexibility, number of channels and the fact that you don't need to use a separate device to actually select something to watch it just uses it's remote and connects.  Also the $24 Netflix coupon which can be redeemed even if you are already a subscriber makes this device have a net cost of only $11 which is incredible.
We are influencers and brand affiliates.  This post contains affiliate links, most which go to Amazon and are Geo-Affiliate links to nearest Amazon store.
I have been obsessed with computers, tech, gadgets and games since the early 1980's having grown up on the Commodore 64 and Amiga computers.
By day I work in the IT Security Industry and have been in IT for over 20 years. On my spare time I am a Vlogger, Blogger, Streamer, Gadget Reviewer, affiliate marketer, influencer and entertainer. I am also an avid movie fan, TV Show fan, Anime fan, video game fan and fan of trying anything and everything new.