Real money gambling and online casino games have inspired writers and movie makers for a long time now. The chance to win life-changing amounts of money is a very powerful theme in movies, one that gives way to a strong psychological phenomenon. The adrenaline rush, the amusement, the feeling that your life has completely changed in an instant – all these make movies about casinos and gambling very popular.
Are you a movie enthusiast who is also into casino games? If so, then Movie2Film, an online movie-themed slots could be a great source of entertainment for you! The best thing about online slots is that you don't need any strategy or great skill to play. They also come in the widest range of imaginable themes, so you can always find the one that best suits your fancy. On top of it all, online casinos offer a great variety of bonuses that will increase your chances to win.
Movies about gambling
But going back to the greatest casino inspired movies of all times, we've put together a list with both classic and more recent gambling-inspired movies, so read on and pick your favorite today! Ranging from serious movies like Croupier and Casino Royal to comedies like Ocean's Eleven and Maverick, there is always something to suit every one's taste.
Casino Royale 2006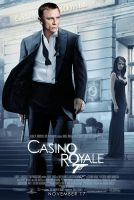 The original plot features James Bond, gorgeous women, a lot of violence and of course, high-stakes poker matches. After gaining his "00" status, agent James Bond (Daniel Craig in this movie) is sent to Montenegro. Here, he attends a high-stakes poker game organized by the terrorist Le Chiffre (Mads Mikkelsen). Bond's objective is to beat his notorious host and force him to seek asylum in the UK. James is accompanied at the poker table by a treasury agent Vesper Lynd (Eva Green). The Texas Hold'Em poker tournament culminates in a pot of no less than $115,000,000.
The gambling scenes in Casino Royale are intense. Even if you prefer online slot machines or other online casino games and you're not into poker, you can feel the immediate adrenaline boost this movie offers. Bond and Le Chiffre battle it out on the green felt and it's all down to the last card. Casino Royale is one of the greatest gambling movies of all times. Every single gambler has probably seen it already. So, if you have not yet seen it, now is definitely the time!
Ocean's Eleven 2001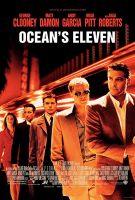 Ocean's Eleven is the casino heist of the century starring Brad Pitt and George Clooney. The con-man Danny Ocean (George Clooney) gathers a crew and a new talent and prepare an epic heist. A real money stake of $160,000,000 and an ex-wife (Julia Roberts) are at stake. Ocean's Eleven is directed by Academy Award winner, Steven Soderbergh. It features some of the biggest Hollywood names like George Clooney, Julia Roberts, Brad Pitt, Matt Damon, Andy Garcia and Terry Benedict.
It's safe to say that this movie has all the ingredients for total fun. Some online casino games gamblers might be disappointed because there isn't much gambling involved in Ocean's Eleven. However, you'll get to take a peek inside The Bellagio, MGM Grand and The Mirage, so it's a movie definitely worth watching!
Croupier 1998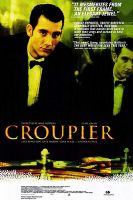 Jack Manfred (Clive Owen) is a failing novelist that decides to return to the casino industry and write about the world of gambling. However, plans change while working as a dealer in a London casino. Jack realizes that gambling's not so much about real money, as it is about ignoring odds. If you are looking for a movie that doesn't necessarily glorify gambling but plunges you right in the midst of the great casino world, then Croupier is the best.
Apart from Casino Royale, Croupier is the only UK movie on the list. It takes place in mid-nineties London, offering online casino games players an interesting depiction of the contemporary gambling scene. Jack is an interesting character that doesn't reveal himself much. One thing we do know for sure though is that Jack doesn't really love casino players much and enjoys seeing them lose at the classic casino table games.
Rounders 1998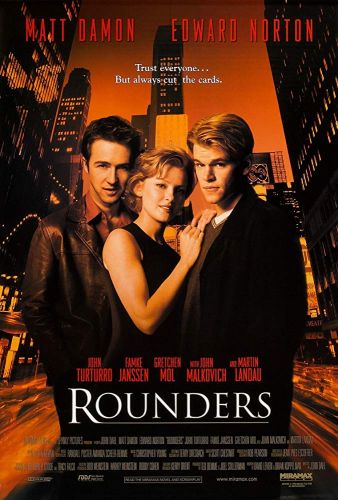 Rounders is a typical nineties movie. A promising Mike McDermott (Matt Damn) gets tired of low stakes poker tables and goes all-in against Teddy KGB (John Malkovich) losing his life-savings. After this defeat, he vows to never play again, until his childhood buddy, Worm (Edward Norton) gets out of prison and plans to build his bankroll at poker tables.
The events in Rounders are somehow predictable, but the most interesting aspect for viewers is the 90s' gambling scene and mindset. Even if there aren't any slot machines, online casino games viewers will still enjoy underground poker games and life-changing wins. The premise may not be the greatest, but the scenes sure are nice and worth your time!
Maverick 1994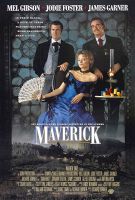 A card hustler Bret Maverick (Mel Gibson) is just $1,000 short of entering the All Rivers Poker Championship. He joins forces with Annabelle Bransford (Jodie Foster) and Marshal Zane Copper (James Garner) and hurries towards the tournament.
Maverick is the perfect example of the main character playing it safe. The wild-wild-west theme, clever dialogues combined with some of the hottest names in Hollywood (historically) makes this movie a true recipe for success. Online casino games players will enjoy the plot centered around a half a million-dollar real money stake at the poker tournament and countless gambling scenes. It's a great movie and will surely make you laugh! Of course, there are a lot of nineties clichés, but the 75,000,000 dollars budget for the movie and the big-name actors will make your time worthwhile.
"21" 2008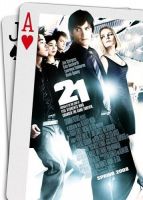 "21" is a true-ish story of the legendary MIT student team that counted cards. Ben Campbell (Jim Sturgess) is a young MIT student with great aspirations. Soon to graduate from Massachusetts Institute of Technology, he finds himself short of $300,000 that he needs to pay his studies at Harvard Medical School. MIT math professor Micky Rosa (Kevin Spacey) recognizes Ben's obvious talent in math and recruits him into his blackjack team. Using card counting, signaling, and a lot of team play, they manage to milk Las Vegas casinos dry of real money on their weekend adventure.
The movie is based on the book Bringing Down the House. It's a story of MIT gamblers who gain an edge over the casinos. It is based on a real story of the MIT Blackjack Team that played from 1979 to 2000 and employed over 70 people as card counters, fake players and controllers. There were originally 35 members and a $350,000 real money capital. The whole operation was run as a business with corporate structure and accurately calculated return.
Although "21" sacrifices much of the real story for Hollywood suspense, it describes the counting technique in some of the most amazing gambling scenes ever seen in the movies. It is definitely an entertaining movie and well worth your time. If you are more interested in the real facts, you should also want to check "History Channel's Breaking Vegas Documentary: The True Story of The MIT Blackjack Team".
All image credits: Imdb
I am interested in all things technology, especially automation, robotics and tech that helps change how society will live in the future.