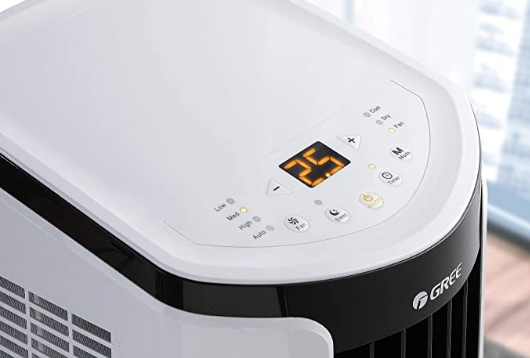 Looking for an air conditioner, but don't have space in your home?
Air conditioning is surely the best option to cool off from the heat. Air conditioning uses hot air and transforms it into cold air. Surely the feeling of cold air in summer cannot be compared to anything. A full-size air conditioner could be a headache if you don't have space or if you don't want to spend a lot of money. Installing an air conditioner can be tedious and time-consuming. A fan might not be enough if you're looking to cool your bedroom. The best option is a portable air conditioner. Portable air conditioning cools hot air using advanced technology. It is ideal for use at home and is also easy to move. Choosing a specific brand can be a difficult task for most people. That's why I took it upon myself to look for a portable air conditioner that offers a power of 10,000 BTU and that also cooled fast. That's why I'll talk about Gree, a high-quality portable air conditioner that will help cool your bedroom quickly. This air conditioner offers a 12-month warranty, so rest assured that it is a good quality product. If you are looking for a portable air conditioner of these characteristics you would surely like to know more about this product.
Features of Gree Portable Air Conditioner
The Gree is an amazing portable air conditioner made from high-quality materials. The main feature of this portable air conditioner is that it offers maximum performance of 10,000 BTU, which is enough to cool a bedroom quickly. It uses modern and advanced compressors to cool the air faster. Another feature is that it can cool a room up to 250 square feet. Includes 3 different functions: includes cold air function, dry air, and fan mode. The air conditioning includes 3 ventilation speeds. An interesting feature of this product is that when it is turned off the internal fan will dry the remaining water (the fan will work at low speed and turn off after a while). Surely the feature of any portable air conditioner is how easy to mobilize, this allows you to use portable air conditioning anywhere in the home. The Gree includes advanced automatic evaporation technology, so you won't have to worry about draining the remaining water manually. It includes the sleep mode to reduce noise, this allows you to use the portable air conditioner while you sleep. The air conditioner also includes high-quality filters to filter out any dirt. The manufacturer includes a 12-month warranty.
Summary
If you need to cool your bedroom, but don't want to spend money on expensive bills at the end of the month the Gree is what you need. It is a high-quality portable air conditioner and will help cool your room quickly. For that price, you will surely not find anything like it.
You can buy this item here: Amazon.com: Gree Portable Air Conditioner 10,000 BTU (6000 BTU SACC standard) with Remote Control, 3 in 1 Portable Air Conditioner with Cooling, Dehumidification, Fan Functions, Quiet Portable AC for Rooms up to 250 Sq.ft : Home & Kitchen
My name is Joel! I love to read, I go to university like most people my age.
In my free time I usually train boxing, I love music, I also know how to play the guitar and the harmonica.