If you've heard about the new movie Hansel and Gretel: Witch Hunters coming out and wonder how they can make a children's fairy tale into an adult story, well in this case it's possible.  It actually isn't an updated version of the Brothers Grimm tale but an entirely new one.  While the main characters are Hansel and Gretel from the famous tale, these are the children all grown up with a mission.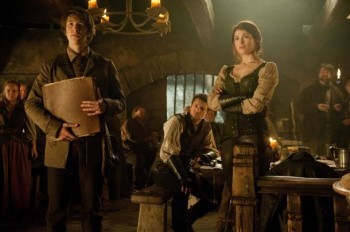 The new story begins fifteen years after the fateful (for the witch) incident with the gingerbread house and the siblings escaping.  Instead of letting their near death experience traumatize them, Hansel and Gretel have become vengeful bounty hunters out to eradicate the entire witch community.  As the year progressed and the two gained experience, their reputation grew as well.  The most important thing they have learned is that harmful spells and curses cast by the witches they hunt bounce off them harmlessly.  No one has any idea why.
Hired by the Mayor of Augsburg, Germany to stop Muriel, an evil sorceress with plans to sacrifice many local children at the upcoming witches' gathering during 'Blood Moon', the pair must also deal with the Sheriff Berringer.  The vile festival will be held in two days and the Sheriff is making things more difficult by conducting his own witch-hunt, and not very nicely.  Of course, while doing this the hunters somehow become the hunted when their past catches up to them.
Hansel and Gretel: Witch Hunters stars Jeremy Renner (Hawkeye from 2012's blockbuster "The Avengers") and Gemma Arterton (Princess Tamina from "Prince of Persia") as the siblings.  Despite the setting in Germany, neither has an accent nor do they attempt one as you can hear in the preview.  That might be for the best as many times accents which are badly done make a film that might be decent into a monstrosity.  It also stars Famke Janssen (as the evil witch Muriel) who has been in several pictures but, is most well known as Jean Gray from the X-men series.  Rounding out the big name cast is Peter Stormare as Sheriff Berringer.  He has been in tons of films, including several where he played the bad guy such as Satan in "Constantine."
This will be the first film from MTV Films to release in the IMAX 3D format.  It will also release in normal 3D and 2D.  Can Hansel and Gretel: Witch Hunters work as an adult tale?  Check it out on January 25 to find out.