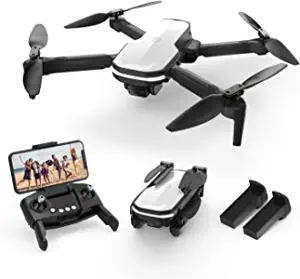 Looking for a drone for less than $100 that also includes an HD camera?
Drones are undoubtedly one of the best ways to have fun. Drones are popular gadgets in much of the United States, so it's common to find them everywhere. Unlike previous years you can now find a wide variety of drones for children and adults available at an affordable price, so you don't need to spend hundreds of dollars on a drone. Drones usually incorporate a camera, which allows you to obtain spectacular recordings, you can also use the drone to record special events such as weddings, birthdays, landscapes, and much more. Another feature of drones is that they are usually easy to use, so you won't have to worry about occasional accidents, you'll get used to controlling them in no time.
Among one the best drones for beginners, we can find the Holy Stone HS280 folding drone. This is a folding drone available for less than $100. This drone will be easy to use, so it will work well with adults and children. Ideal to give to your family or friends. If you are looking to buy a drone for beginners you would surely like to know more about this product.
Features of Holy Stone HS280 folding drone
The Holy Stone HS28 appears to be one of the best drones available for under $100. This drone is designed to be used by adults and children, so regardless of your experience you can adapt quickly. Among one of its main features is the 1080P HD camera. The camera will allow you to get recordings of good quality, but you should keep in mind that it is only paid 100 dollars, do not expect a professional recording quality, even so, the recording is superior compared to drones of similar prices. Another feature of this drone is how easy to use, different flight modes are included so you can choose the most comfortable one. This drone also includes a controller that allows you to control the drone, it will also allow you to visualize in real-time the recording of the drone. The image recording is 1920 x 1080 which is enough to appreciate a detailed image in most cases. An interesting feature of the controller is that you will be able to take off or land the drone using a key, this is useful if you do not yet have experience using the drone. 2 modular batteries are included, and best of all, fully charging them will only take about 70 minutes. The weight of the drone is light and resembles the weight of an average phone. It will not be necessary to register the drone with the FAA. Without a doubt one of the best drones available for less than 100 dollars.
Summary
If you are looking for a beginner drone available at an affordable price you should seriously consider the Holy Stone HS280 drone. This drone is easy to use and can be used by children and adults, also includes a camera with a 1080p quality that will be enough to appreciate a decent image. Ideal to give to friends or family.
You can buy this item here: Amazon.com: Holy Stone HS280 Foldable FPV Drone with Adjustable 1080P HD WiFi Camera for Kids Adults Beginner; Lightweight RC Quadcopter, 2 Modular Batteries, Auto Hover, Gravity Sensor, Voice/Gesture Control : Toys & Games
My name is Joel! I love to read, I go to university like most people my age.
In my free time I usually train boxing, I love music, I also know how to play the guitar and the harmonica.