We are influencers and brand affiliates.  This post contains affiliate links, most which go to Amazon and are Geo-Affiliate links to nearest Amazon store.
If you enjoy playing various car themed games, then this site is a car game lovers paradise the site is called Car Games and can be found here http://cargames.org.uk/.
There are more games here than I have seen in one place ever before, other than maybe a game store in the mall. There are not only games for car lovers, but also bike lovers, and quad lovers as well. They even have a few games for people who just want to work on cars. I even noticed a few boat racing games mixed in the works.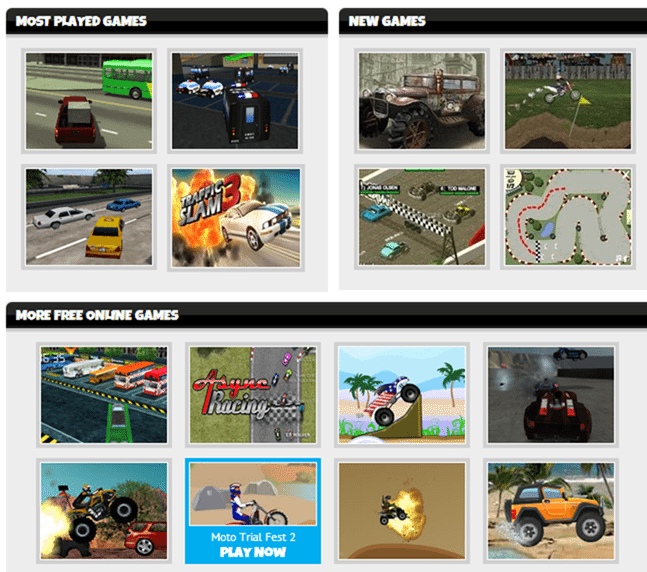 So I decided to give a few games a quick try. I tried a game that required me to park in a nearly empty lot, Car Dump Parking. There was just me, and a space that was blinking. I had a small amount of time to get into the parking spot, and well as it turns out, I can't park.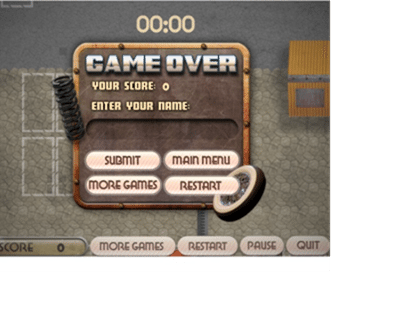 I guess I am ok with that, after all, my wife has been telling me that for years anyways. It did however take this game to prove it to me.
Aside from parking games, I gave a go at racing, Dirt Showdown. I raced a truck with a little bit of a booster to it on a dirt track, and I did ok until I hit the wall and could not catch up with the other players. But that's ok, I was having fun and that's the point isn't it?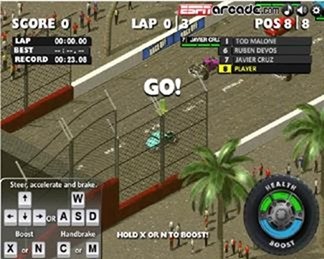 I also played a game as a T-Rex with a motor bike, BMREX. I think I was supposed to be doing stunts but I just ran the course without doing anything too special and still got a decent score. I've never ridden as a T-Rex before so the experience was interesting.
I did notice one thing that at first concerned me. The first 2 games that I ran loaded rather slow. The first one took over 3 minutes, and the 2nd one took a little longer. But here is the good news, I went back and loaded the 1st game again and it popped up almost instantly. So remember that these games are online, and the first time you play them, it may take a little while to get them loaded, but once the game does load it appears to cache, your good and subsequent loads are much faster.
I also noticed a few in game pre-load advertisements. From what I have seen of other free online flash or java based game sites, this is pretty common. I even had them in some games I had on a web site of my own a few years ago. They don't take away from the fun, and may open you up to some other games you might enjoy.  The have a ton of kid friendly games on this site and some of the games here are silly, and that's ok. Some of the games have great graphics and some tell a little bit of a story. There are car/zombie games, strange SpongeBob looking games, cart games, boat games, motocross, drag, NASCAR, and so many that can only be placed in a category of their own..
The page is well laid out, with all of the games set up in an easy to view thumbnail layout. The top games are lined up on the right hand side of the screen so that you can see the ones that are most played by others. Also all of the games that I have tested open up in the main window and the size matched my screen size just right.
I believe that you will enjoy this collection of games. There is something for everyone and maybe even more. So, if you haven't found this site yourself, Car Games is the site you need to go to.
We are influencers and brand affiliates.  This post contains affiliate links, most which go to Amazon and are Geo-Affiliate links to nearest Amazon store.
I have worked in and around many different types of computers. In the Navy, I used a magtape drive computer that was a step down from pen and paper. I later worked for a big computer company and after that, taught computer class's nation wide. I had the privilege of teaching 14,000 students in a 2 years period of time. Afterwards, I owned a small computer training and repair shop for a few years. I have owned C-64's, Pc's of various types, Amiga's, and even Mac's. I now have included the android to my collection. At any time, I have close to 15-20 computers or combinations of computers and game systems in the house. I look forward to more.