Our good friends over at Havit sent me their new wireless gaming mouse to test and review. This is the Magic Eagle HV-MS976GT. When it showed up at my door the first time it was damaged from shipping. It happens to us all and was not Havit's fault that it showed up that way. So I reported it to them and they took care of the issue fast, which is awesome to see. This meant I had to wait a week to get the review done for you guys.
So this past week the new one showed up and it looks great. The package has no issue and the mouse looks in perfect shape. As you can see in the next few pictures.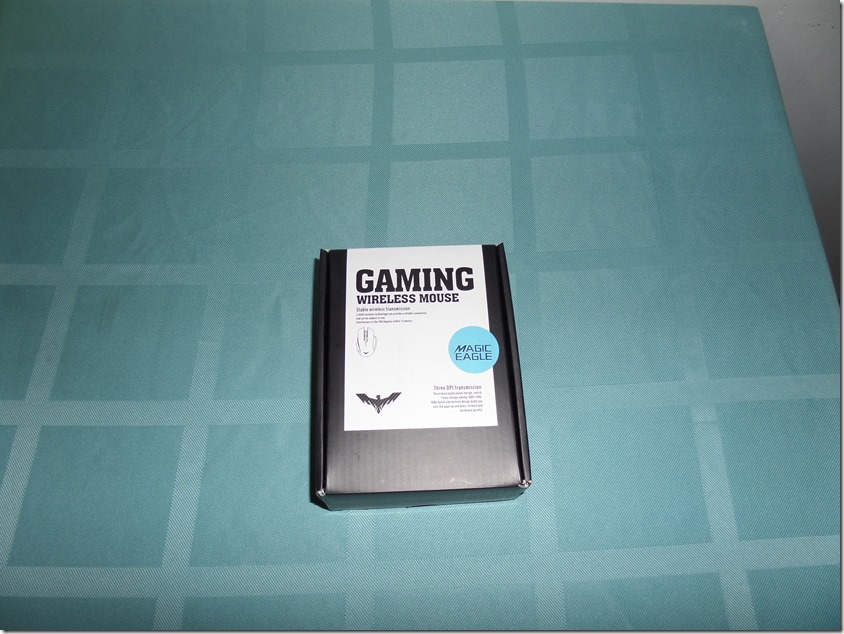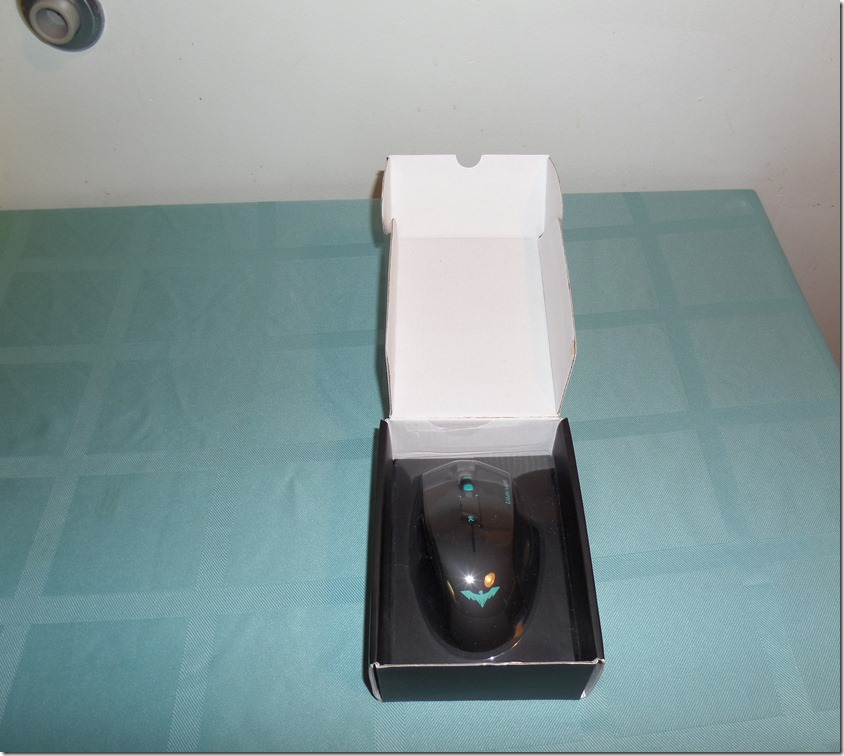 Now inside the Havit HV-MS976GT package you will find there is only a Mouse, Wireless receiver, and quick install guide. To be honest the only things you really need for this device.
The mouse is black and blue/greenish color. It also has a slot for the Wireless receiver in the bottom. It also requires two triple A battery's. You can see the placement and design in the next few pictures.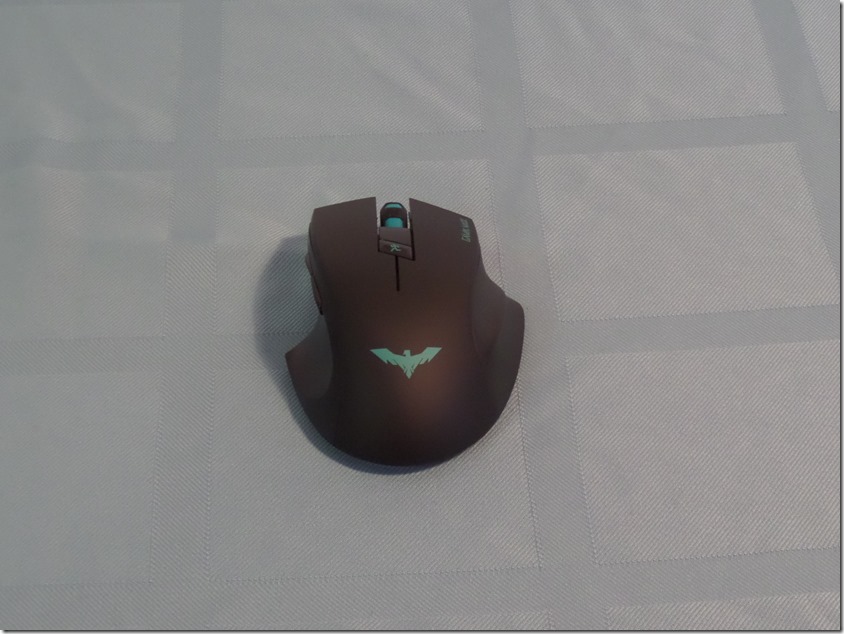 Now the Bluetooth receiver is small and has the Havit logo on it. I did test it and see how far away you can get the Mouse away from the receiver before it goes haywire. I got a good 10 to 15 feet I would say. That is a nice distance and more than most people would normally need.
Also with the wireless receiver you can use them with any device that has a USB port.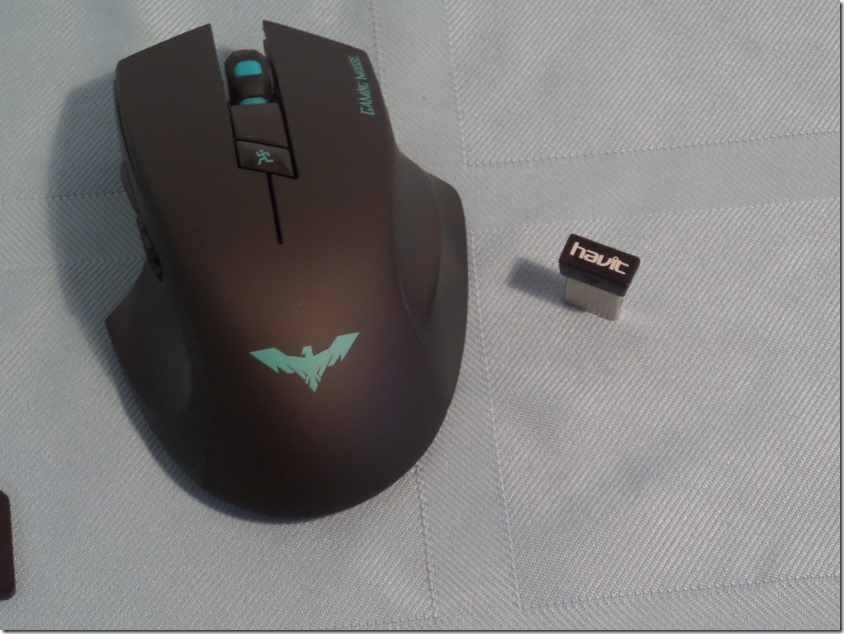 On the bottom of the gaming mouse there is a on and off switch. So you can shut it of and save your battery life. That is a nice addition but for me I always forget to and leave it on at all times. That's just me I'm sure you may not have that issue.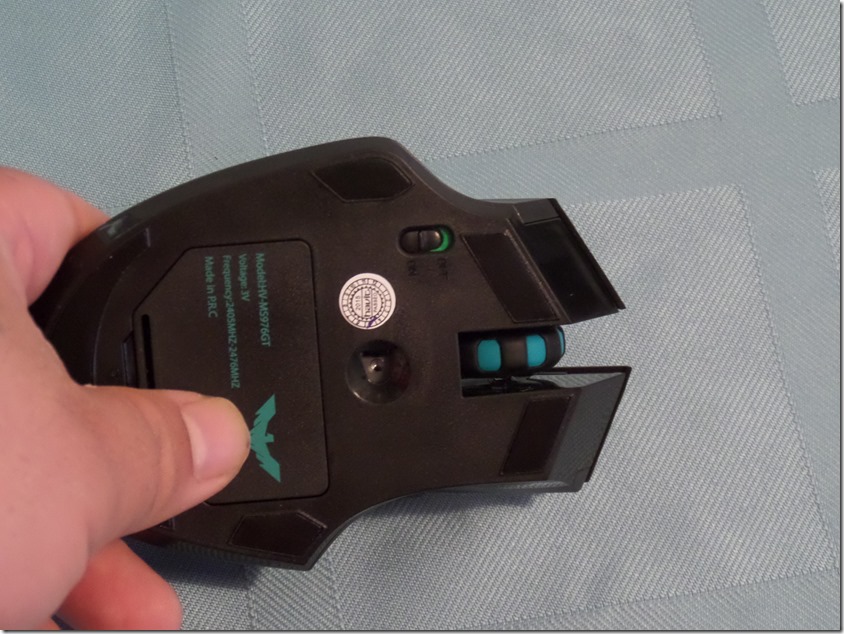 You probably want to know how well the Havit Magic Eagle Gaming mouse works. Well lets start of with letting you know that it is very comfortable to grip and hold. You can easily use it for hours on end with no issue. I did this sitting and checking web pages and gaming. Now to be perfectly honest, I don't really consider this a major gaming mouse. Don't hold that against the mouse it could just be me. I tried several games including Heros of the Storm, GTA5, and Neverwinter to just name a few. It worked well for slower paced games to me.  Higher speed games seem to lack what it needed to muster. Now let me explain why I think that is. This device has a DPI switch on the top. It has three dpi settings 1000,1500' and 2000. There seemed to be no difference in them to me. The mouse to me should move a lot faster in the fast pace games to me. Like I said before don't hold it against the Havit HV-MS976GT mouse.
Now for the button's you have your normal right and left click. You also have scroll and two thumb button's. There is no software to assign certain actions to each button so you stuck with what they are. The thumb button's are just normal  forward and back off. To me I would have loved to see a software to assign different functions.
For the price this mouse can work for just that a work mouse. Who don't want a wireless mouse for there other devices in the house. All and all the mouse worked well in other parts just lacked a little in the gaming section. Now you may have a deferent experience with the Havit mouse. If you do please let me know in the comments below we love to her about what you think.
My wife has taken over this mouse and she has no issue for what she uses it for.
I give the Havit Magic Eagle HV-MS976GT 4 star rating. Reason being is it pushed to the gamers and to me lack just a little for the gamers. It may need pushed to the regular crowd who does occasional gaming.
(Disclaimer Havit sent me the HV-MS976GT to do a honest review on and that is what I did. all thoughts are mine and mine alone!)
Hi everyone I'm James Braga. I was born in Oregon and moved to New Hampshire a few years back. I love most things that have to do with video games and electronics, It doesn't matter if it for a car or a house, if it has electricity in it i will love it . I'm also in school for Information Systems Technology.