ZTE Nubia Z7 Showcase
The ZTE Nubia Z7 offers a 5.5 inch screen with Quad HD resolution. While the design is somewhat standard, it does offer a number of features that make it more appealing, such as rounded corners and a matte, soft-touch finish. Both of these new features make this phone extremely comfortable when held. One of the more unique aspects is the bright red home button.
Inside the ZTE Nubia Z7
This android smartphone is powered by the Snapdragon 801, featuring 3GB of Ram and offers a 32 GB additional storage option. When you purchase this phone, you also receive a 13 MB camera that offers optical image stabilization. The camera app that is included also features a mode that is ideal for more advanced users, in addition to an auto mode for those who are just interested in pointing and shooting.
It also comes with a 3000mAh batter, which means that the battery life is not an issue, even with the Quad HD display. The Nubia Z7 runs on the Android 4.4 KitKat and comes complete with the ZTE's custom skin, which is bright and colorful, but lacks the usual app draw.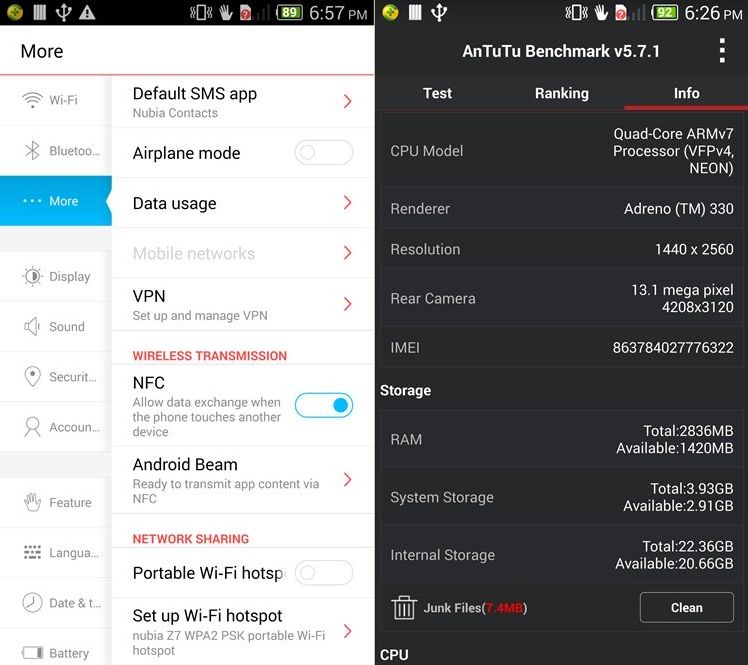 Other Exciting Features
There are a number of other exciting features offered by the ZTE Nubia Z7 including haptic feedback, vibration for notifications, noise cancellation options, gyroscope, voice commands and dialing and it is Wi-Fi compatible. These standard features help to enhance this smartphone making it an even more appealing option than it already is.
The Camera
When it is time to purchase unlocked phones, there is no question quite a few to choose from. The camera on this device makes it a step ahead of some of the other sub-par models. It features a 13.0MP back camera and 5.0MP front camera. It also offers and anti-shake feature and produces pictures in a number of different formats. This makes it the ideal option for virtually any user.
If you are considering the ZTE Nubia Z7 android smartphone, contact or visit the GearBest website. Here consumers can not only find this phone, but learn more about what it has to offer. When you are informed about the different features of a phone it will help to ensure the right device is purchased for the user and that it will be able to meet all of their usability needs.