We are influencers and brand affiliates.  This post contains affiliate links, most which go to Amazon and are Geo-Affiliate links to nearest Amazon store.
A few weeks back I got the new keyboard from Havit. This is their new RGB backlit keyboard, the new white version. They keyboard comes in one of their nice boxes with a key cap removal tool and user manual. Some of the features being that they claim that you can set up a macro to run the color scheme. The HV-KB389L RGB keyboard comes with Kailh brown switches, a 104 key anti-ghosting key design and is branded with their Magic Eagle logo.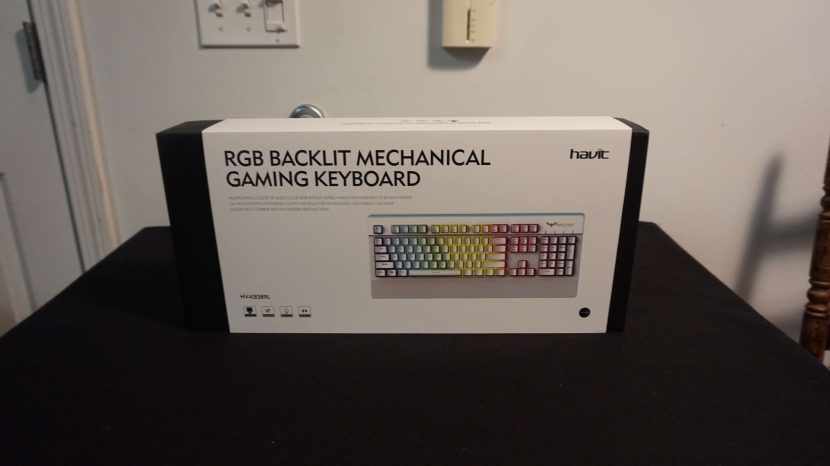 From the above photo, you get your first glimpse of the keyboard, your eyes are not deceiving you it is a white RGB keyboard.  If you're like me you're  second guessing the color, since I spend a lot of time at the desk typing I was worried about it getting very dirty being that it is white. Let me show you a close up of this keyboard.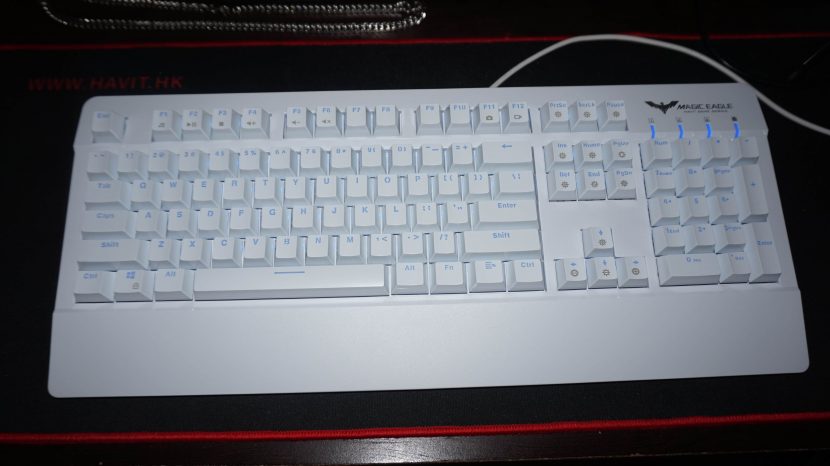 It is a very nice white color. The only issue I have with it is when the lights are off I keep thinking that the keys were dirty. This is due to the edge of the keys, I tried to get a photo of this but it does not show up correctly in photos. This is something you would have to see in person.
Check out my full unboxing here!
As I mentioned before, the package comes with a key remover. This is so you can remove your keys and clean the keyboard. I found removing the keys with this tool very easy, I used this tool in the following photo. I wanted to let you guys see the placement and how it looks with a few keys removed.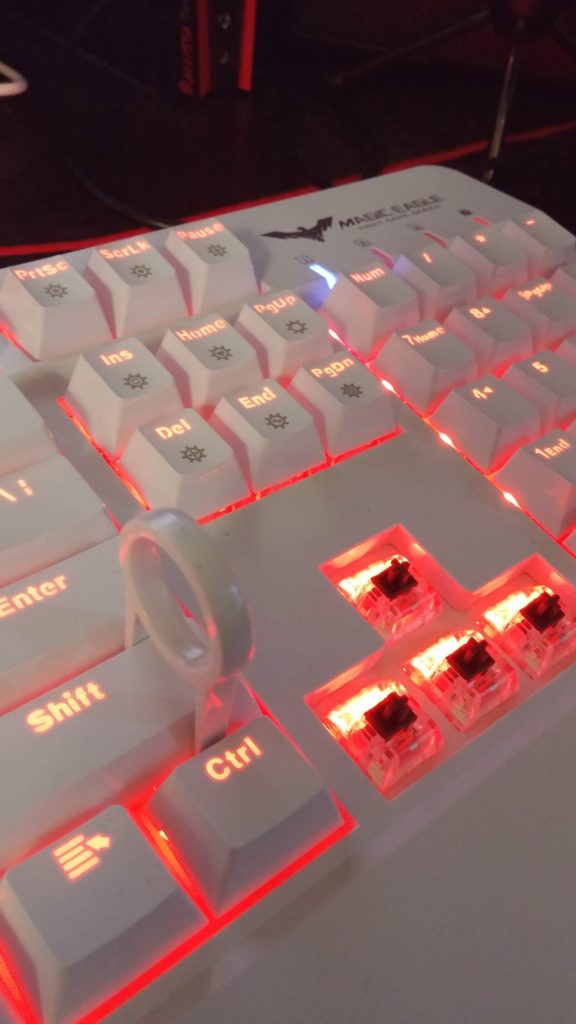 This also gives you a look at the Kailh brown switches. These switches are great for typing and gaming. They are not the loudest sounding switches out there, so if you like a loud audible sounding key this may not be for you. I love me a clicky clacky switch myself.
The keyboard is a full backlit RGB board. This mean you can pick one of many colors that suits your color scheme, or just that color your feeling at that time. I set mine in red as you see above, I have however tried many other colors.
There is also a side light panel that goes all the way around the keyboard. This too can be any color you would like.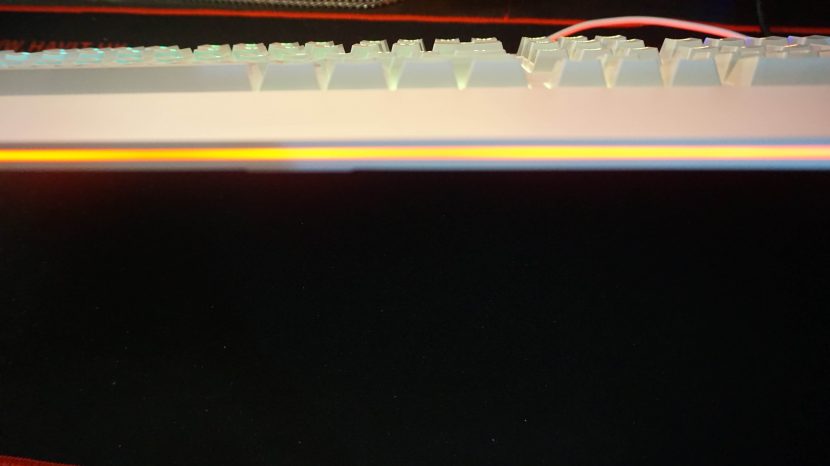 One option you can do is make the lights breathe, this means to make the keys slowly turn on and off but you can also set it to flash when you press a key. They have several modes you can choose from including changing the brightness of the LED lights. To change some of these colors or preset patterns you will need to hit Fn+PrtSc or Fn+Ins, there are many other combos that work with this.  One of those settings is the Macro settings. Setting the macros is done by pressing Fn+F12, then you will need to press Fn+y or U/I/O/P and then you will need to press Fn+F12 to end this setting. You also have several Media keys. All of these settings can be found in the user manual.
Check out the color effects walk Through Here!
Final thoughts !
When all is said and done, the keyboard is nice and works well. You have a full set of 104 anti-ghosting keys that are very well spaced and easy to type on. I have had a few people try it and say they loved this keyboard. To me, it is nice and very functional. You have many options of colors that are easy to change as long as you can remember the keys needed.
The keyboard cleans up very easy and looks very nice, I know a white keyboard is not everyone's cup of tea but I love it, you might love it too.  The Kailh brown switches are great and get the job done well. I would love to see them do cherry switch or blue switch at some point but this keyboard hits a lot of points that many people are looking for.
Disclaimer:Havit sent me their HV-KB389L Gaming keyboard so I could do a showcase and share thoughts on the product. All opinions are 100% mine and mine alone. For more information visit http://bit.ly/dbdisclose
We are influencers and brand affiliates.  This post contains affiliate links, most which go to Amazon and are Geo-Affiliate links to nearest Amazon store.
Hi everyone I'm James Braga. I was born in Oregon and moved to New Hampshire a few years back. I love most things that have to do with video games and electronics, It doesn't matter if it for a car or a house, if it has electricity in it i will love it . I'm also in school for Information Systems Technology.