We are influencers and brand affiliates.  This post contains affiliate links, most which go to Amazon and are Geo-Affiliate links to nearest Amazon store.
We live in a great era of publishing. With just the click of a button from a phone or tablet, anyone can publish an article. Thanks to the internet, you're also able to download apps that can make your writing even better, even on a mobile device. Take a look at some of the best writing apps for iOS and Android on the market. Each of them provides different benefits depending on what you need. Whether you're working on a novel, writing things for schools, or publishing articles online, you can use these apps to make it even better.
iA Writer
iA Writer is one of probably the most well-known writing apps readily available, and for good reason. It looks great and is on both iOS and Android. While the Android edition doesn't have as many features, it can still be a very good writing app. The iOS app has added features, like syntax highlighting, which allows you to see adjectives, nouns, adverbs, verbs, or conjunctions from the doc highlighted and even more. The iOS app also has assistance for iOS nine precise features like split screen. I might say the Android variation is a lot more of a beta version compared towards the iOS version currently, but either way, iA Writer is a good option to make your writing even better.
JotterPad
JotterPadis very well designed and it has a boatload of features which makes it far better than some writing apps available. It has export solutions to PDF and DOCX, so it's easy to move your documents around when you need to. It even supports Markdown. The app is free to obtain but there are some better features you can access if you upgrade. JotterPad is extremely easy to move and flows well if you're just looking for something simple to use outside of the basic apps on Android. The upgraded version is for serious writers and worth the investment if you're looking to have professional features.

Editorial
Editorial is among by far the most powerful apps that exist right now, without even narrowing this to writing apps. It does all the things that a great writing app needs to do and much more, with aid for workflows and a highly intuitive interface. Editorial has Dropbox sync, and a variety of help to make publishing easier than ever before. Editorial is the perfect mixture of a great interface that adapts to the demands you put on it. Editorial does cost money but it's worth it if you take your publishing seriously.
Monospace Writer BETA
Although it is actually currently in beta, Monospace is actually a great barebone writing app. The dark look is nice to write with depending on what you like to use. One powerful feature is the ability to organize your work by hashtags rather than folders. Like some of the others, it also supports Dropbox syncing.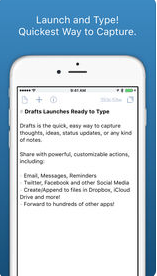 Drafts four
Whilst Drafts can be used as a writing app, its most effective use is for speedy entry of your respective thoughts. Drafts also lets you move text to lots of other apps and writing software. On top of that, it has an Apple Watch app to use with your Drafts inbox and supports split screen on an iPad. On top of that, it has a customizable bar above the keyboard for Markdown shortcuts.
Writing Skills App
The Writing Skills app hasn't been known to be the best writing app since it had a lot of questionable features, but now it's been updated with a ton of adjustments and now is a great option when it comes to helping you with your writing. Visit it on the play store: https://play.google.com/store/apps/details?id=style.writing.skills. The iPad app even supports iOS unique features. Dropbox integration being added was a surprise and being combined with such a smooth interface makes it worth it.
Write
Write's flagship attribute is a cursor nub (comparable to that which you see on some Lenovo laptops, in the center of the keyboard). This can be utilized to put the cursor in the right place while typing. Write also supports lots of sharing products and services, passcode lock, granular interface handle, and more.
Writing Creative Writing, Copywriting, Blogging
If you had to pick one app on iPad which has the best overall writing experience, you should pick this app from App Visionaire. It might not have as many features as some of the other apps but it gets the job done easily and quickly. It is iPad only, but a great additional tool for any writer. You can check it out at: https://play.google.com/store/apps/details?id=com.appvisionaire.infoapp.wgia

Now if you still don't have time to improve your writing or need something in a pinch, you may be considering a service that creates essays for you like https://cheapessay.net/ which can be an alternative if you need something churned out in a pinch.  Just remember to use such a service ethically.
We are influencers and brand affiliates.  This post contains affiliate links, most which go to Amazon and are Geo-Affiliate links to nearest Amazon store.
Jackie is a writer out of Denver, Colorado with a never-ending passion for good TV shows, gadgets, and old-school video games.
Compensation Area of Interest I've been writing articles online for over 8 years, but I'd like to start getting into the review world. I love, love, love TV shows and gadgets.