We are influencers and brand affiliates.  This post contains affiliate links, most which go to Amazon and are Geo-Affiliate links to nearest Amazon store.
There are tons of holidays, parties and many different reasons to celebrate.  When we celebrate we like some bright lights and this review is on those bright lights, the HomePro RGB Star Laser Projector ND-S100RGB.  Christmas, Diwali, Festivus, Weddings, Parties with DJ's anything; these lights just might be what you need to liven things up a bit.
Before we get into it, let's check out the features and specs
Features and Specs
Input: AC110V- 240V
Output: AC5V, 1A
Laser source: Red/ Green
Best performance distance: 10m
Waterproof: IP65 for unit, IP44 for adapter

More like Water resistant, but I will discuss this in the review

Cable Length: 10ft
Size: 3.5(diameter) * 4.7 inch
Weight: 0.77 pound
Product Certifications

Laser unit certification by FDA, FCC, CE, RoHS and IP65
Adapter certification by UL, CUL, FCC, GS, CB reports, IP44, SAA

1 Year Warranty
You may have noticed last year, or maybe the year before everyone seemed to have these lights glowing on their homes, this is one of those.  You too can be like the Jones'.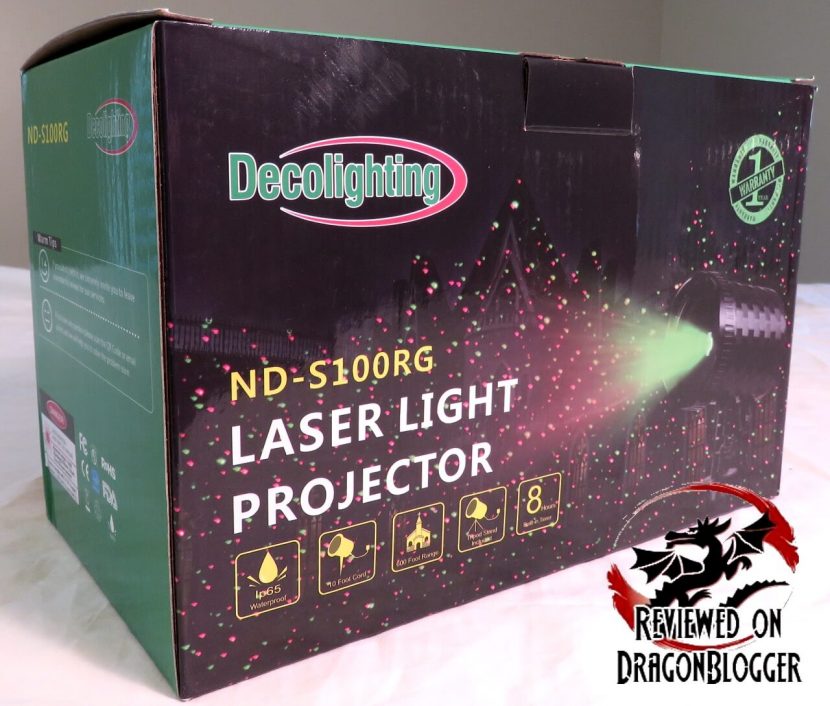 OK, so let's get to an unboxing so you can see what's inside the box.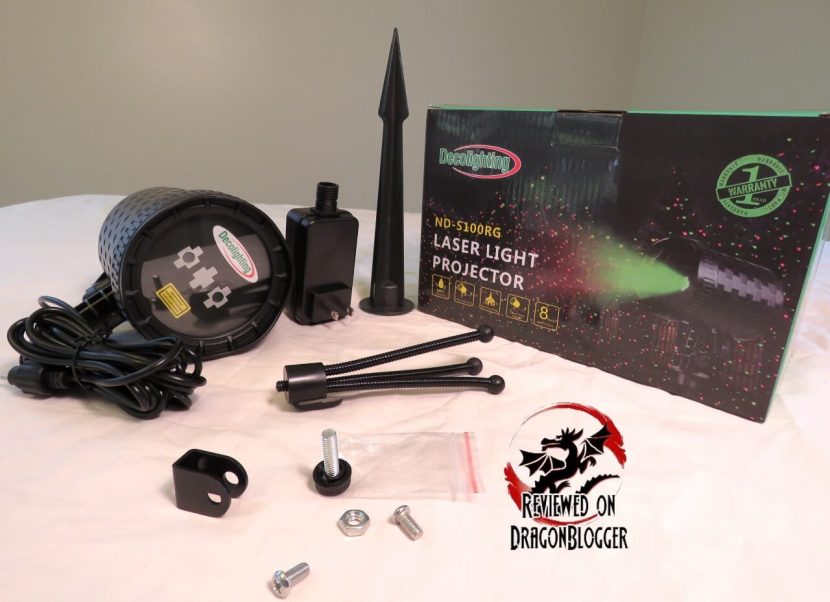 I will describe each of the pieces in the package, first off the contents of the baggie.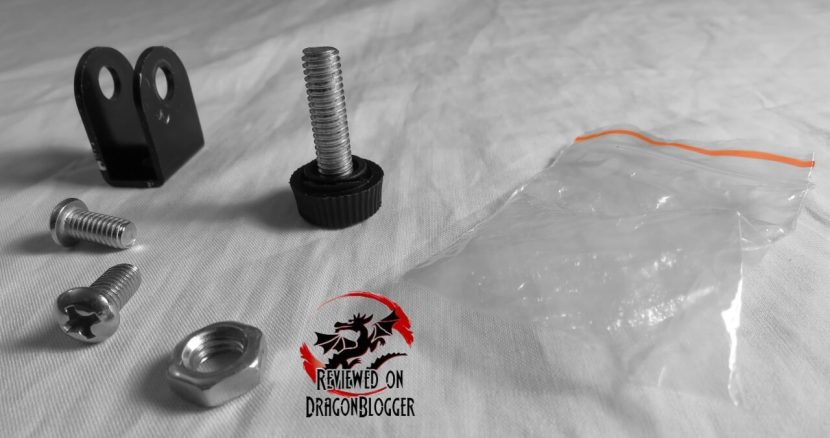 The bag comes with 2 screws, a nut, an adjustable bolt of sorts with a plastic knob and a U-shaped bracket.  I will show you how all of these are used a little later.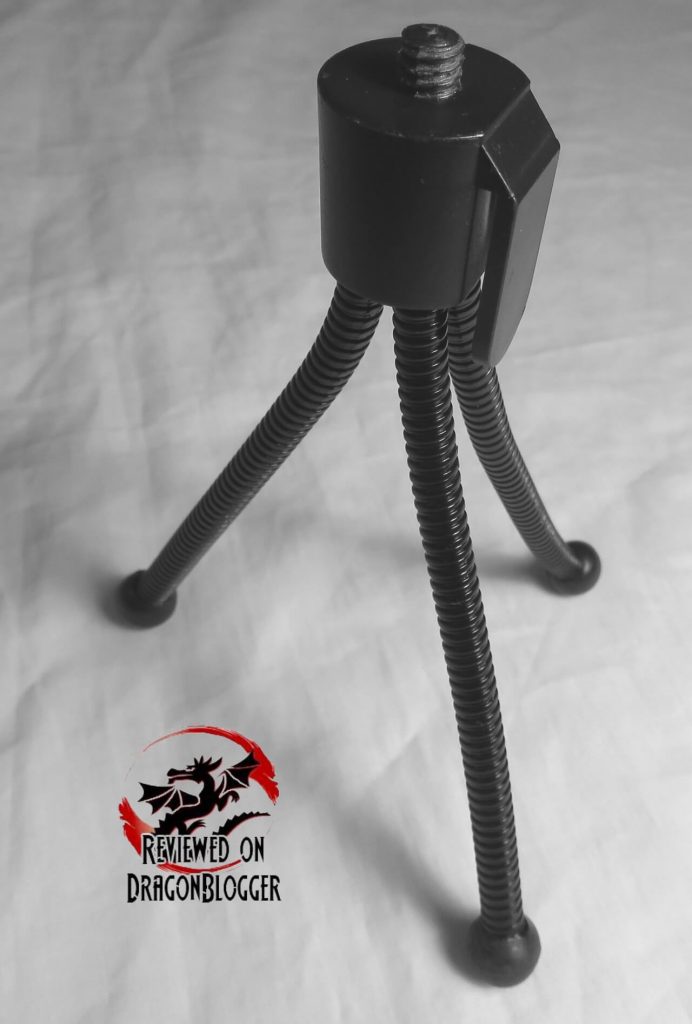 It comes with an adjustable tripod/stand.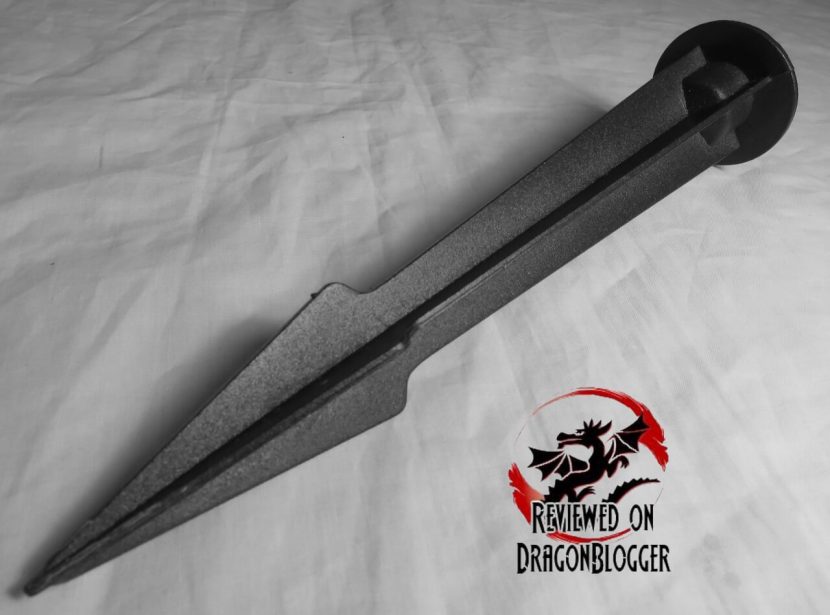 Then there is the stake, but it's not just a stake, it has to have the laser stick on it somehow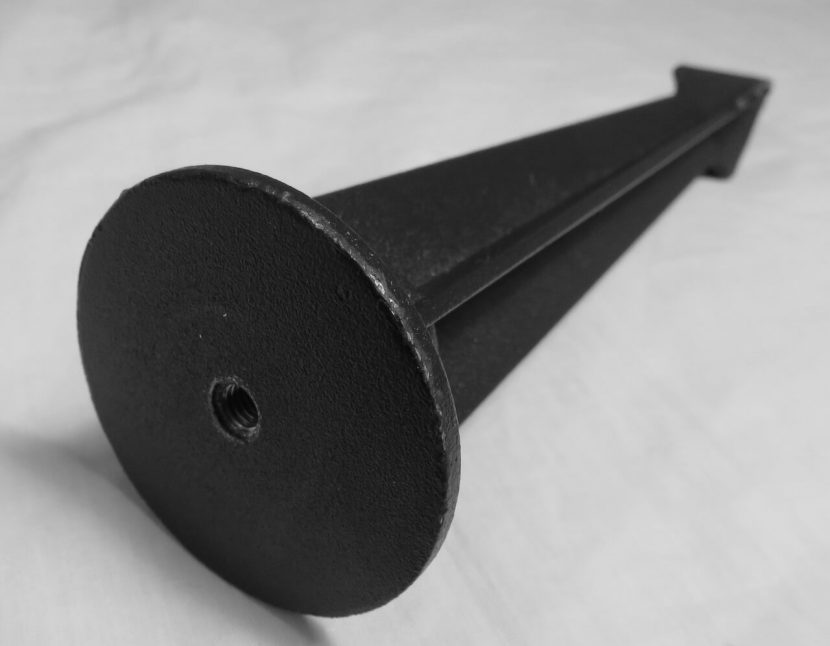 It has a threaded hole to screw in a screw, but I will go over this as well a little later in the review.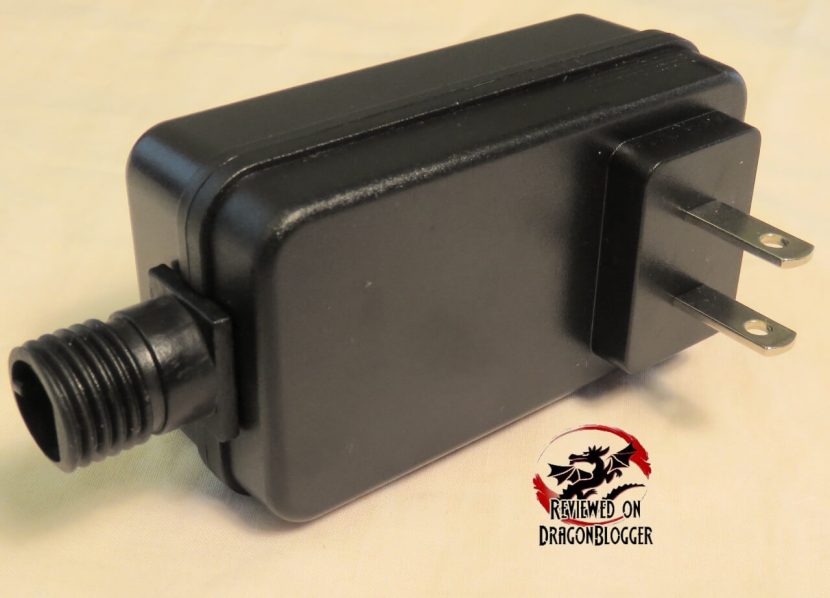 Then we have the AC adapter, but it is a separate piece though not a standard AC adapter like we are used to.   The cable is actually attached to the laser projector itself.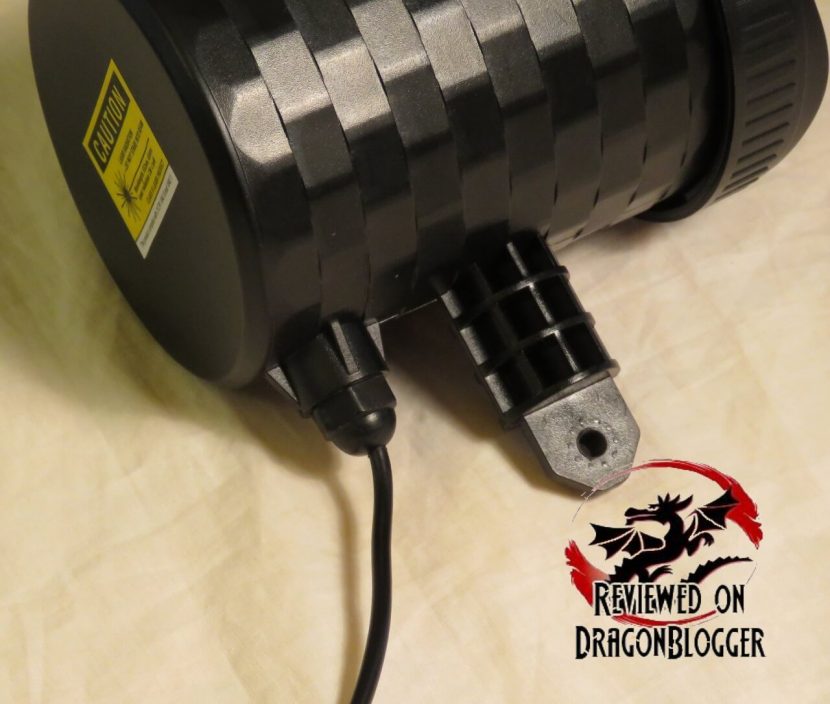 To get them together, first look at the connection itself on the plug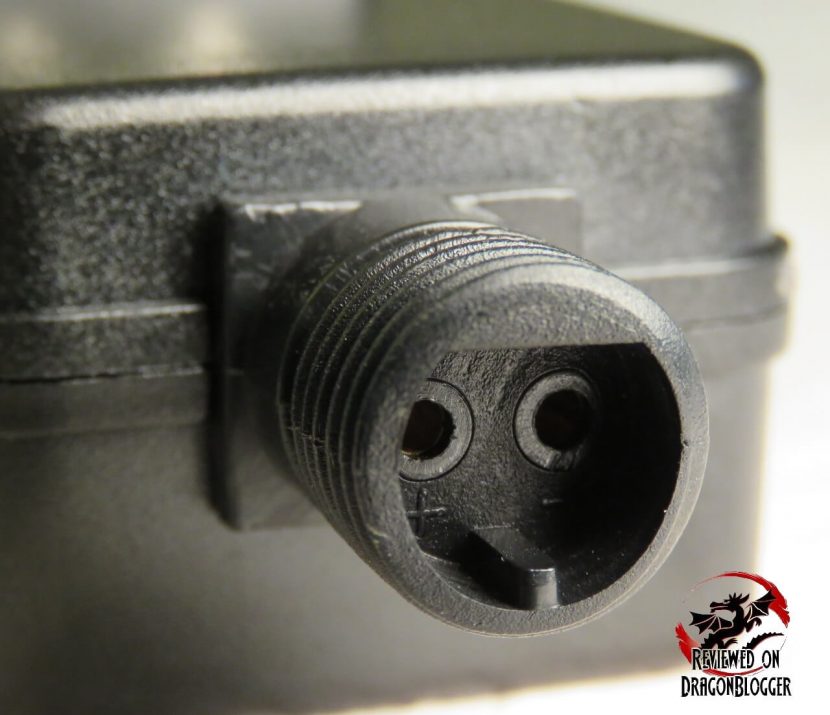 You will notice that there is a negative and a positive input but then in between, there is a plastic nub.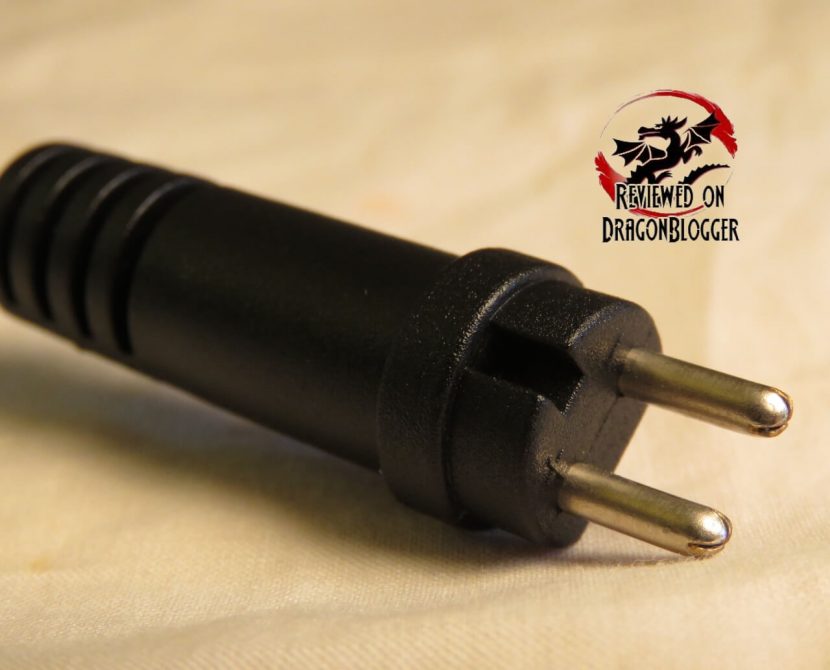 The cable that comes from the projector itself, on the connector end shows the positive and negative connections as well, and then it has the indentation of that little nub.  This makes sure that you never incorrectly connect the positive into the negative and vice versa.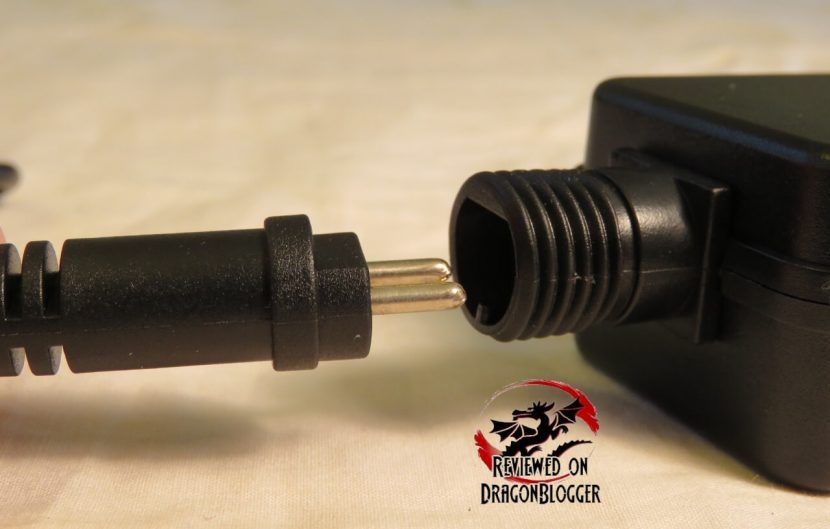 Being cognizant of this, you can now connect the adapter, but then there is this little nut on the cable itself.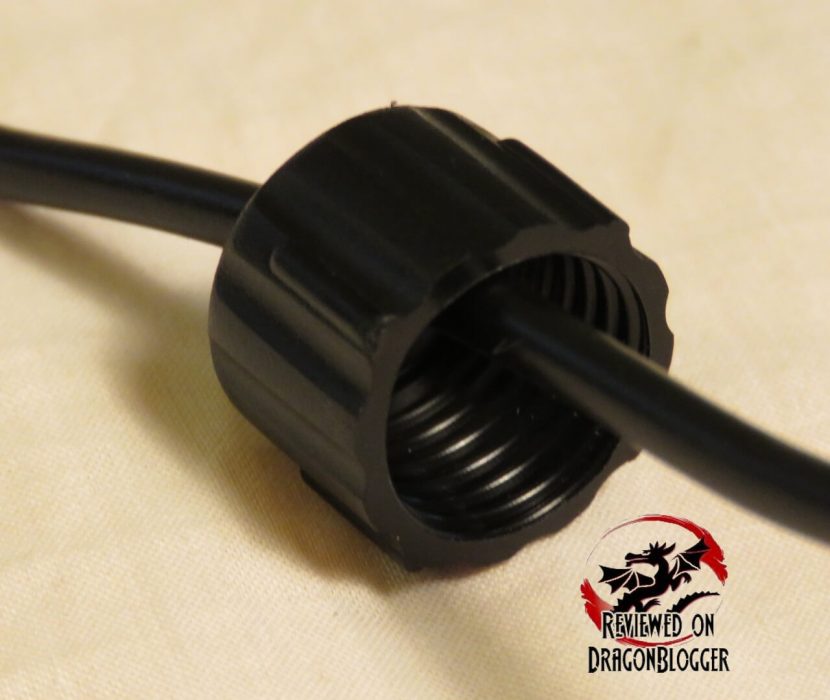 This is what allows it to have its IP44 rating for the adapter.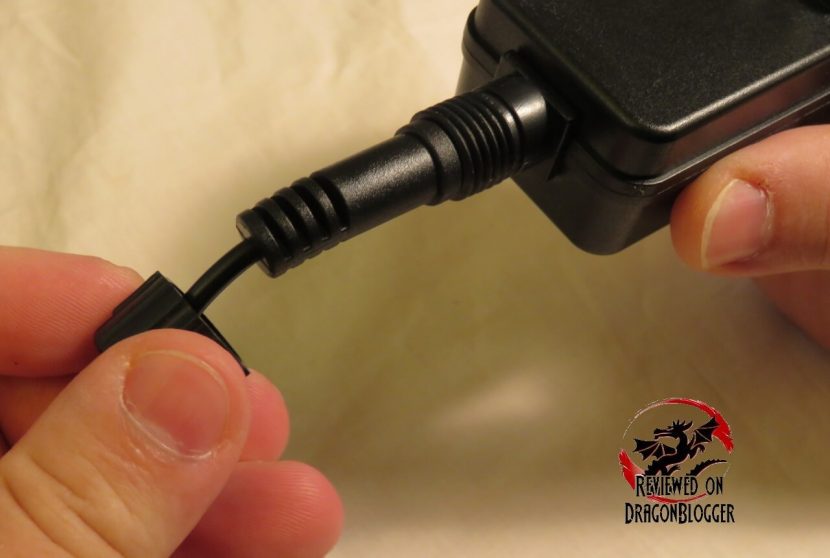 To use it, after connecting the cable to the adapter, just bring in the nut to the adapter…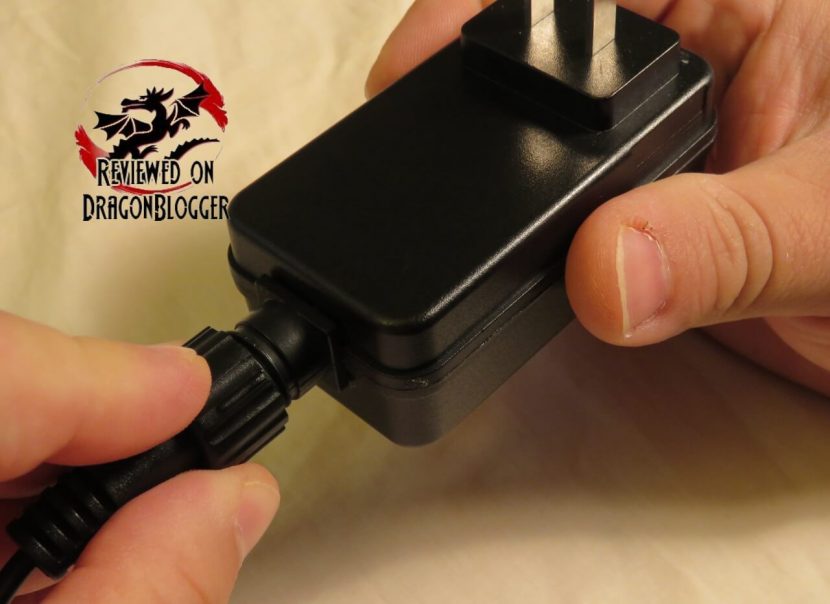 And just screw it in nice and tight.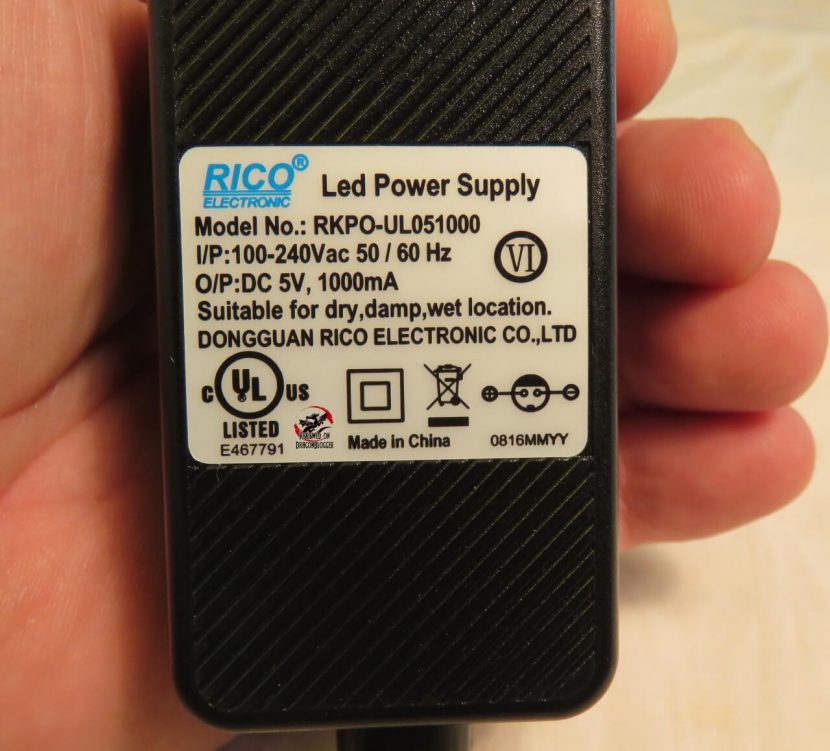 So that you can see some of the power ratings and certifications, it seems that it was also certified for Dragonblogger.
OK, so let's see the unit itself.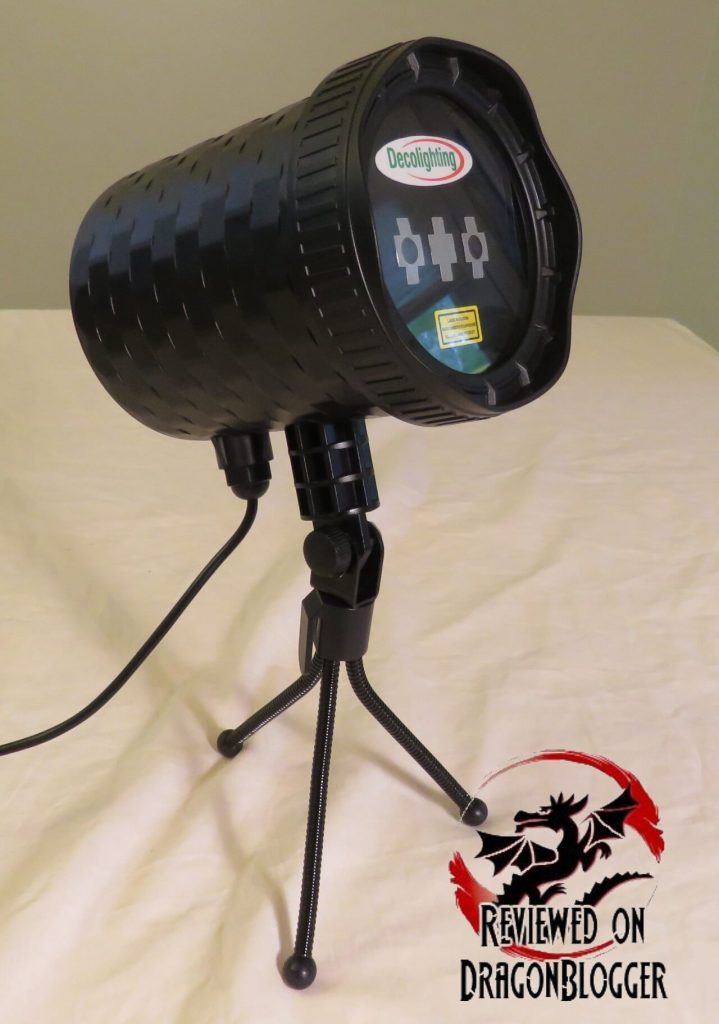 Just for a little more dramatic pose there.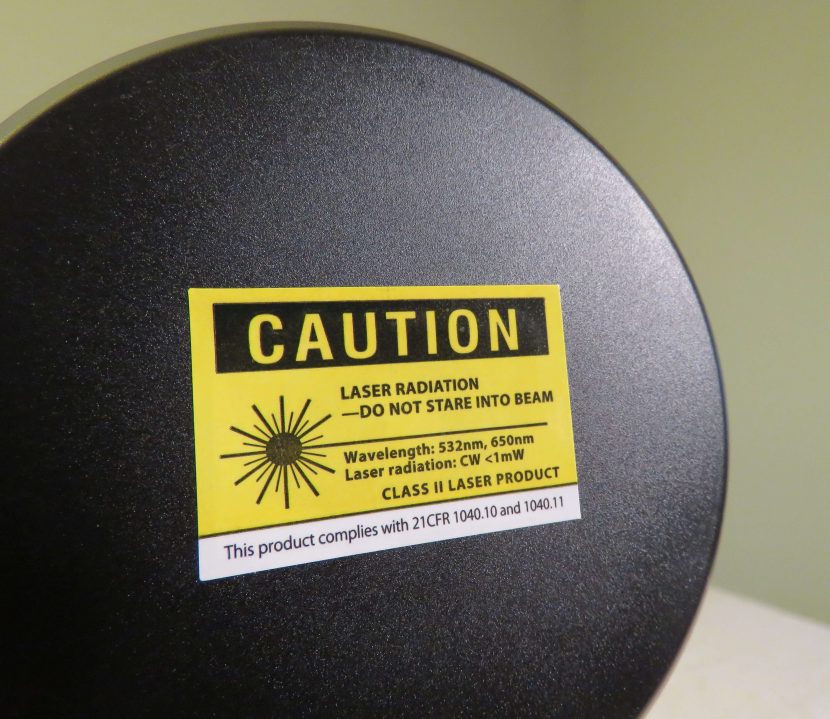 Coming around the back, we can see that this complies with 21CFR 1040.10 and 1040.11.
21 CFR 1040.10 is a performance standard for light emitting products.
21CFR 1040.11 amended to 1040.11 are applicable as specified to all laser products manufactured or assembled after August 1, 1976.
Both are compliances to the fact that this does in fact give off radiation and to not stare into the beams.  Some may say common sense, but if you have never played with or heard of laser beams…. one might be inclined to look into them.  Moving along, we have the side of the unit.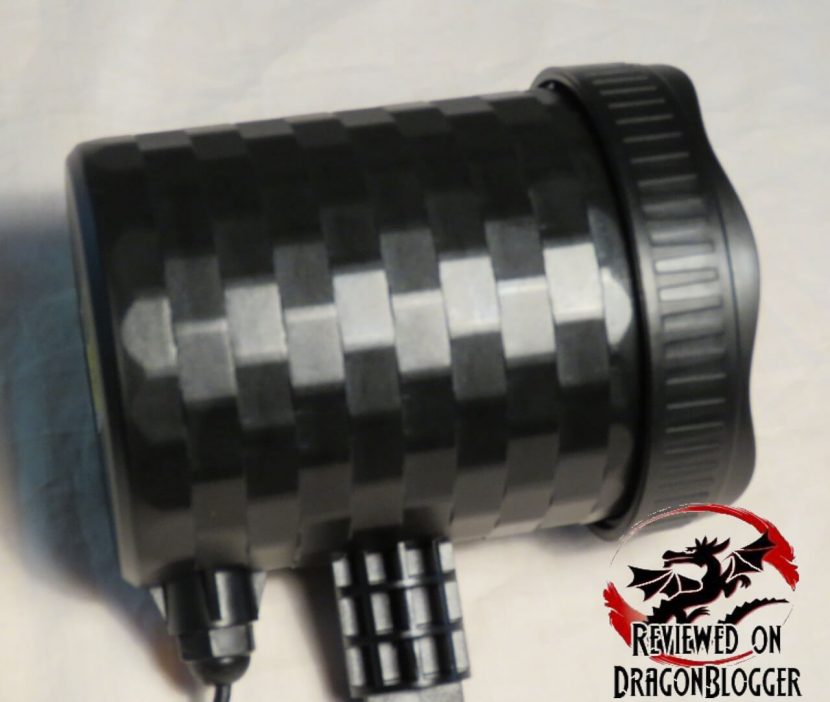 The picture might look out of focus, but it is not.  Looks a bit like the plastic was fighting with itself and each layer decided to spin the opposite way of the other.  This actually helps a bit providing a means of traction to grab it, so it does not easily slip out of your hand, the unit has an IP 65 rating so it can get wet.  The front looks as if you can turn it to focus, but sadly it cannot, I tried.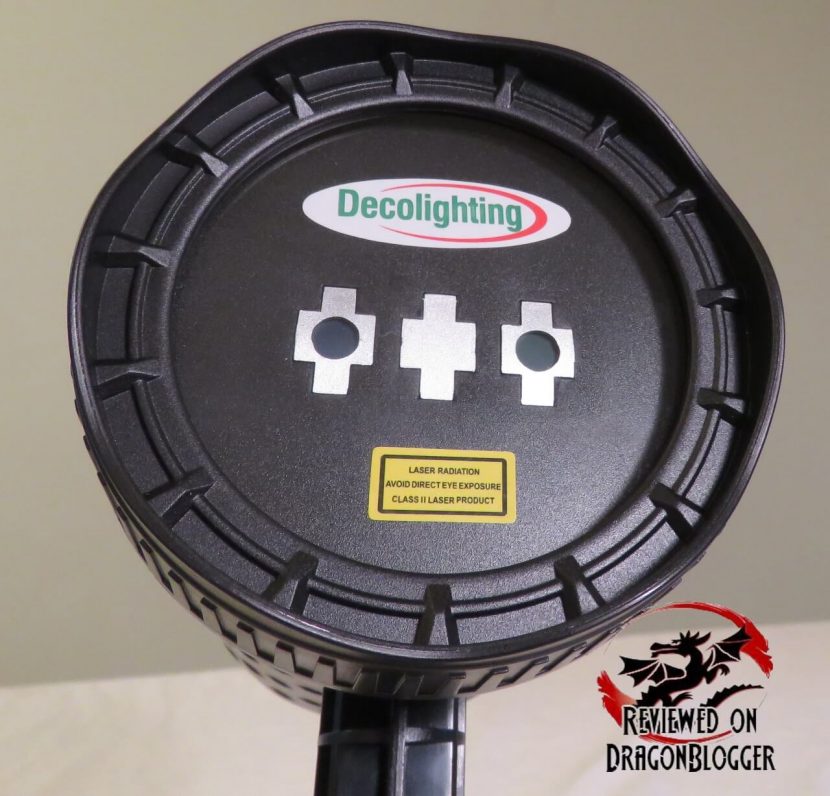 The front looks a little like an 8bit character smiling at you with its yellow teeth.
Those 2 circles shine the Green and Red lasers.  For those of us that actually prefer English, rather than FCC regulations, the yellow sticker reads "Laser Radiation Avoid Direct Eye Exposure Class II Laser Product.
It looks like there is a fine line of Laser Products that this fits into.
Looking at a chart provided by lasersafteyfacts.com, we find this: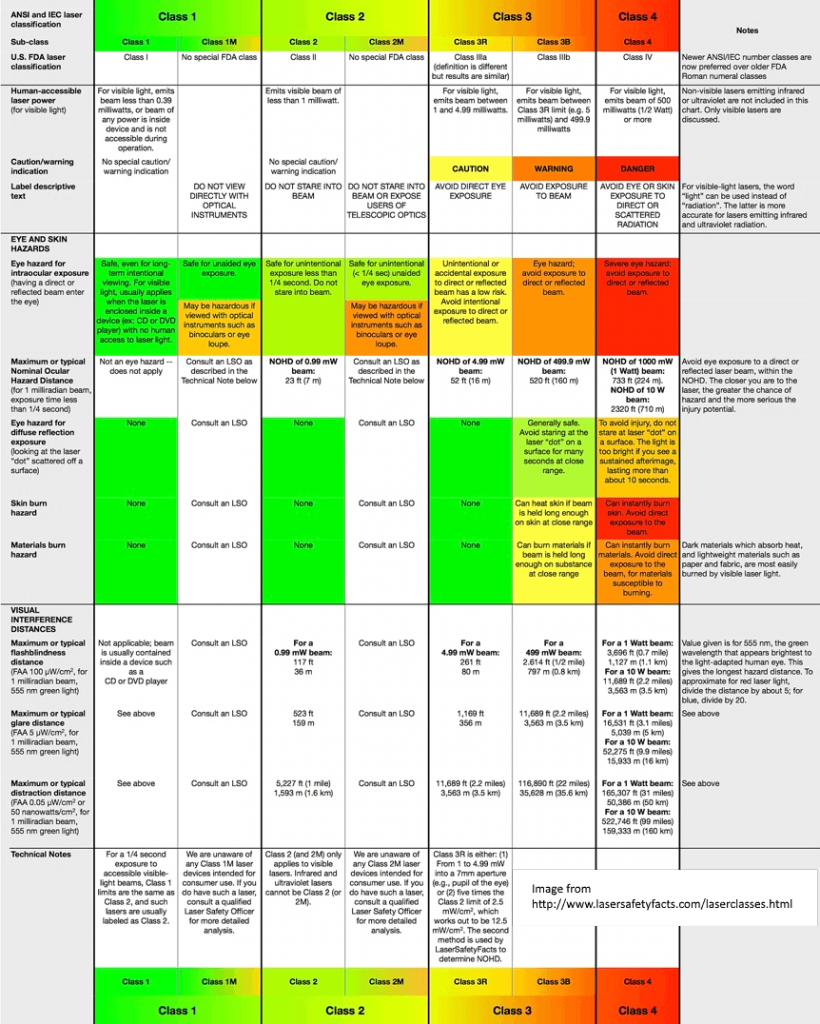 So lots of talk here, but I am sure you want to see what it looks like, me too.
Here I show you how it looks like on the side of my house.
Looks beautiful really, but it is a bit odd that the cable is only 10 feet, might have to get a little creative on getting that laser beam far enough to be able to cover your entire home.  They also have a timer for 8 hours, after those 8 hours they turn off.
In this review I have gone over some of the IP ratings for the laser projector itself and the AC adapter.  The Laser itself has an IP rating of 65 and the adapter has a rating of 44.  Each number is its own rating, the 6 means something and the 5 means something different, I will break them down for you here.
The 6 in IP 65 means that the unit is dust tight, one less place to dust.  No ingress of dust.  The IP itself means Ingress Protection.
The 5 in IP 65 means that the unit is protected against jets of water, limited ingress permitted.  This means that the laser unit itself if water resistant, not water proof, so you cannot submerge it but it can be exposed to the elements.
For the adapter which is IP44, the first 4 means that it is protected against solid objects great that 1mm thick, such a wire.
The 2nd 4 means that the adapter is protected against water splashes from all directions, limited ingress permitted.
To make things a little easier for you, I got this list from myboat.com.au, check it out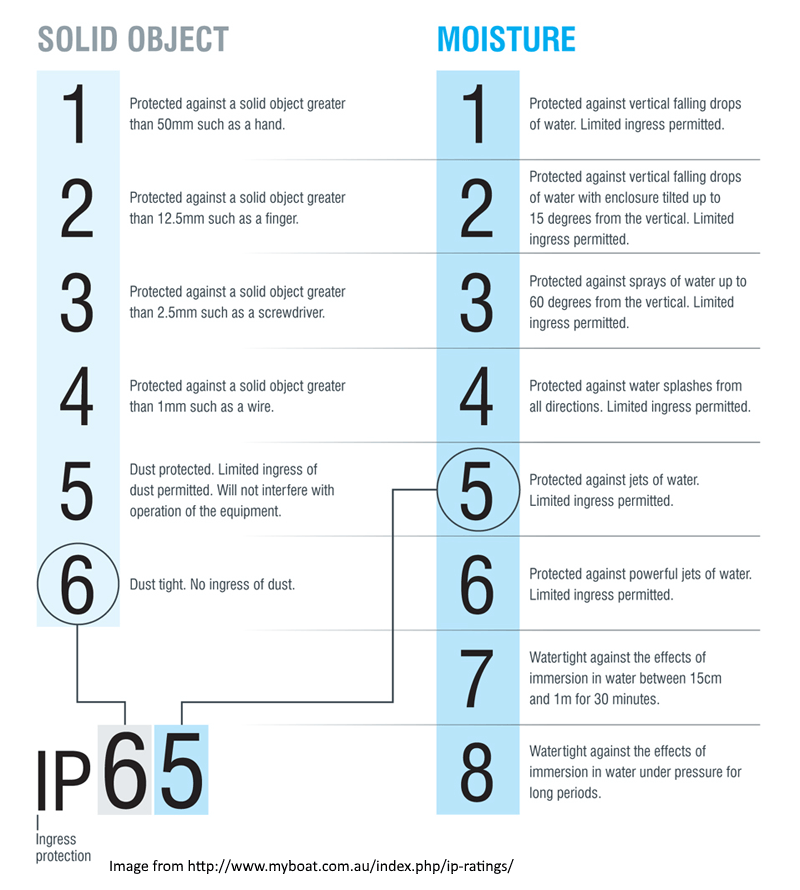 In case you want a point of reference.
So it says it is waterproof huh, it says its water proof but we can see that it isn't, it's water resistant.  Water proof would be an IP rating of 67 or 68.  Well let's check into its water resistance.
So I am still alive today, which tells me and you that it worked.
So what would this be rated at Dragonblogger?  Let's find out.
Pros
Projects lights at a great distance
Provides two ways to mount
Water resistant
Projects 2 different colors: Red/Green
Projects 3 patterns
Affordable
Cons
States that it is waterproof, but it is only water resistant
Power cable is only 10 feet
While tripod works, feet may be too short
Timing is not adjustable
There are many pros, and the cons are really petty except for one of them.   They list waterproof when in fact an IP65 rating means that it cannot be submerged, which means it is not water proof, it is water resistant.  For that con alone I do have to remove one star from its potential five star rating.  That is a big one, someone could think it's a good idea to put this in their pool and that would not end well.
It is a great unit, works well but just needs to get the verbiage correct on its box and listing.
We are influencers and brand affiliates.  This post contains affiliate links, most which go to Amazon and are Geo-Affiliate links to nearest Amazon store.
I have spent many years in the PC boutique name space as Product Development Engineer for Alienware and later Dell through Alienware's acquisition and finally Velocity Micro. During these years I spent my time developing new configurations, products and technologies with companies such as AMD, Asus, Intel, Microsoft, NVIDIA and more. The Arts, Gaming, New & Old technologies drive my interests and passion. Now as my day job, I am an IT Manager but doing reviews on my time and my dime.