HOPDAY sent me their bluetooth sport headphones for me to test out, and for the price range, they're able to hold their own fairly well. In the simplistic packaging, you will receive a concise manual, the pair itself, and multiple ear piece connectors. After locating the power button, you'll find that there is a red/blue flash that lets you know when the headphones are on, and the color changes when connected to your phone. The volume controls sit right on the side of the headphones. Here, you'll also find the one-click call answer button, which is large, so it is convenient when you're busy.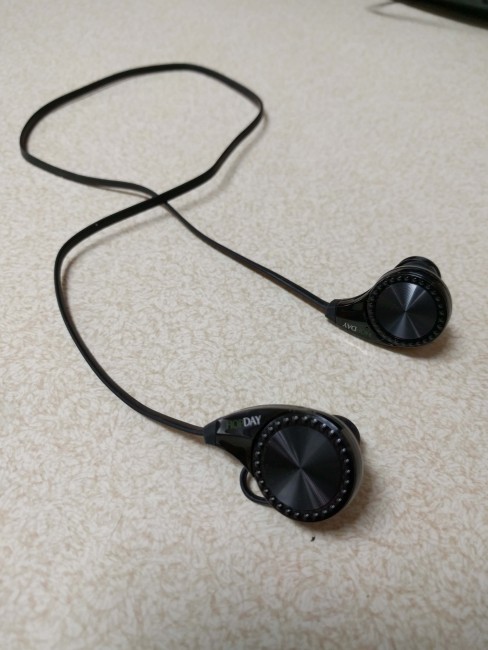 Sound:
They always say you get what you pay for, and this holds true with these headphones. They're not going to scream in your ears with the highs, or the bass isn't going to crush your skull, but these headphones get the job done. They sustained a decent amount of sound on my morning run this weekend, and kept my breathing muffled (a big deal to me).
Build Quality:
The pair itself is very light, but it's obvious why. The headphones are structured with a very light plastic. They don't have that solid feel that you get from higher end headphones. They did, however, perform well when it came to staying in my ear while running. This is good, considering they're sport headphones. The drum itself, is very large and circular, with a glossy black finish to it. The cable is flat, which always seems higher end to me.
Connectivity:
Connecting to these headphones is just as easy as connecting to any other bluetooth headphones, as I have said in the past. Turn the headphones on, turn bluetooth on, and you will find the headphones on your bluetooth enabled device, and you're connected. The biggest issue with these headphones actually was the connectivity. I tested the headphones with both my Nexus 6P and iPhone 6S Plus, and I experienced signal cut.  I use an armband, so the headphones are close to the phone, but they still had a scratchy connection, and would lose connection for a few seconds at a time. This was a big issue for me.
The Bottom Line:
If you're in the market for wallet friendly headphones, with decent sound quality, I would consider checking out HOPDAY's Bluetooth sport headphones. Click the link and head over to Amazon to check out these headphones for yourself!