You can hardly imagine a home without a television. While creating a project for a new house, 99% of people include a place for a TV set. As well, a living room often has a TV set as its potential center, everything else just complements it. When it comes to choosing the best place for your TV, usually two main options are considered: mounting a TV set on the wall or putting it on a stand; they are almost equally popular. Nevertheless, if you are about to purchase a big flat-screen TV or already have one, it is much safer to put it on a stand.
Our team and furnitureinfashion.net decided to talk about a basic feature of any stand – its height.
Choosing stand's height is all about your comfort. People spend a lot of time in front of a TV screen, and it is absolutely fine. When it comes to stand, you should assume that creating a perfect position for a sitting viewer is not that easy. What you actually need is to put the potential center of your screen on the same level with viewer's eyes. Fulfilling this requirement helps to avoid neck aches or any other inconvenient results of a long stay in front of a TV set. Basically, you should measure the height of your future stand and stick to these measurements while purchasing it. Sit in your favorite armchair and have someone measure from the floor to your eyes; the result is a sought center of a TV screen.
Another characteristic that seriously affects your choice is stand's functionality. What are you going to use it for? There are various concepts of a TV stands that base on functionality and construction: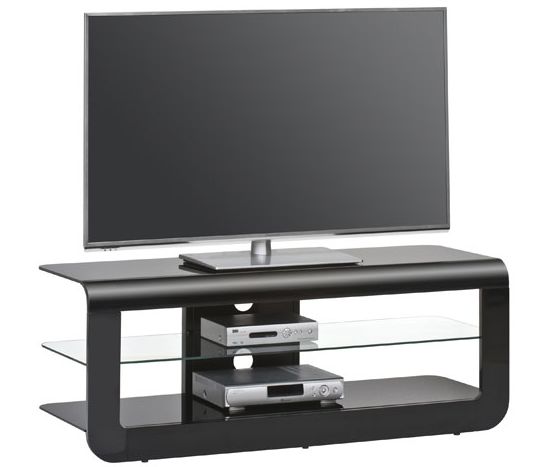 TV consoles and credenzas. Fairly short (about 30 inches tall or less), these stands are wide enough to hold any kind of modern TVs. What distinguishes credenzas from other stands is back and side panels, so the storage capacity increases and you can keep all living room essentials (like blankets and throw pillows) there. Doors and shelves are usually absent.
TV hutches. This kind of stand looks more like a drawer, it has numerous doors and shelves for hiding electronic components (such as cords and multimedia players) from the view. As well, it is a good idea if you want to keep a TV set from being a focal point of a room.
Platform TV stand. The dream of a minimalist, this kind of stands is often free of back panels, sides, or doors. However, it might feature one or more uprights for shelves; being frequently made of glass and metal, these stands can also have wood as their basic material.
Corner TV stand. This is a perfect choice for a small space rooms. Such stands are designed as right triangles, and they can fit into a corner against both walls.
Do not forget that height of your stand is all about your subjective opinion, take time and choose the right one for you!