So you have a hard drive with a large amount of space and you created some partitions at first, but now you are running out of space in one of your drive partitions and you want to extend the space in the drive. You can accomplish this task with ease with the help of Windows Disk Management. This feature is found in Windows Vista, 7 and Windows 8. With this tool, you can increase the space of a drive by shrinking the space from another drive volume. Follow the steps below to extend volume of a drive using Disk Management.
Note: Make sure you create a system restore point before experimenting with any Windows feature. Click here if you are new to System Restore Points.
Step 1: Launch Disk Management
You can do this by searching for "disk management" in the search bar and pressing enter.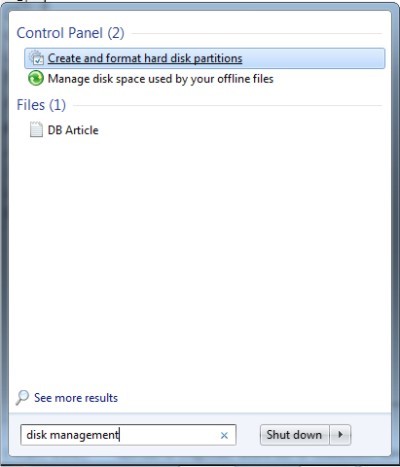 Step 2: Locate your hard drive
Then you right click on the volume which has more space for shrinking. Click on Shrink Volume. For example: I have 140 GB free in Drive E, so I will be using that partition to shrink volume.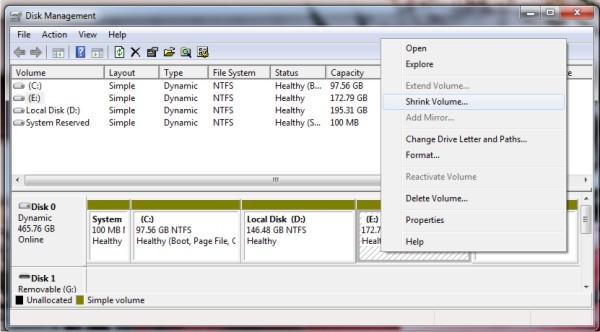 Step 3: Enter the Amount of Space to Shrink in MB.
When shrinking your volume with extra space to share, remember that 1 GB is equal to 1024 MB, so calculate how many GB you want to shrink and enter the value. Then click on Shrink.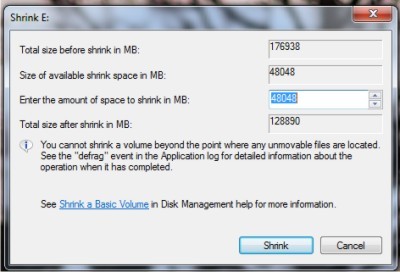 Step 4: See your Unallocated Space
You will see a black line which indicates "Unallocated Space". Right click on the drive in which you want to extend the space and click on Extend Volume.
Step 5:  Set your Unallocated Space for Volume
Enter the value of unallocated space for the drive you are wanting to expand and then extend the volume.
Congrats, you have successfully extended the volume to your drive. You can also create a separate drive by this method by skipping Step 5 and right clicking on unallocated space and clicking on New Simple Volume instead to create a separate Windows Drive/Volume.
Do let me know if you encounter any errors. I will be happy to assist you.