We are influencers and brand affiliates.  This post contains affiliate links, most which go to Amazon and are Geo-Affiliate links to nearest Amazon store.
Don't worry, we're not talking about Santa's cookies here.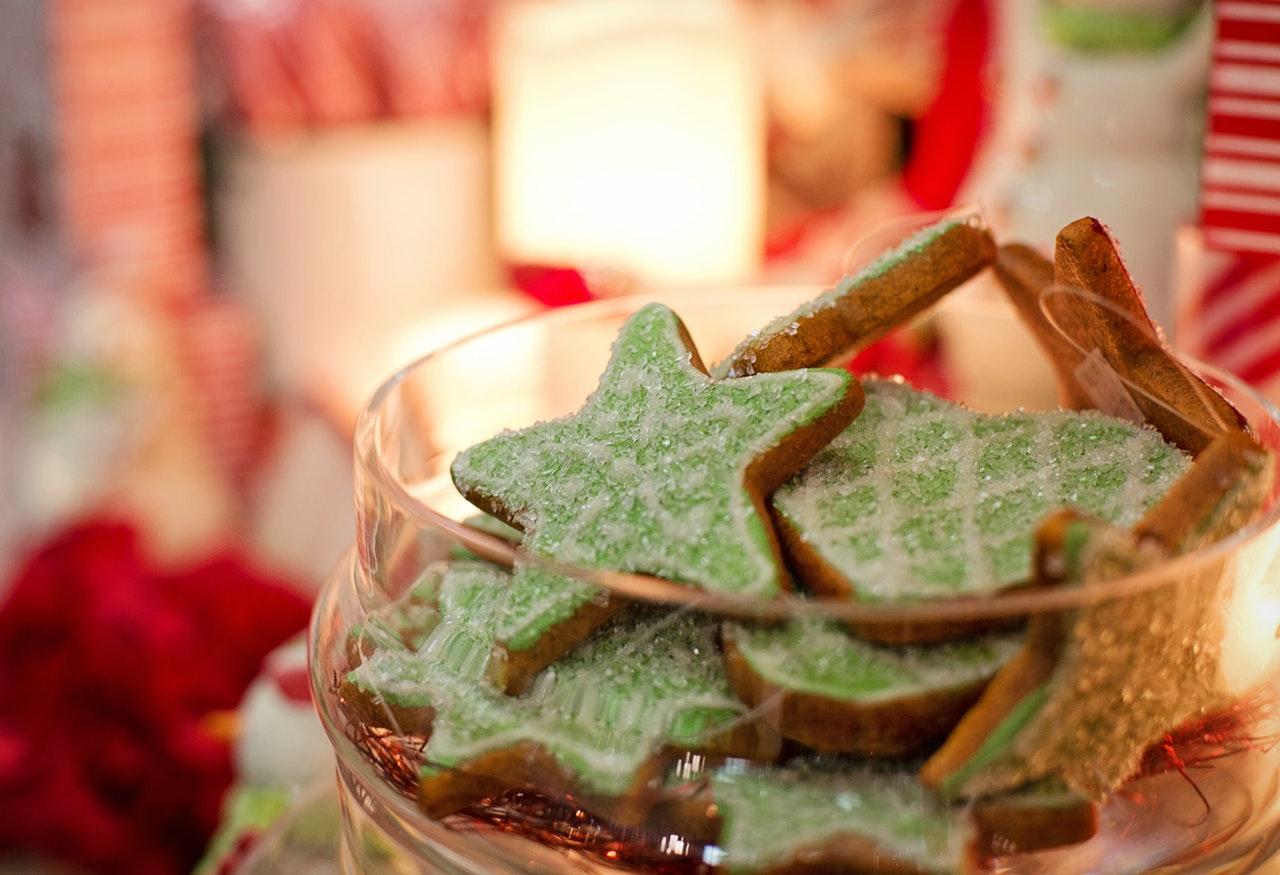 Image courtesy of Pexels.
A holiday season without cookies!? As crazy as that sounds, this is exactly what many marketers are starting to prepare for.
Now, we're not talking about a cookie shortage or forgetting to set out Santa's late-night snack. We're talking about the first holiday season that companies will no longer have the ability to leverage third-party data to drive their holiday campaigns.
In this article, we'll take a look at a few holiday marketing strategies to help you make it through this cookie-less holiday season and five platforms to help make managing your campaigns easier.
Here's a quick overview of what we'll cover:
Why this will be a cookie-less holiday
Four ways to prepare for the first cookie-less holiday
Five marketing platforms to help you make the most out of your holiday marketing campaigns
Why Will It Be a Cookie-Less Holiday?
You may be wondering, why will this be a cookie-less holiday?
In 2020, it was announced that Google will phase out third-party cookies on Chrome browsers by 2022. This means that you may no longer have a directed insight into how your customers behave across various online websites and channels.
Then, on top of that, Apple has also considered user security and rolled out new privacy standards with its iOS 14.5 update. With this update, Apple users receive a pop-up in the apps they use that asks them whether they want to allow the app to track their activity or not.
For everyday people, these changes are likely welcomed with open arms. Without third-party tracking, they'll have an increased sense of security and have more control over who can collect their data.
While this is great news for the privacy of people browsing the web, it presents significant challenges to companies that rely on third-party data to drive their digital advertising efforts.
Many companies that currently rely on third-party data foresee many changes in how they market to their customers. Whether that's by increasing spending on first-party data, using contextual advertising, or building in-house identity resolutions solutions — we are likely to see a major shift in how we market to our customers.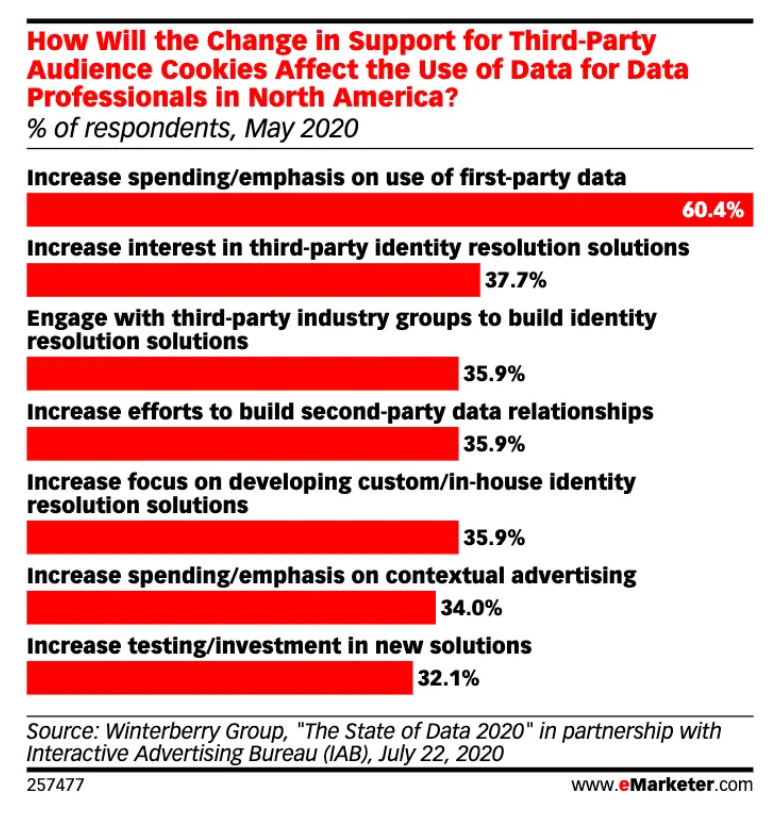 As third-party data is phased out, companies are starting to think about continuing to reach customers in a relevant, personalized manner. There are various options on the table, but making the most out of first-party data tops the list. Image courtesy of Adobe Blog.
For those companies relying heavily on digital advertising to reach customers, now's the time to start preparing yourself. If you choose to ignore the coming changes simply, not only will your holiday sales suffer, you'll also find yourself in a poor position moving into the new year as these changes roll out.
Let's look at a few ways you can prepare your marketing campaigns for their first cookie-less holiday season.
How to Prepare for The First Cookie-less Holiday Season
Now that the holiday season is just a few weeks away, it's the perfect time to make sure you're leveraging everything you can to make the most out of the cookie-less holiday.
Changing the way you market to your customers may seem daunting at first, especially if you rely on those avenues that are eliminating third-party data — but it doesn't have to be!
Just because things are changing with the way Google and Apple serve up content doesn't mean you have to start your marketing strategy from scratch. You most likely already have a lot of the tools you need to have a successful cookie-less holiday.
In this section, we'll take a look at four ways you can start to prepare for a world without cookies, starting this holiday season.
Each of these topics will help you better understand how these changes will impact your current marketing efforts and provide you with ways to leverage the channels you're already using. So let's dive in and help you start improving your cookie-less marketing today!
Understand the Impact of Cookie-less Marketing on Your Business
So what does this all mean for you? How much of your marketing will be impacted?
Before you can start to solve the problem at hand, you first need to understand the implications that come with it.
To understand the impact of cookie-less marketing on you, we have to break it down by the changes coming to Google and Apple separately. At a high level, the implications are similar, but when you break it down further, there are important considerations within each.
The Impact of a Cookie-less Google Searches
In a world before the demise of cookies, tiny bits of information on your customers were collected through cookies to drive online tracking and data collection. This data tracked user interactions with all kinds of content, from ads to articles, product pages, and everything in between.
Having these insights allowed marketers to build customer profiles and better understand how people interacted with various channels. These insights would then allow them to develop digital marketing campaigns that provide highly targeted advertisements to customers.
Now, it's no longer going to be this simple to collect customer data.
If your business relied heavily on this data to form your digital advertising strategies, you could expect to feel a significant impact from this coming change. On the other hand, if you're spending most of your marketing dollars on social media, email marketing, or other channels that don't rely on this third-party data — you'll likely walk away unscathed.
The Impact of a Cookie-less Apple Devices
As previously mentioned, Apple is also moving towards more robust user privacy and giving users the ability to ask apps not to track their activity outside of that specific app.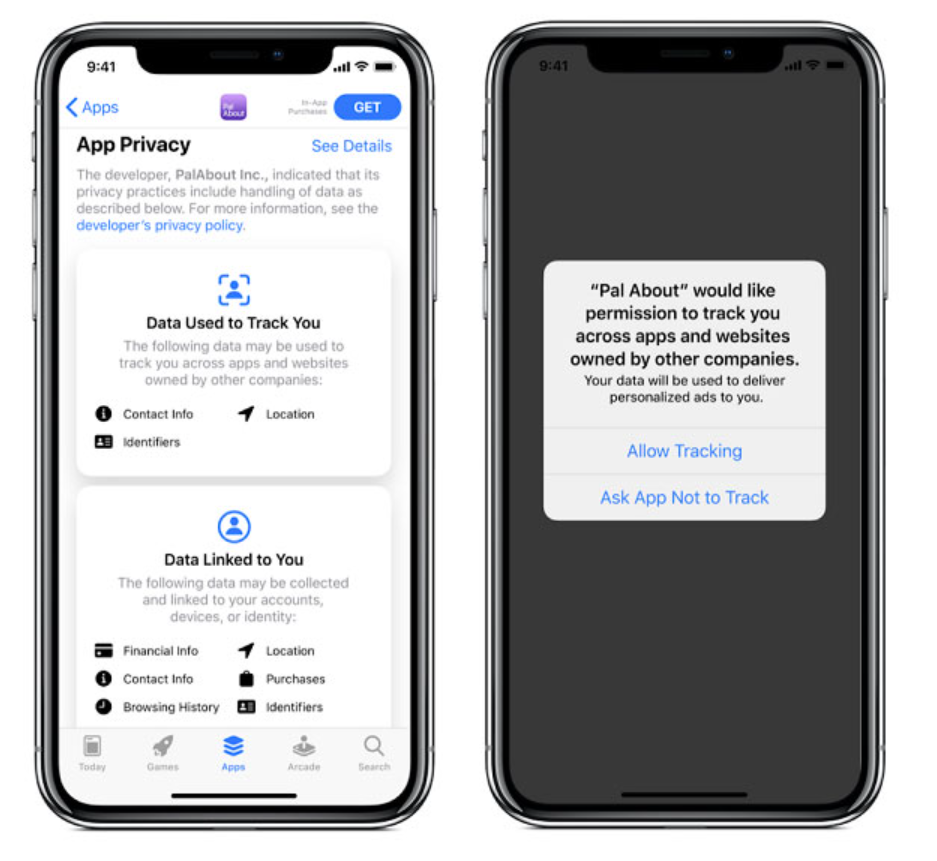 Have you seen this box appear on your screen recently? Then you've already seen the impact of Apple's new privacy policy from a user perspective. It won't be long that you'll start to feel the effect of this change in your marketing efforts, too. Image courtesy of Magneti.
This will significantly impact the data you can gather on your mobile customers because you'll no longer have visibility into what your customers are doing when they leave your app.
While this might not seem like a dire situation, if you don't have an app — it will affect you in other ways.
One of the most prominent impacts marketers can expect to see is related to their Facebook marketing efforts. This might seem odd that a change in Apple's privacy policy would impact Facebook advertising. Still, it all comes back to the app no longer having the ability to track customer data.
As customers opt-out of tracking, Facebook will lose its inside look at what people are doing across digital channels. Over time, this will limit the targeting data Facebook has and make it harder for companies to create highly targeted advertisements.
This means if you put a lot of spending into Facebook advertising, you're likely going to see a dip in engagement. Your ads may not be as relevant as they once were when Facebook knew exactly what each person was interested in through previous tracking abilities.
Make Owned Channels a Key Component
One of the best ways to overcome the challenges that come with a cookie-less world is to leverage your own channels.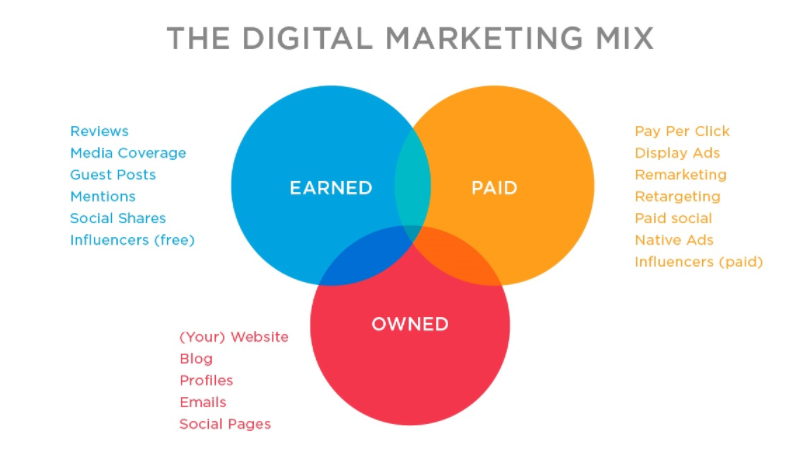 There are three main types of digital marketing: earned, paid, and owned. As we continue to see tighter customer privacy policies, we'll see a significant shift in how businesses market to their customers. Owned media will likely become a big focus for companies across all industries. Image courtesy of Sprout Social.
This means putting a heavier focus on the channels you have control over and making any other channel secondary. By doing this, you'll have complete control over how much you're spending and who you want to reach through these avenues.
To do this, you'll simply want to shift your focus and advertising spending. For example, if you're currently investing a large amount into Facebook advertising, maybe now is the perfect time to scale back that funding and put it towards improving your SMS or email marketing campaigns.
Here are a few examples of owned channels you're most likely already using:
Website
Mobile app
Blog
Organic social media content
Email
SMS
Tapping into your owned channels will provide you with total control over the customer experience from one channel to the next and allow you to continue to engage with your customers over time. Not to mention it's a much more cost-efficient way to connect with your customers.
By focusing on improving your owned channels, you can leverage the customer insights you collect on your own and scale up your marketing efforts.
Engage With Customers Via Email and SMS
As we see that increased focus on owned media, email and SMS marketing will become two of your most valuable tools.
For most companies, this won't make for a huge shift in how you're already communicating with your customers. Email has been one of the most used channels for years, and text marketing is growing in popularity due to its impressive delivery and engagement metrics.
The shift we'll likely see is that more companies will start to reallocate their spending towards the channels they have complete control over — and email and SMS are the perfect candidates.
With more investment in these channels, you'll be able to improve the content you're sending customers and engage with them more often. To help you prepare for this and make the most out of your email and SMS marketing, let's look at a few tips to set you up for success on each channel.
Tips to Make the Most of Out Email
Sometimes, we get so set in our ways that we forget that we can do things to shake things up. This is true with email marketing, especially because it's something most companies have been doing for years — it's easy to set it and forget it.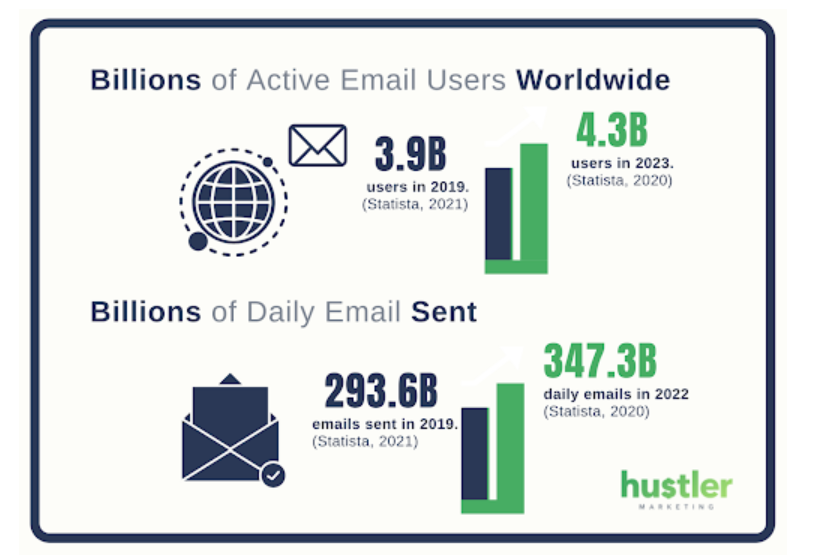 Many people forget the power email marketing has. There are billions of active email users worldwide, which means you can reach a massive number of customers with the click of a button. Why not leverage that access as a way to connect with more people? Image courtesy of Hustler Marketing.
As we start to shift our focus back to our owned media sources, now's the perfect time to take a step back and make sure you're making the most out of your email marketing efforts.
Here are a few things you'll want to incorporate in your email marketing campaigns to improve success:
Make sure you're always using a mobile-responsive template
Don't make your content sound like a sales pitch
Have a clear call to action
Remember the amount of screen real estate you have
Keep subject lines short
Make it easy for customers to complete a purchase
Measure the success of your emails to continue to learn and iterate
Keep your email campaigns fresh, and you'll see higher engagement rates. The more you get to know about your audiences based on their interactions with your emails, the better you can improve future campaigns for continued growth.
Tips to Make the Most of Out SMS
SMS marketing is a great way to connect with your customers.
When you consider that most SMS messages are delivered within 5 seconds and opened within 90 seconds — it's hard to ignore the power of this channel.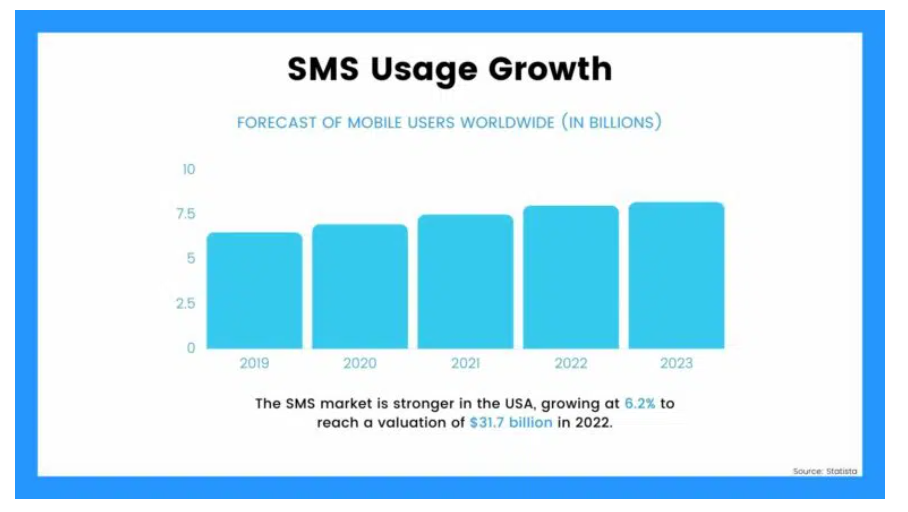 SMS usage continues to grow year over year and is expected to be used by nearly 7.5 billion people by 2023. Again, another great opportunity to reach more customers on a channel they're already interested in and engaging with. Image courtesy of SMS Comparison.
Not only is the high visibility of messages impressive, but you also know that the people on your subscriber list are interested in your content. That's because they're required to opt-in to join your subscriber list, meaning they're providing you consent to connect with them on their smartphones.
Now's the perfect time to start if you're not already using text marketing as part of your communication channels, now's the ideal time to start. You won't be disappointed in the results, especially as the digital marketing environment changes with these new privacy requirements.
Here are a few tips to help you make the most out of your SMS marketing efforts:
Create and send exclusive offers for subscribers
Send automated drip campaigns to keep people engaged over time
Use keyword opt-in campaigns to grow your subscriber list
Run contests that encourage customers to interact with your texts
Send reminders and confirmation messages
SMS marketing is a great place for companies to connect with their customers in a more effective manner. You won't have to worry about third-party data and have the freedom to interact with each customer as you choose.
Use Other Cookie-less Channels
There are other options outside of utilizing your owned media channels to continue to reach your customers without third-party data.
One way to do this is through contextual advertising.
Contextual advertising doesn't target audiences through behaviors. Instead, it targets ads based on the environment in which it appears.
This means that people receive ads based on the content they're consuming. By matching ad content up with the article's content, you'll know that you're reaching audiences who will be interested in the content you're serving up.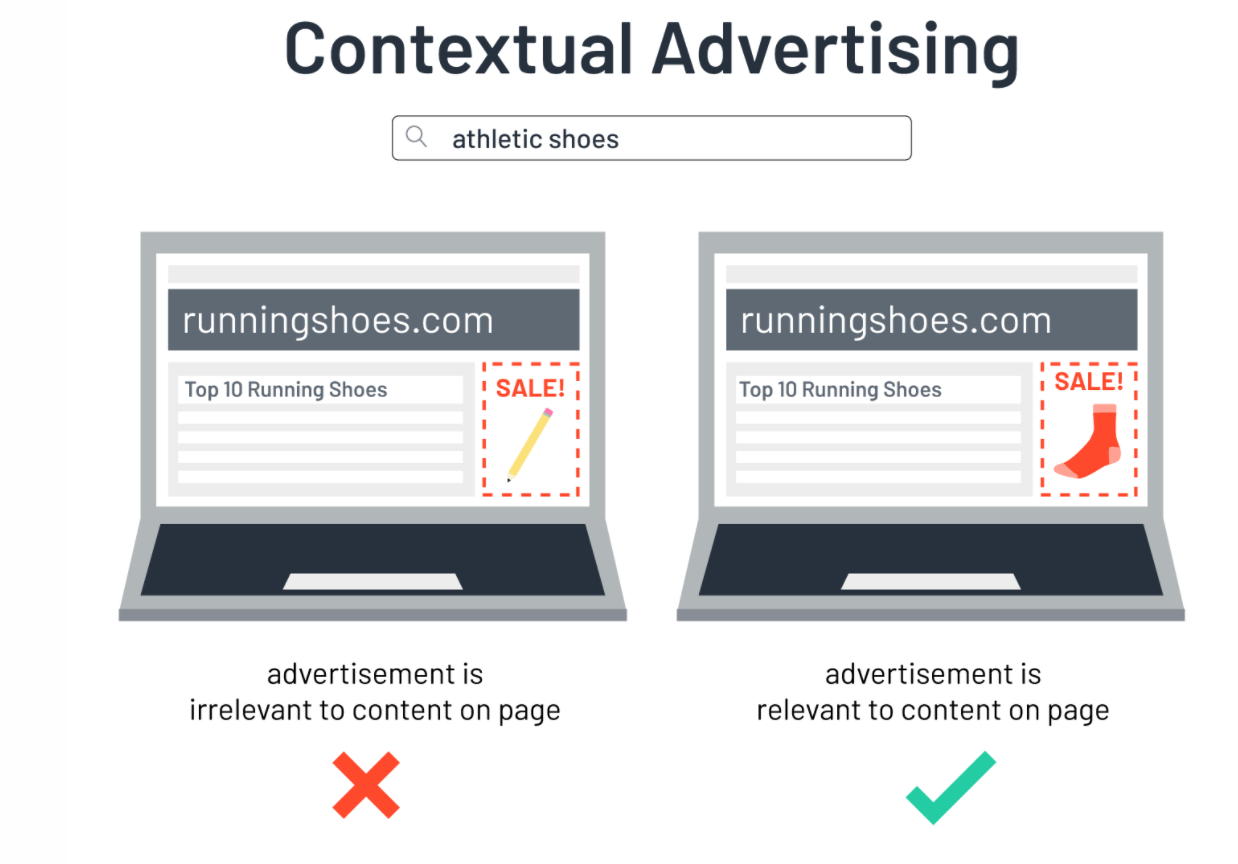 Rather than serve customers with irrelevant content on a page they're looking at, why not connect the ad with products they're already reading about. This will make the advertisement more relevant to their needs and increase your chances of making a sale. Image courtesy of G2.
While it may be an adjustment for companies to start thinking about advertising in this manner, it may turn out to be a much more successful way of connecting with your customers. That's because you'll be providing them with relevant ads based on their current browsing interests.
If you choose to use contextual advertising as part of your marketing strategy, these are a few of the benefits you can expect to see:
You only pay for the ads that have been clicked, so it can be a cost-effective way to connect with audiences
Ads will be highly targeted since the content will be relevant to the current needs of the reader
It's easily measurable and allows you to identify if a campaign was successful or not quickly
Increase sales through serving content pertinent to the customer based on what they're already searching for
Contextual advertising is just one more way to shift your focus and continue to drive successful marketing campaigns. While it may take some time to learn the ins and outs of this new way of advertising to your customers, it will be well worth it in the end.
Five Platforms to Help You Make the Most Out of Your Holiday Marketing Campaigns
When it comes to managing your owned media channels or better understanding customer data, you don't have to go at it alone. There are tons of tools available to help make this process simpler — no matter how big or small your business is.
Whether you need a platform that allows you to automate message sending, track campaign success, or infuse personalization into each campaign, there's a tool out there for your needs.
In this section, we'll provide you with five platforms that can help make the shift away from third-party data easier. Each offers its own unique capabilities and tools. You just need to find the one that fits your business needs.
Listrak
Listrak is an integrated digital marketing platform that helps retailers and brands reach their customers with the proper channels at the right time. Through marketing automation tools and cross-channel experiences, this platform will allow you to take your digital marketing to the next level.
This tool will help you manage multiple channels and gain the customer data insights you need to continue creating personalized experiences, even in a cookie-less world.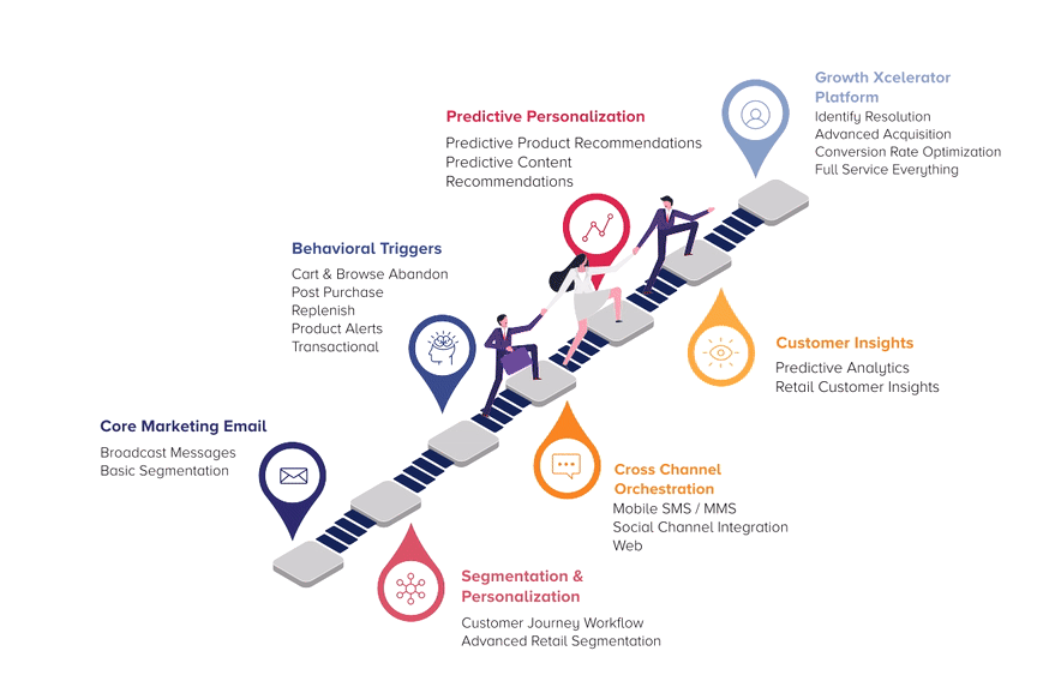 With the help of Listrak, you can reach your customers across various channels and create a comprehensive experience. From sending emails and SMS messages based on real customer interactions to collecting valuable customer insights — this tool can do it all. Image courtesy of Listrak.
Platform Highlights:
Build cross channel marketing experiences with an intuitive drag and drop tool to create multi-stage, non-linear journeys, and real-time interactions across channels
Collect first-party customer data that will help you create personalized experiences and drive higher engagement and conversion rates
Manage various marketing channels include email, SMS, social media, mobile push, and more
Tap into advanced technology including machine learning, AI, and predictive analytics to elevate your marketing efforts
Customer Testimonial: "I've been very impressed with the speed of innovation and continual investment in the Listrak platform. The tool itself is powerful, and the people we work with go above and beyond to make us feel supported. Since working with Listrak, we've seen a 475% improvement in email revenue."
Pricing: The pricing for the Listrak platform is customized based on business needs. To learn more about what your pricing will look like, you'll want to contact a representative.
Website: www.listrak.com/
SendPulse
SendPulse is an email and messenger marketing platform built to help businesses manage all of their messaging needs. From email and SMS to chatbots for Facebook and WhatsApp — this tool can help you connect with your customers across various channels.
By managing all of your owned channels from one central platform like SendPulse, you'll be able to shift your marketing spend dollars and connect with your audiences on the channels they're most active on.
Make connecting with your customers simple with the help of simple drag and drop building tools. This will allow you to integrate relevant content to each customer based on their real-time data and insights. Image courtesy of SendPulse.
Platform Highlights:
Send highly relevant triggered messages based on customer interactions and behaviors to continue to nurture audiences
Make message creation simple with a suite of tools, including free templates and simple editing tools
Continue to grow your subscriber lists with subscription forms on your website that are easy to create and allow customers to join your email and SMS lists
Use web push notifications that use personalization and segmentation to connect with your audiences and increase engagement
Customer Review: "SendPulse an explicit platform to execute your marketing based operations successfully."
Pricing: There are four plan options available, and pricing varies based on the size of your subscriber list. The following are the plan options:
The Free plan for up to 500 subscribers and 15,000 emails
The Standard plan starts at $6.40 per month for list sizes from 1-500
The Pro plan starts at $7.68 per month for list sizes from 1-500
The Enterprise plan starts at $10.75 per month for list sizes from 1-500
Website: www.sendpulse.com
Klaviyo
Klaviyo is a marketing platform that is designed to help companies build stronger customer relationships and improve segmentation. This allows you to understand better who your customers are and create more personalized experiences across channels.
The more data you collect and know about your customers, the better you can leverage your first-party data to create effective marketing campaigns.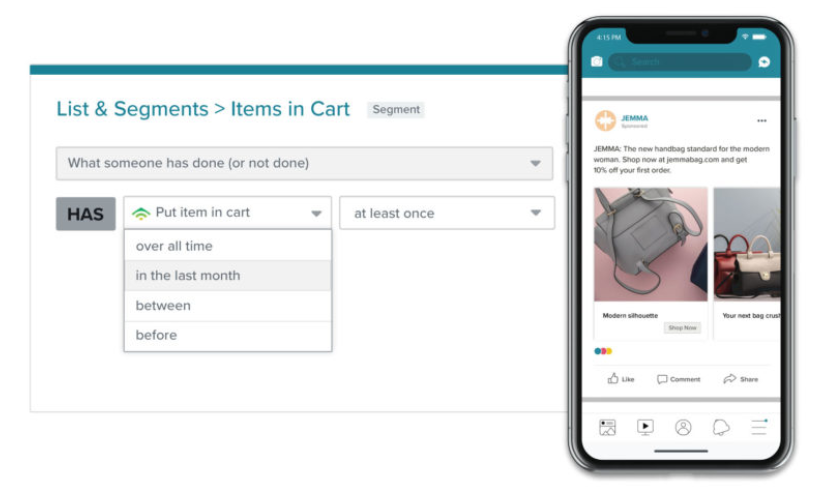 Leverage all of your customer data to build relevant audience segments to improve the overall customer experience. By sending messages based on previous customer behaviors, you'll know that the content will resonate with their interests. Image courtesy of Klaviyo.
Platform Highlights:
Easily integrate this platform with your eCommerce platforms to take advantage of all of the customer data you have
Improve audience segmentation to ensure you're sending the most relevant content to your audiences based on their previous behaviors, properties, and engagement
Track customer interactions and behaviors on your website to identify new opportunities and integrate that into your marketing tactics
Create autoresponders to ensure your customers always receive a response when reaching out to you
Customer Testimonial: "It's obviously going to be something of a pain to switch platforms. But in our experience, everything about Klaviyo has been better—the features, the ease of use, and the value."
Pricing: There are plans available for just email and just SMS. If you have less than 500 contacts, you'll qualify for the free plan. If you have more than 500 contacts, pricing starts at $40 per month to utilize both channels.
Website: www.klaviyo.com
Omnisend
Omnisend is a marketing automation platform that makes eCommerce email and SMS simple. With this tool, you can easily automate your marketing campaigns to connect with your audiences at the right moment with the right content.
With the help of robust segmentation capabilities and customer insights, you'll easily find new ways to connect with your audiences through your owned media channels.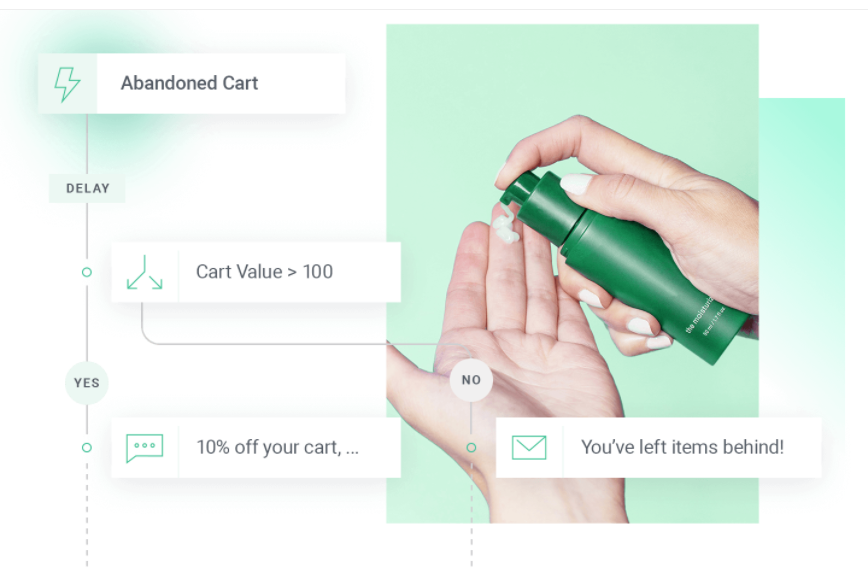 Connect with your customers based on their real-time interactions to improve relevancy and drive an increase in revenue. Campaigns like cart abandonment are the perfect way to use customer data to send relevant messages and land more sales. Image courtesy of Omnisend.
Platform Highlights:
Create automated campaigns that interact with customers based on their real-time interactions and stored data to improve the relevance
Utilize robust segmentation to improve targeted campaigns and connect with audiences based on their shopping behaviors and other properties
Use one platform to manage both email and SMS marketing to create omnichannel experiences
Know exactly how your campaigns are performing with the tracking and analytics you need to know exactly how your customers are engaging with your content
Customer Testimonial: "Omnisend brings our business to another level. With challenging and changing times of the brick and mortar experience, it's allowing us to set ourselves up for the future of ecommerce."
Pricing: Plan pricing is based on the number of people you plan to send messages to, but there are three plan options available:
The Free Email plan
The Standard Email plan starts at $16 per month
The Pro Email & SMS plan starts at $59 per month
Website: www.omnisend.com
Attentive
Attentive is a text marketing solution that can help eCommerce brands drive higher engagement and increase revenue. This platform is for companies looking to specifically leverage their SMS marketing efforts to connect with customers on a more personalized level.
With the help of Attentive, you can shift your focus from third-party data marketing to focusing on marketing to your customers through text marketing campaigns.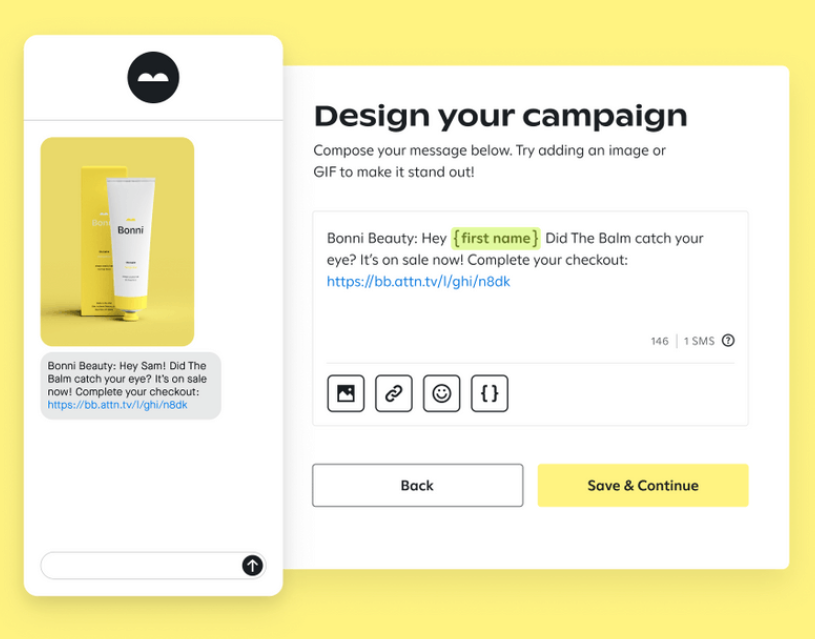 Attentive has all of the tools you need to create personalized text messages for your customers. By using personalization keys like first names, you'll start to build stronger relationships with your customers. Image courtesy of Attentive.
Platform Highlights:
Continue to grow your subscriber list and reach new audiences with easy to use sign-up forms to increase opt-ins
Gather valuable customer data that allows you to create targeted campaigns that are personalized based on each customer's needs
Create messages that are relevant to your customers throughout every stage of the purchasing journey
Use advanced reporting to help you measure the success of your campaigns and identify new opportunities to improve future efforts
Customer Testimonial: "The ease of integrating our SMS program with Shopify played a big part in our decision to partner with Attentive. We have a very small internal team, so it has to be plug-and-play anytime we add a new channel. We found that with Attentive––it took less than 10 minutes to set up our Shopify integration."
Pricing: The pricing for the Attentive platform is customized based on business needs. To learn more about what your pricing will look like, you'll want to contact a representative.
Website: www.attentivemobile.com
Ready or Not, the Cookie-Less Holiday Season Is Upon Us
Whether you like it or not, the digital marketing world is changing. You need to start preparing your marketing to evolve with these new changes to continue to see success with your campaigns.
As the holiday season is about to kick off, now's the time to start thinking about how you'll make the most out of these changes.
More people will be shopping around and looking for gifts for their loved ones in the next few months. It's the perfect time to start to capture more customer data, encourage people to opt-in to your SMS campaigns, and continue to grow your email subscriber list.
The more you can set yourself up to leverage first-party data and owned channels, the better off you'll be in the coming year.
So with that, we'll leave you with one last question: are you prepared for the first cookie-less holiday?
We are influencers and brand affiliates.  This post contains affiliate links, most which go to Amazon and are Geo-Affiliate links to nearest Amazon store.
I have been obsessed with computers, tech, gadgets and games since the early 1980's having grown up on the Commodore 64 and Amiga computers.
By day I work in the IT Security Industry and have been in IT for over 20 years. On my spare time I am a Vlogger, Blogger, Streamer, Gadget Reviewer, affiliate marketer, influencer and entertainer. I am also an avid movie fan, TV Show fan, Anime fan, video game fan and fan of trying anything and everything new.