We are influencers and brand affiliates.  This post contains affiliate links, most which go to Amazon and are Geo-Affiliate links to nearest Amazon store.
Louisville was once known for having a few conventions such as Galaxycon that was formerly known as Supercon and there was Fandom Fest. Both of these conventions are no longer active leaving the area having only left the area with one sort of convention which is really more of an expo with that being Louisville Arcade Expo. Louisville is a very multicultural city and a town that I firmly believe makes for a great convention city and that's where a brand new convention makes it's way to the area, LouisvilleCon. LouisvilleCon was hosted at the Triple Crown Pavillion which is famously known for hosting Louisville Arcade Expo every year and makes for a great place for smaller conventions to take place. I myself having not been in this building since just before the lockdown from the pandemic, it felt great to be back in a familiar territory and one that is close to home.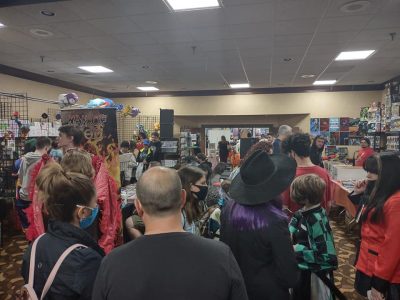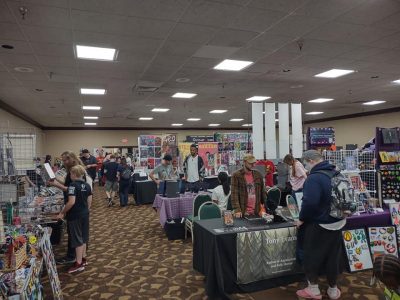 This particular convention is owned and ran by Carmine De Santo, a man that is very familiar with the convention scene. Hailing from Canada, Carmine has been a convention runner since the 80s by having several conventions all throughout Canada and has been making his rounds throughout the United States by hosting smaller, family-friendly one-day shows that are a bit of a throwback to a time when most conventions were only but a single day for people to come out and have fun. In my interview with Carmine, he stated that he prefers the one-day format simply because it is far easier to run and a lot less stressful plus he feels it's easier on attendees that don't want to plan a big trip.
As far as my time at the convention goes I would have to say that I definitely enjoyed myself as it absolutely had that very small-time convention feel to it. However, just because this was a small con that only ran one day doesn't mean that it didn't have a lot to offer as I was definitely impressed with the vendors that were all mostly local to the area. I found myself spending more time talking and getting to know the vendors more than I experienced anything else the convention had to offer and for such a small con I was quite impressed with the variety in vendors. Most I talked to said that they were very glad to have an opportunity in Louisville to be able to display their work and share it with others in the area, which is why I hope to see even more conventions in the city because it has a lot to offer.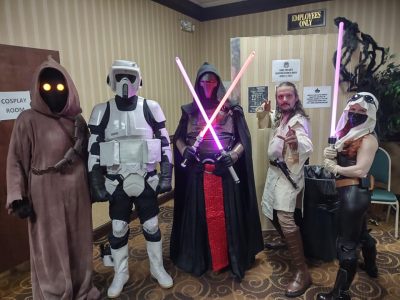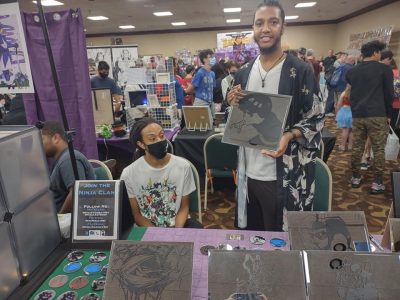 While I didn't check out any of the panels in which there were quite a few to offer, I did mange to take some time and check out the gaming area which had quite a few consoles to play from such as the N64 that was running Super Smash Bros to other classic video gaming consoles. Another aspect of this area I enjoyed was the ability to check out various tabletop games and play them with friends and family which I feel is a must have at any type of convention such as this. The turn out for LouisvilleCon was what I would anticipate for a single-day con running only on a Saturday as attendees were a plenty. As far as COVID-19 protocols go, there was no requirement for masks however there were temperature checks which I happened to watch to see if every individual was being checked and they were not as even myself did not receive one such check.
When it came to guests or even celebrities I only managed to notice a few that were mixed in with the vendor hall but this didn't seem like the type of convention that looks to pull big name guests to try and grab attendees to it's show and for this type of convention I didn't feel like I was missing out on anything simply because of the sheer quality of vendors on display. I feel that these more intimate type of conventions should really be about the city itself and what each one has to offer versus the need to pull in big guests as a draw to gain attendees and LouisvilleCon did an excellent job of doing just that.
Overall I had a really great time at LouisvilleCon and I want to thank them for having me come out to review their show. I hope to see them return next year with even more vendors and more things to do and I look forward to being there to cover their show.
We are influencers and brand affiliates.  This post contains affiliate links, most which go to Amazon and are Geo-Affiliate links to nearest Amazon store.
I've been writing and covering many forms of entertainment such as comedy shows, and arcade bars as well as reviewing video games and more for the past decade. I love to write and I am blessed to be able to have the opportunities that I have had in the entertainment and technology fields.