Data Recovery software is more abundant and reachable than ever, and even people without IT experience have the ability to recover lost data files, so data recovery is not limited to professionals only. Here, we mainly introduce the free data recovery software MiniTool Power Data Recovery Free Edition and how to use this specific free data recovery software to recover some files you may have deleted and want to recover. (Not just send to Recycle Bin, but post-Empty of the Recycle Bin)
Main Functions of MiniTool Power Data Recovery Free Edition
MiniTool Power Data Recovery Free Edition is able to recover deleted files, recover lost data from deleted/lost partitions, recover data from logically damaged partitions or portable storage devices (including formatted/reformatted/inaccessible/raw drive and the drive Windows asks to format), it is capable of recovering files lost by human error, system crash or hard drive failure, and preview a variety of recoverable files before restoring. It is the following features that make Power Data Recovery Free Edition outstanding: Including This PC, Removable Disk Drive, Hard Disk Drive, and CD/DVD Drive.
This PC: this data recovery module focuses on recovering lost or deleted data from damaged, RAW or formatted partitions.
Removable Disk Drive: it is designed to recover lost photos, mp3/mp4 files, and videos from flash drives and memory sticks.
Hard Disk Drive: it can recover files after partition loss or deletion.
CD/DVD Drive: it helps to recover data from formatted or erased CD/DVD discs.
In version 8.5, the user interface is different from its previous version, just like a new product. It is quite easy-to-use, enabling users to easily operate the file recovery without needing professional knowledge. In the design aspect, the changes include color, buttons, partition or disk layout, function modules, and some small options.
Next, we will take recovering deleted data and recovering lost data from a logically damaged drive, for example, to show users how to use this free data recovery software.
Steps to Recover Deleted Data with MiniTool Power Data Recovery Free Edition
Before attempting to do data recovery, we should confirm the program has been installed (for sake of convenience, create a desktop shortcut during the installation is suggested). Then, double click the shortcut icon to load the app. Note: the data recovery program should not be downloaded and installed to the partition or drive where data loss appears, because any write-in operation may overwrite lost data.
After you load the MiniTool Power Data Recovery software, take the following steps:
1. Select location (disk or another device) to scan
First, launch MiniTool power data recovery. The start window shows all sectors of a Hard Drive and connected removable devices.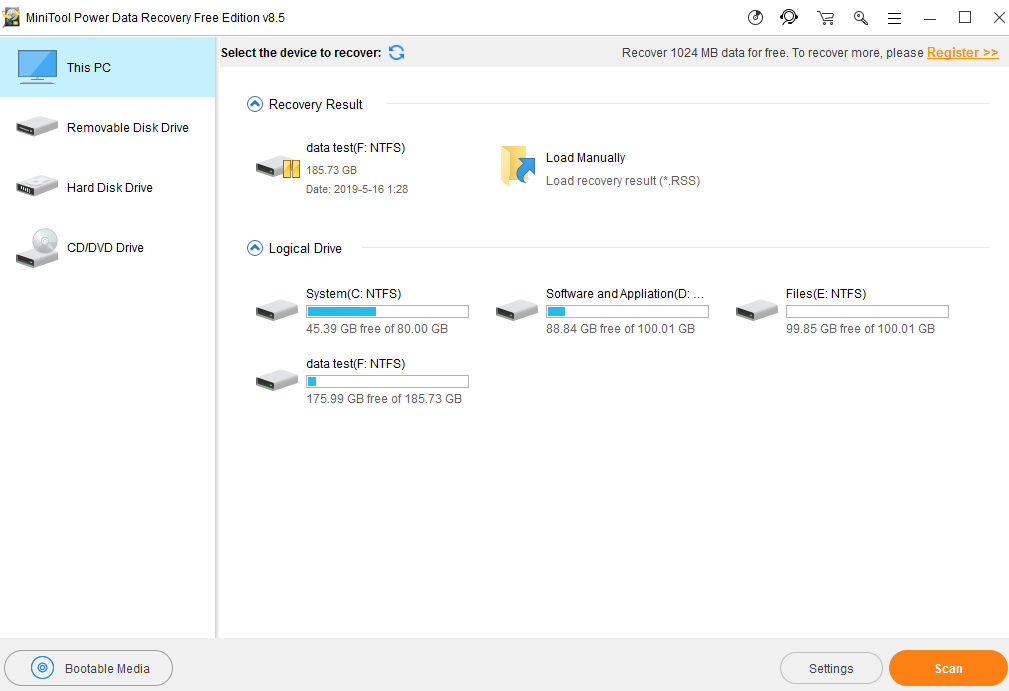 Supported media:
MiniTool power data recovery is able to scan the following media types:
HDD/SSD on PC and laptop (including formatted partitions), external HDD and SSD disks, USB flash drive, SD memory card, microSD, mobile phones used in the USB mode, digital camera, mp3 player and any other device mounted as a file volume.
2. Scan the Target Volume/Device
MiniTool power data recovery shows the progress bar and time left until the end of the scan. You don't have to specify the scan mode as results are displayed here. If you want to scan takes less time when you have looked at the lost files on the scan the results. If the targeted files haven't been found, it makes sense to wait for the end of the scan and double-check the scan results.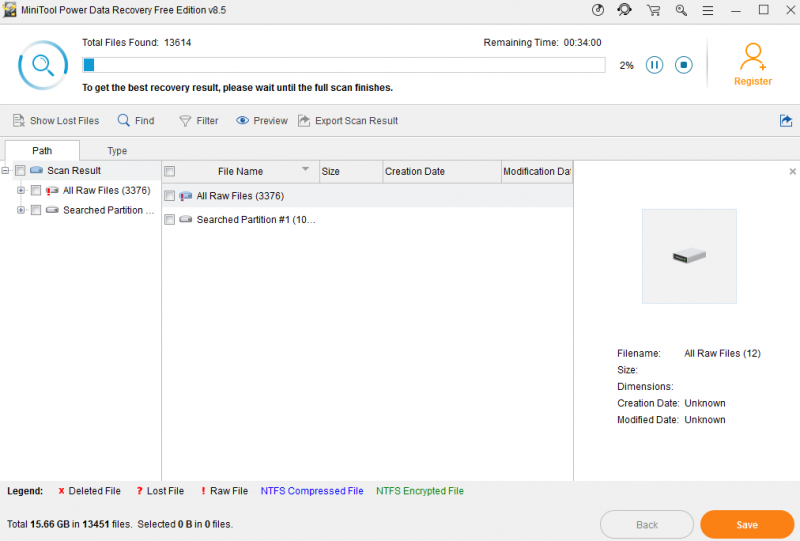 3. Recover found files
After scanning, all deleted files will be listed as the above interface shows.
Find: make it possible to locate the target file via file name. Just input file name and click on "Find Next". Nevertheless, it requires users to remember the file name.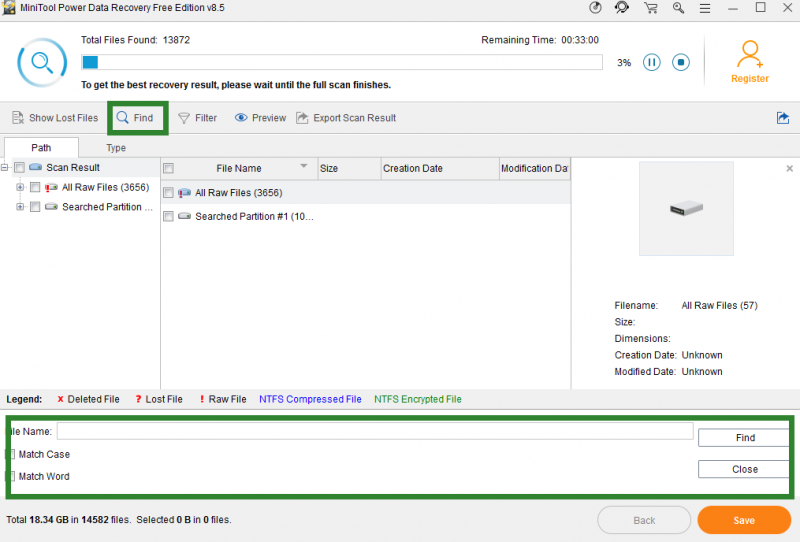 This new V8.5 comes with powerful File Previewer and some potential bug fixes. File Preview plays an important role as it allows users to preview which file is selected for recovery before going through to the recovery process.
Supported file types are as follows:
• Word: DOC, DOCX, RTF, DOT, DOTX, DOTM, DOCM, ODT, OTT, TXT
• Excel: XLS, XLSX, XLSB, XLTX, XLTM, XLSM, ODS, CSV
• PDF: PDF, XPS, EPUB, TEX, CGM, XSLFO, SVG
• PPT: PPT, PPTX, PPS, POT, PPSX, PPTM, PPSM, POTX, POTM, ODP
• Image: JPEG, JPG, JPE, BMP, TIFF, TIF, GIF, PNG, EMF, WMF, WEBP
• Task: MPP
• Diagram: VDW, VSD, VSS, VST
• Note: ONE
• CAD: DWG, DXF, DWF, IFC, STL
• XML: XML
• Web: HTM, HTML, MHTML, MHT, XHTML
• Email: MSG, PST, OFT, EML
• PSD: PSD
• EPS: PS, EPS
4. Save
Recovered data preserves, whenever possible, its safe paths and folder tree, which makes results viewing more easy to find.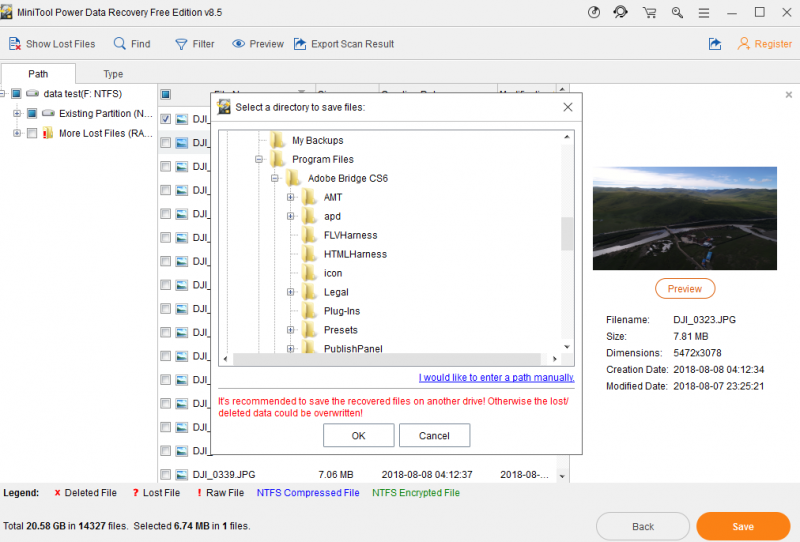 How to Recover Data from Damaged Drive with MiniTool Power Data Recovery Free Edition
To recover data from external drive, we need to choose the module "Removable Disk Drive" in the main interface to get the following window: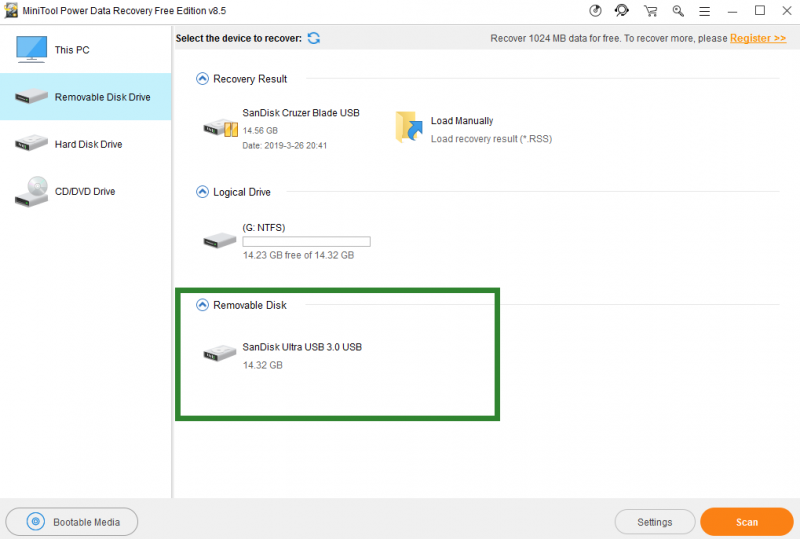 Here, we can directly to scan to time-save. With it, users can specify file systems and file types to scan.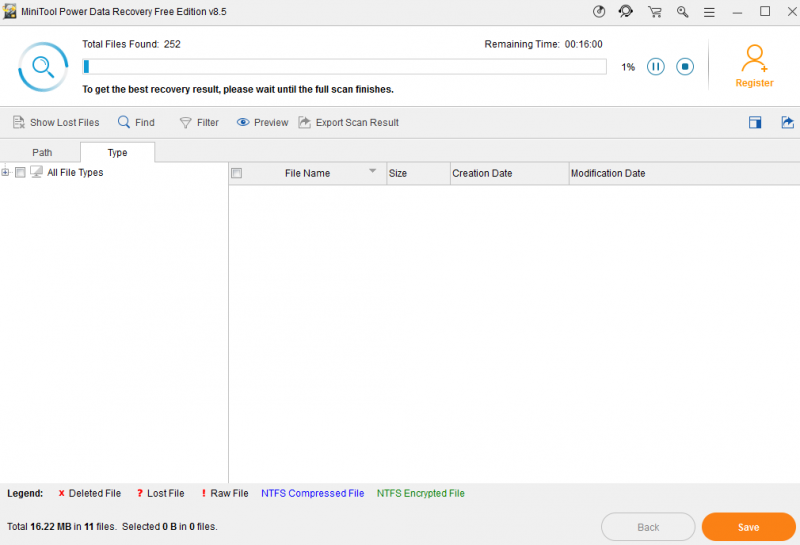 Next, check all needed data and click on "Save Files" to set save path.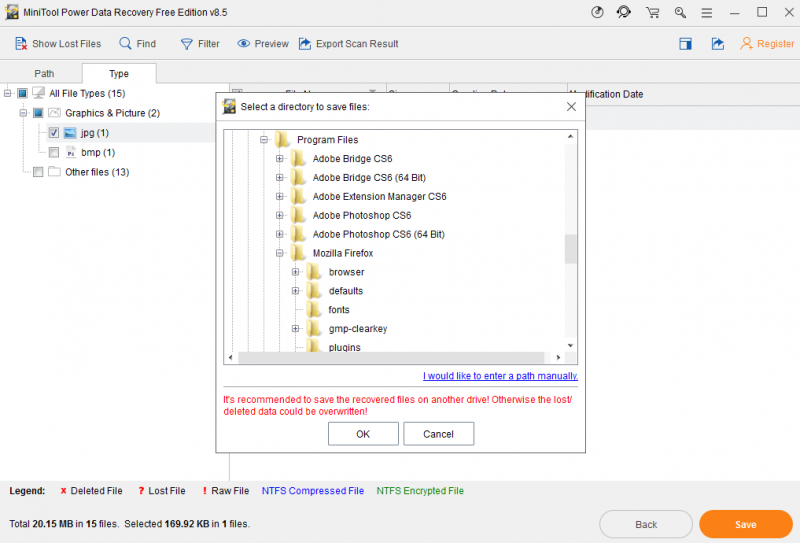 At last, select a safe location to save recovered data remember to not choose a partition or drive where you are trying to recover data.
After these operations to recover data from logically damaged drive is done you should be able to view your recovered files. Other data recovery functions can also be realized easily, and users can have a try of all features for free with MiniTool Power Data Recovery Free Edition which just has a limit to recover 1GB of data for free, anything over and you need a premium version.
MiniTool power data recovery free
Developer: MiniTool Software
Platform: Windows
Free version: Yes