We are influencers and brand affiliates.  This post contains affiliate links, most which go to Amazon and are Geo-Affiliate links to nearest Amazon store.
Windows 10 is the most recently updated version of Windows NT systems and comes with a lot of features. The updated features include the USB selective suspend option. This is not a new feature in windows systems only that it has been made better with options of accessing it using the control panel. USB selective suspend has been present in all windows devices since windows XP was launched years ago. This is a huge power saving feature.
You might be wondering what this is all about. It is quite the same as putting your laptop or computer to sleep to save power. Like how it is not quite off but on 'resting mode' rather than it being on and it's not used at that particular moment. Well, when it comes to USB options it is referred to as suspend. This option helps you to consume less power instead of having so all the ports on and not using them. The unsuspended port will work perfectly and aid in transferring data as expected. Only the suspended ports will not function as they will be disabled and help in power saving. This is how you can enable or turn off selective suspend in windows 10.
Go to control panel on your windows 10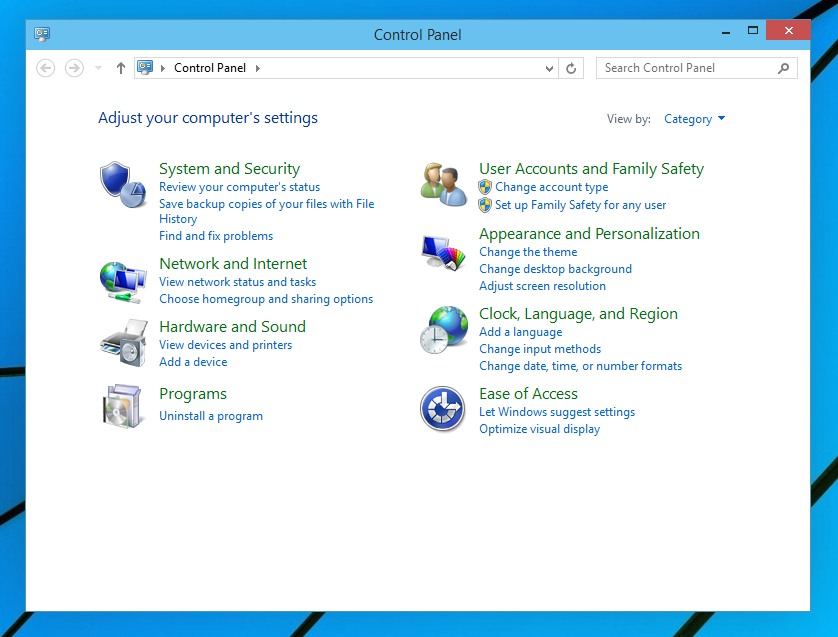 For starters this is how you can access the control panel. The options are extensive and inexhaustible. You can choose the option that looks simple and easily understandable then use.
On the taskbar of your windows 10 computer, find Cortana search. This will allow you to type in any word. Search the word control panel in the search box then press enter. Wait for the results as this will direct you to control panel.
You can also open control panel from run. This is simply done by pressing windows+R at the same time. This will bring a search box where you can then type the word control panel on the box and search. This will pop up control panel for you.
Alternatively following the second procedure but typing cmd in the box after pressing windows+R can do the magic too. You will be required to copy the result command at will show up. Paste it in command prompt then search. This shouldn't be as hard but remember there are other simpler and as effective procedures.
This is among the simplest procedure. It requires you to click on the home box. This is the box located on the lower left corner of your screen when you direct the cursor to. Click on it and updated versions of windows 10 will automatically display control panel which you will be required to click on.
Alternatively you can Click on windows +Run then type 'shell: ControlPanelFolder'on the search space that will pop up. This will run the control panel program and display it.
All the above processes will definitely take you to control panel. This is where you are to click on the power saving option. The process is quite different if you are using category mode to view your control panel. Power options will not show but you have not to worry. In this case, you will be required to click on the hardware and sound option. Clicking this option will now show the power options. From here you can move to the next step.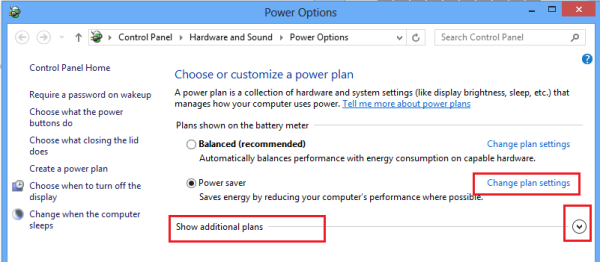 Click on change plan settings.
Change plan settings will display on the power options page. This option will allow you to enable the USB selective you wish to suspend for the available power plan in your computer. This is how you set up a power plan if you had not done initially.
You will need to expand the control panel tab on your windows 10 computer then press power options.
Or alternatively right click on the battery bar option that normally shows on the taskbar of your computer and then press power options.
This process will display for you two plans that is balanced and power saver with an option of 'show other additional plans with another plan'. Click on this option which will add a third option which is high performance.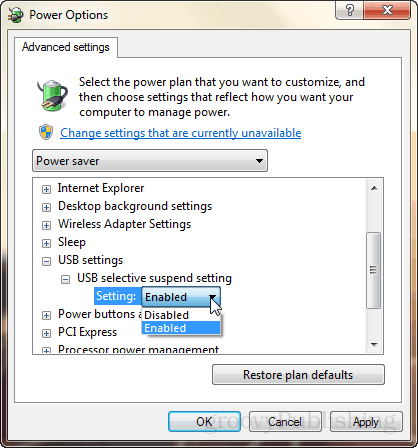 Select your preference power saving plan option then click on the change plan settings option at the side of the screen.
Clicking change plan settings leads you to advanced settings of the power option. Search for the USB settings display then click on it. This will bring other sub options, now click on USB selective suspend option. Here you can enable both battery and plugged in option then save. And that is the same process that you can go through whenever you want to disable the option.
Turning USB selective suspend on or off is a choice that a user can use depending on how much power they feel is being consumed. Sometimes it might be difficult for you to access the options of USB selective suspend in the power plan settings. In this case you should go to device manager and select universal serial bus controllers. Click on it and find USB hubs. Click for the option that shows you the principles of this hub. Find power management option and click on it then uncheck the turn hubs off option. This could be the reason you can't access the USB selective suspend option. After this, go through the above process and follow it.
USB selective suspend option is available in all windows XP and above gadgets including windows 10. Whenever you are using say your notebook or any portable device enable this option when you need to conserve your power for a long time. You will be surprised how effective this will make you save enough power to last you longer hours of usage than before. You can use a similar feature if you have Garageband app installed on your windows PC, you can get the latest version of Garageband here. This is an advantage since accessing a charging place is quite unpredictable and no one wishes their devices to just go off on them unexpectedly. It is evident that this feature is plus and should be made useful.
We are influencers and brand affiliates.  This post contains affiliate links, most which go to Amazon and are Geo-Affiliate links to nearest Amazon store.
I am interested in all things technology, especially automation, robotics and tech that helps change how society will live in the future.